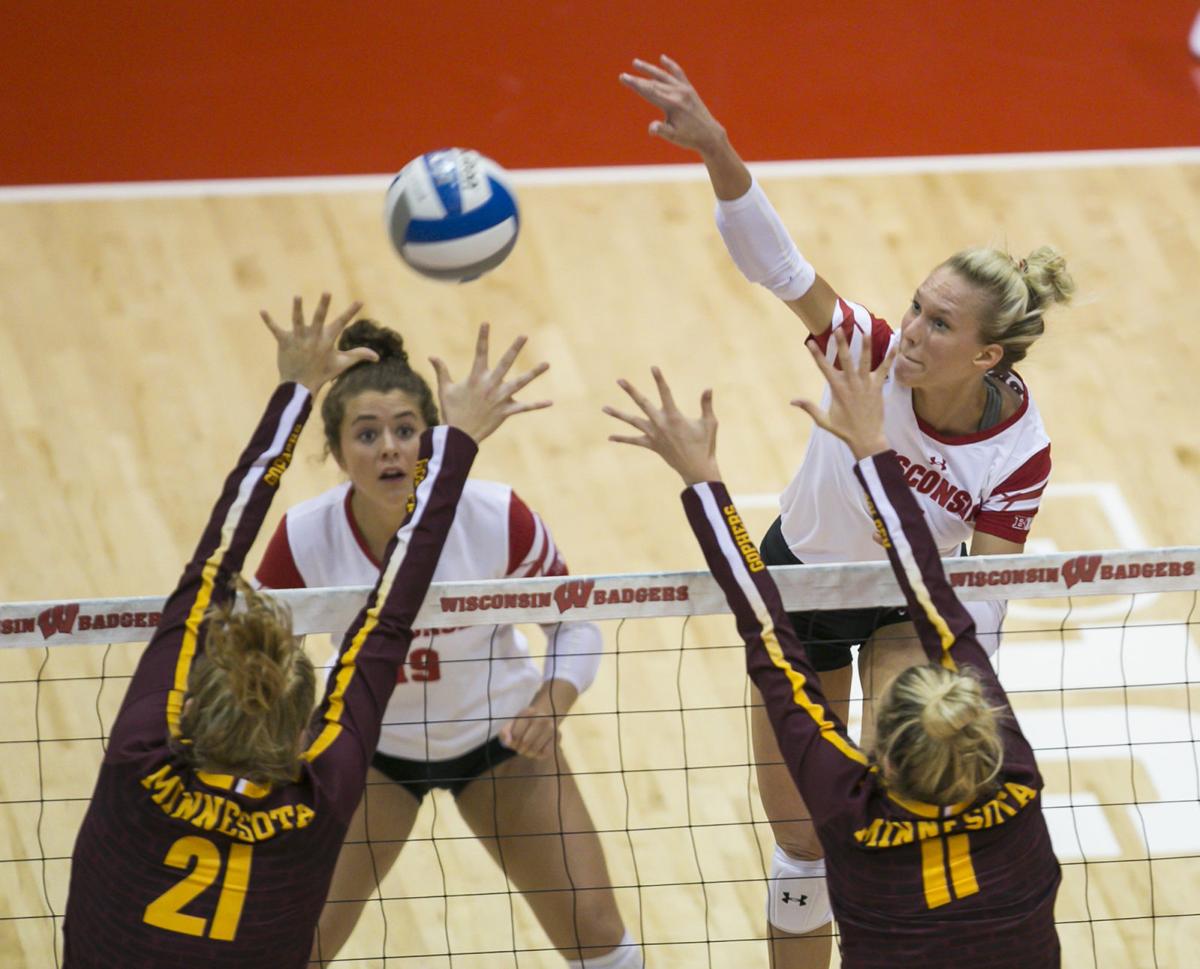 For someone who was supposed to be too small to be a big-time hitter in college and was lacking the predisposition to become an elite defender, Kelli Bates has done all right for herself.
And she has the numbers to prove it.
With her second kill Friday night against Ohio State, Bates will reach the 1,000 mark for her career at the University of Wisconsin and become just the sixth player in the volleyball program's history to have 1,000 kills and 1,000 digs.
Reaching either of those benchmark totals is a significant accomplishment — Bates will become the 21st player with 1,000 kills and already is one of 16 with 1,000 digs. To achieve both requires uncommon versatility to go along with excellence at two distinctly different skills.
"It's really special," said Bates, who ranks ninth in career digs with 1,253 digs to go along with her 998 kills. "I've never put awards or milestones ever first. That has never been a part of who I am or how I play. But it's definitely really, really cool to be a part of that group.
"I think I have basically flown under the radar my whole career. I've never been a go-to hitter. I've never been a primary option. I've just been able to find ways.
"It just shows that work is paying off and I've been able to develop some serious volleyball skills and get better at the game. It's really cool to be a part of that but I don't know if it's actually sunk in with me that I'm one of six Badgers ever. I just don't think about it that way."
Bates will be joining an exclusive group that includes Sue Wohlford (1,132 kills/1,920 digs), Erin Byrd (1,270 kills/1,397 digs), Marisa Mackey (1,107 kills/1,289 digs), Kristen Roman (1,161 kills/1,107 digs) and Brittney Dolgner (1,643 kills/1,025 digs).
Three of those played all or part of their career before Bates was even born and only Dolgner (2006-09) played entirely in this century. Bates will be the first Badger in the group to play in the 25-point rally scoring era.
"Kelli's had a great career here," UW coach Kelly Sheffield said. "A four-year starter at two different positions, a kid that needs a step ladder to get to 6-foot. She's gotten better every year. She's expanded her game.
"She's offered a lot of stability in her senior year. I'm really proud of her improvement and the leadership she's given us. She'll go down as one of the better all-around players that's ever played for our program."
Bates would've passed the 1,000 kill mark long ago had she not been needed to play libero most of her junior year. That move did help her amass more digs and when Molly Haggerty was sidelined this season, Bates was needed back at outside hitter.
So which does she find more rewarding?
On the one hand, Bates loves the feeling that comes from a great dig that denies an opposing hitter from getting a kill.
But for someone who has overcome the skeptics, it's hard to top the satisfaction she gets from making an emphatic kill.
"Going into college and throughout college people have said, 'You're never going to win a national championship and you're never going to win big with Bates hitting,'" she said. "That's kind of a part of my edge. I like to prove people wrong. I like to make them feel stupid for whatever they say.
"So I say getting 1,000 kills is really nice to all the people who think that this team can't do something with me in a certain position. I just do my work and get my job done.
"Obviously, we still have a chance to win the national championship, it could still happen this year. Then I could really prove some people wrong, which would be really awesome."