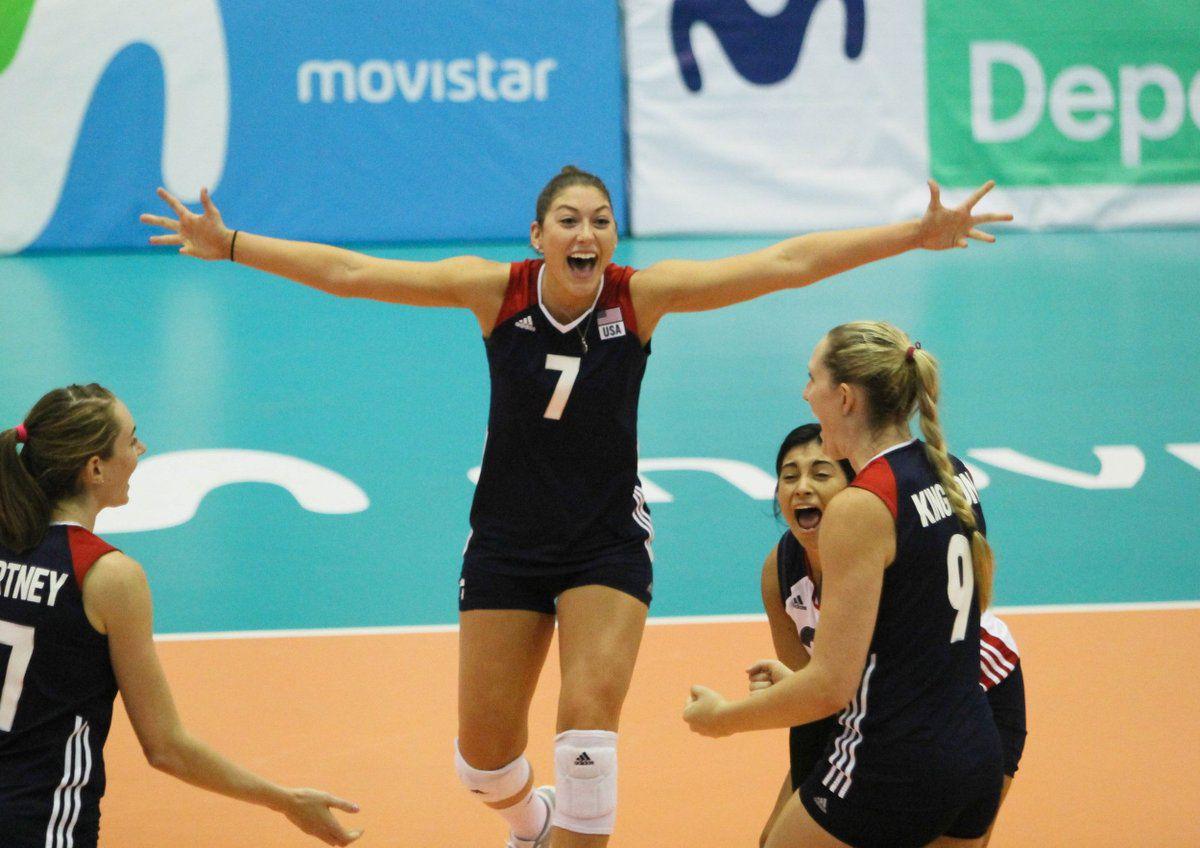 It's like Lauren Carlini is living the life she charted as a 9-year-old when she drew a picture of herself wearing a No. 7 USA volleyball jersey.
"I'm literally living the dream," said Carlini, who pulls on that No. 7 USA jersey most every day as she trains with the U.S. Women's National Team at its facility in Anaheim, California.
Carlini took a brief break from that dream world by making a weekend trip to Madison to surprise her former University of Wisconsin teammates and give a couple of short talks to young players attending the UW volleyball camp.
Her message to the campers revolved around her own experience: Be a good teammate, be an active learner and don't be afraid to dream big.
"You could hear a pin drop in the room," UW coach Kelly Sheffield said. "They were absolutely locked in. There are a lot of young people who really look up to her and they were really excited to see her sneak in here and surprise everybody.
"She told the kids to keep dreaming. She was where they were. She said, 'I was you guys, I was sitting where you are right now.' She said her dreams were big back then and encouraged them to keep dreaming."
In the same vein, Carlini still has a ways to go to fully realize her dream. The reason she was able to be in Madison over the weekend was because she was not selected for the roster of the U.S. team that is playing in the FIVB World Grand Prix in China. The two setters chosen for that event were Carli Lloyd, a two-time Olympian, and Micha Hancock, Carlini's former rival from Penn State.
Competing for playing time is a new experience for Carlini. She was named to the roster for the Pan American Cup in June, serving as a backup to Hancock, who was named the MVP of the event. She has a few more opportunities ahead with the USA Volleyball Cup vs. Brazil in late August and the FIVB World Grand Champions Cup in September in Japan.
Carlini is the lone rookie among the five setters on the full U.S. roster of about 25 players. The others are Madi Bugg (Stanford) and Lexi Dannemiller (Michigan).
"The other setters have a head start," Carlini said. "They've been playing internationally, they have a lot of starts and one of them is an Olympian.
"My job and what I'm trying to do this Olympic cycle is to figure out how can I close that gap. Just close it up a little more every day. I don't know how long it's going to take to pass them but I'm going to do whatever it takes to hopefully get there.
"It's hard to not be on rosters because you know that international experience and getting that playing time is really important. Instead, you're at home training."
The plus side of that equation is that she's been able to work out each day with many of the veteran Olympians who also stay back in Anaheim.
"It's been a fun environment to be training in and I get to have that experience with the older veterans who will most likely be on the next Olympic team," she said. "I'm a very results oriented person so it's really hard for me to be in situations where I just have to trust the process.
"The thing that keeps coming to my mind is trust the process. Don't worry about the results because I don't need to be great right now. I need to be great three years from now.
"It's tough because we're all friends and we all want each other to succeed. But at the same time, there's only 12 spots on the roster at the end of all this. So you're trying to help make people around you better, but I still need to be better than them at the end of all this."
Carlini also is adjusting to a faster style of play implemented by U.S. coach Karch Kiraly. It's also a much simpler system than she was used to at UW.
"The teaching is a little different just because our system is so unique," Carlini said. "Our system is really about precision and being really good at a few things. We focus on three plays and we want to be really, really good at those three plays. It's like we're going to be really good at running really fast balls to the pins and we're going to spread the offense and make you feel very stressed on the other side of the net.
"We have this mantra — just be USA good. We go in knowing that if everyone is doing their job at the best of their ability, we are most likely going to win."