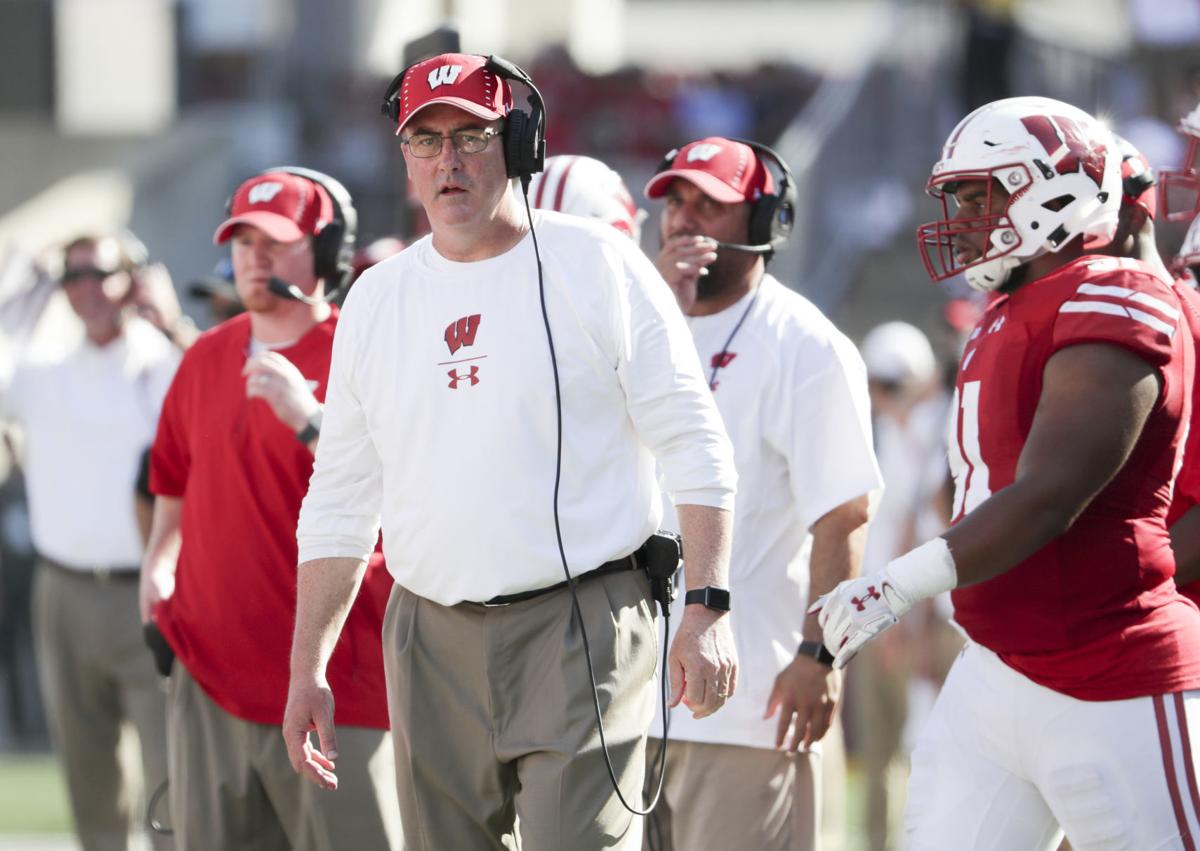 The University of Wisconsin athletic department is looking to save $2.8 million during the COVID-19 pandemic through voluntary pay cuts or a reduction in work hours.
The plan, announced Saturday, includes asking the department's 25 highest-earning employees to take a 15% reduction in pay over the next six months. That group includes athletic director Barry Alvarez, football coach Paul Chryst and men's basketball coach Greg Gard.
UW is seeking approval for around 350 other employees to participate in the Wisconsin Department of Workforce Development's Work-Share program. Under the plan, they'll have their hours reduced by either 20% or 50%, and they can apply for unemployment benefits.
The Work-Share program for athletics employees is scheduled to run from May 18 through July 25.
"Reducing compensation and work hours is obviously not something I want to see for any of our Badger Athletics family," Alvarez said in a news release. "But we are facing the same financial challenges that other organizations across the country are. We are working hard to minimize the impact on our employees while responding to the realities of the situation created by the pandemic.
"I greatly appreciate our highest earners' willingness to consider voluntarily accepting a temporary reduction in pay, as well as the rest of our staff who are sharing in this exercise by reducing their hours to help us navigate our way through these unprecedented times."
Alvarez makes $1.55 million annually. Chryst is the highest-paid UW athletics employee with a $4.25 million total salary including base pay and an additional compensation agreement. Gard was due to make $2.45 million in the 2019-20 school year.
The employees who are taking the 15% pay cut won't have a reduction in hours like those who are part of the Work-Share program.
UW officials didn't immediately release a full list of the 25 employees who were being asked to take the 15% reduction. All have orally agreed but need to have their acceptance formalized in their contracts.
In addition to Chryst and Gard, most of their assistant coaches are among the group of 25. Alvarez and deputy athletic director Chris McIntosh are the only administrators included.
According to UW's financial statement reported to the NCAA, six Badgers head coaches earned more than $400,000 in salary, benefits and bonuses in the 2018-19 school year. In addition to Chryst and Gard, they are: Jonathan Tsipis, women's basketball; Tony Granato, men's hockey; Mark Johnson, women's hockey; and Kelly Sheffield, volleyball.
"We have long said that our strength is our people, and it's shown in these times," McIntosh said in an interview Saturday. "There will be some sacrifice, and it's been shared throughout our organization. Those coaches that have volunteered to participate have done so in order to help our organization through this. I've been heartened by the way that everyone — our employees, our coaches — has responded to this."
In a statement released Saturday morning, UW said those included in the Work-Share program can apply for expanded unemployment benefits that could offset all lost income. The state program, which is funded through the federal government via the Coronavirus Aid, Relief, and Economic Security Act, is designed to help employers avoid layoffs.
A small number of athletic department employees are covered by campus furloughs, but most were included in the application for the Work-Share program instead while college sports are on hiatus.
The athletic season ended March 12, when the NCAA canceled the remainder of winter and spring sports competition. The Big Ten Conference ordered a halt on organized team activities that has since been extended through June 1.
In an audited financial statement from the 2018-19 school year, salaries, benefits and bonuses accounted for $56.7 million, or 37% of the athletic department's expenses.
The athletic department has started modeling changes to a 2020-21 budget previously approved at $186 million, of which $46.5 million was dedicated to capital projects. The changes, Alvarez said, were based on three scenarios: a full 2020-21 athletics season being played; a loss of fall sports, including football; and a loss of fall and winter sports.
"Thanks to sound management of our finances over the years, we're well-positioned to withstand a temporary decline in revenues," he said.
Concerned about COVID-19?
Sign up now to get the most recent coronavirus headlines and other important local and national news sent to your email inbox daily.