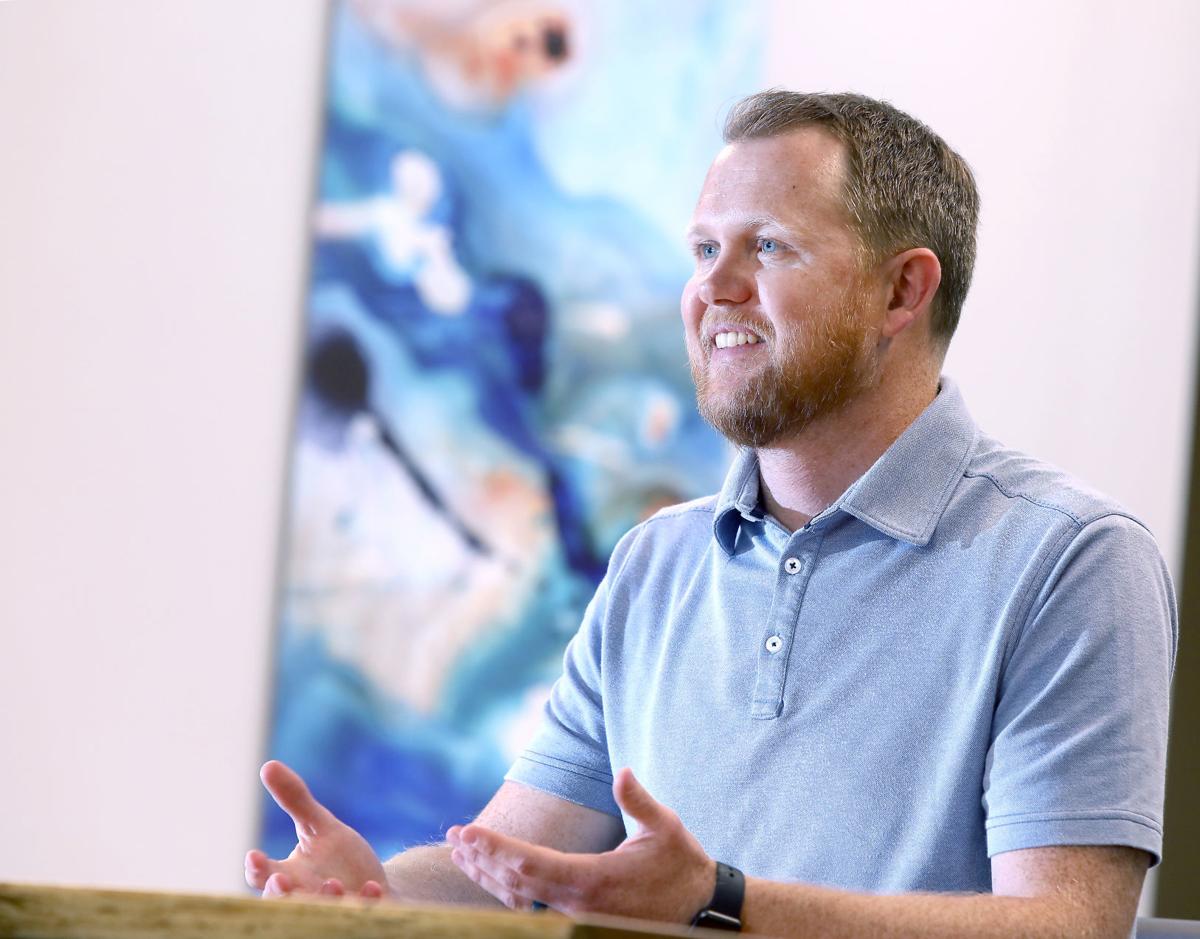 When he's teaching mindfulness to athletes, Chad McGehee often refers to their competitive state as being like the eye of a hurricane.
It may appear calm where they're standing, but their surroundings are volatile.
"That could be 80,000 people in a stadium," McGehee said. "That can be interactions with media. That could be what's going on in one's personal life."
McGehee, 38, offers mindfulness — practice of using mental exercises to cope with stresses of the world — as a way of training to avoid the swirling winds.
He works as learning and program development manager for Healthy Minds Innovation, a nonprofit entity connected to UW-Madison's Center for Healthy Minds.
Among those he works with are law enforcement officers, students and college athletes, who operate in an environment where mental health has become a more topical issue.
How did mindfulness come to you as a calling or as something that you consider a career?
Some of it happened when I was a public school teacher and I first started to teach these practices to kids and colleagues, and they were benefiting from the practice. And I was like, OK, there's something here. I have to figure out what are the best or most skillful ways so that more people can benefit from these practices. And that continues to be the driving force: What are the best possible ways to train in mindfulness? What I get really interested in is, for different groups, how does that look differently?
How did this get to become something that has a connection with athletes?
Reducing stress by getting in tune with your inner self could be the next big thing in helping elementary school students succeed in Madison.
These folks are some of the best in the world at training, typically training their bodies. And so if we think about mindfulness and meditation as training their minds, this is a population who's naturally ready to do that. They're really good at training. They're really good at putting in the effort, seeing those fractional advantages show up over time. And they're also used to doing this as a team, as a unit. In traditional kind of sports environments, we talk a lot about bigger, faster, stronger, and spending a lot of time in the weight room to develop those skills. I think what we're doing here is training to be more focused, more resilient and a better teammate.
What kind of results do you see with athletes? Or how do you quantify the results?
The way we train in mindfulness is we're training to pay attention in a relaxed and alert way. So it's not sleepy relaxed but it's not overwhelmingly tight alert. It's that somewhere in between. Know what's going on but still have a sense of being relaxed. (An athlete) talked about that being how he felt when he was at his best, right before the play started. That sense of I know my responsibility, I know my assignment but I'm not overthinking it, not overanalyzing it and then I can just let the game come to me, just kind of flow and let it happen.
Tony Megna, who developed his expertise after head trauma caused him to leave UW's football program in 2009, is one of multiple former Badgers football players to seek unconventional treatments for brain health after retiring. 
From what you're seeing in former athletes, what have been the benefits for them outside of sports?
If we train our mind for certain qualities when we're 18 to 22 years old, and it matters in a performance of an athletic event, I think it can benefit people then. But that ability to be focused transfers over to a meeting once their athletic careers are done, and can they notice their mind wandering in a conversation and bring it back so it's with the person that they're talking with? Or in their personal lives, that transition of work to home. All of us that have working lives know that experience, where our mind is still at work while we're at home. So do we have those skills to train attention to be where we want it to be so that we can connect with family members the way we want to?
What's in the future for mindfulness with athletes?
An internal review of safety and security procedures within the University of Wisconsin Athletic Department identified recommendations for improvements but found no major deficiencies.
We'll look back in 10 or 15 years, and I think we'll see that we were at the start of something that is going to be a lot more commonplace. I think about it like weightlifting. Forty or 50 years ago, most athletes weren't lifting weights. And then a few athletes started to lift weights, a little bit of science started to point to the benefits of it. And now you can't imagine a high school gym in Anywhere USA that doesn't have it. In another 10 or 15 years, training our minds in this way is going to be just as commonplace as we know how to kind of train our bodies with nutrition and exercises today.
It's unbelievably exciting. Not only like in an athletic context, that it could potentially support them to achieve their athletic goals in the near term. But those qualities of being more focused, more resilient, better teammate — if people can tend to those qualities, I think about the implications that that has for our local community, for our national community, out into the world. I think it could be a game changer, no pun intended, for a lot of people.