Things don't always work out the way they did for Tarek Baker last Saturday.
With the University of Wisconsin men's hockey team trailing by two goals after the second period of a critical game at Minnesota, Baker was among those who spoke up in the locker room.
"He laid it out to everybody of just the harsh reality of where we're at," fellow alternate captain Sean Dhooghe said this week.
The reality would have been a lot harsher had the Badgers been swept in Minneapolis. Baker helped rescue the team from that path, scoring 18 seconds into the third period to launch a rally that forged a tie and shootout victory.
It was an intersection of the needs of a member of the team's leadership group joined with the needs of the team. With Baker, Dhooghe and captain Wyatt Kalynuk, those moments have been difficult to come by this season.
A team that was No. 6 nationally five weeks ago is under .500 overall (6-7-1) and fighting to stay out of last place in the Big Ten Conference when it hosts Michigan on Saturday and Sunday at the Kohl Center.
"We've had a disappointing season so far to start off with, from our expectations of what we came into this year," Baker said. "In that intermission (last Saturday), it was knowing that we were still in the game. It was really gut-check time to see what we were made of. Hopefully that game can kick-start guys to be ready to go."
Captains have to strike a balance between providing for the team and putting themselves in the best position to be successful. Baker found it last Saturday but it isn't an easy endeavor, Badgers coach Tony Granato said.
"I think some of the times they've tried to be leaders when they should just be players," he said. "And that's natural. They're trying. And they're kind of learning on the job. They've never been a captain of a college team that's had all these personalities and skill set."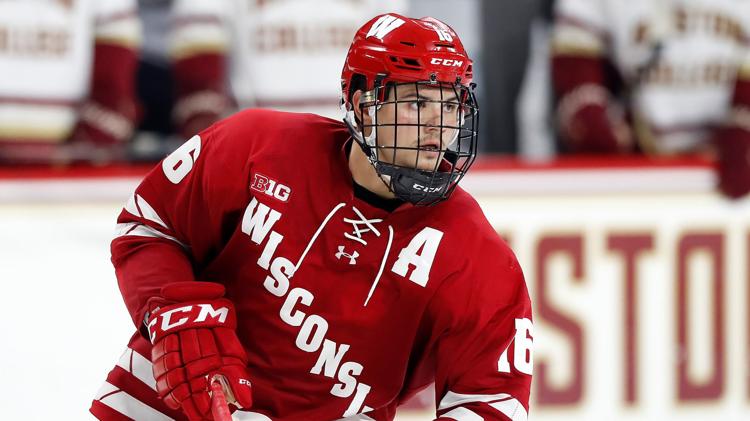 Kalynuk always has toed the line of putting a manageable amount of pressure on himself and overburdening his game. Adding the captain role and its associated extra set of responsibilities to the team this season has made him see that he needs to relieve some of that pressure.
You have free articles remaining.
"Everything that happens isn't just because of what you did," Kalynuk said. "It's still a team."
Being captain and being a high-minute defenseman together hasn't been an overwhelming experience, he said, but the team's struggles in the face of lofty expectations may add weight.
"Especially here at Wisconsin, such a historic program and the fans that we have, it's a little different from teams that I've been on in the past," Kalynuk said.
Baker said the captains have to remember they were chosen for the roles to continue what the juniors had done in their first two seasons at UW.
Dhooghe led the team with 15 goals last season. Baker delivers grit and energy.
"I think we all have letters because we're not changing who we are as people or players," Baker said. "It's just about going out there and playing the same way and doing whatever we can to get the guys going, and just holding each other accountable."
Granato, the Badgers' captain as a senior in 1986-87, knows what Kalynuk, Baker and Dhooghe are experiencing in trying to find their balance.
"You take so much on," Granato said. "You worry about every little thing. You try to make sure everyone's doing good and feeling good. And sometimes you forget, well, jeez, I've got to worry about myself a little bit here, too, so I perform up to my expectations and set the example by having the right energy."
The captains group includes the top three leading active scorers. Kalynuk has 62 points, Dhooghe has 50 and Baker has 46, all in 88 games.
They have combined for seven goals and 25 points this season as freshmen have taken on a greater share of the offense.
Like the coaches, the captains have tried to find the switch that will elevate the Badgers to a level of success that better matches the talent on the roster. Baker found it last Saturday with some words and some action.
Kalynuk and Dhooghe pointed to the upcoming series against the last-place Wolverines as a chance to put together a full weekend.
"At this point, the biggest kick-start for us would be two wins," Dhooghe said. "We've had the opportunity, and we're right there. So I think we need a sweep. We need to play for each other. We need to play with heart and passion. We need to lay it all out there for ourselves and each other."