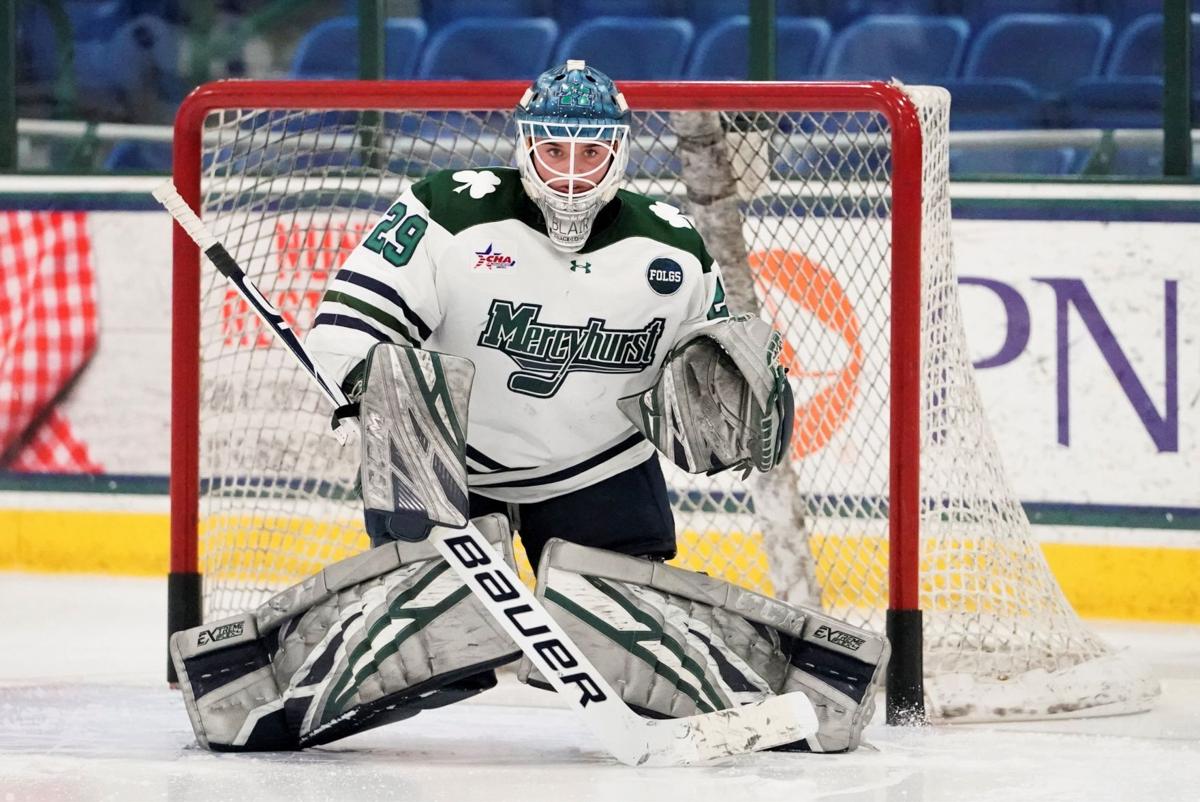 The last four people to hold down the long-term starting goaltender position for the University of Wisconsin women's hockey team all won a national championship or a Patty Kazmaier Award as the nation's top player.
No pressure or anything for those who follow.
Badgers coach Mark Johnson is serious about that part. He doesn't want the players who are looking to be this season's No. 1 at the position to be thinking about the legacy that preceded them.
"They're going to create their own identity," Johnson said. "They won't hear any of that from teammates and certainly not from the coaching staff."
Graduate transfer Kennedy Blair, freshman Jane Gervais and returners Breanna Blesi and Cami Kronish are part of a Badgers goaltending corps that will be closely studied as the season opens.
Top-ranked UW plays at No. 4 Ohio State on Friday and Saturday, and Johnson said he wasn't going to let the group know who'll start the first game until Thursday.
Regardless of how Johnson frames it, they have a lot to live up to.
Kristen Campbell didn't allow a goal during the NCAA tournament in guiding the Badgers to the 2019 national title. Ann-Renée Desbiens was the 2017 national player of the year.
Alex Rigsby backstopped the 2011 NCAA championship. Jessie Vetter had three titles and a Patty Kazmaier Award on her resume.
With skill throughout, UW has never been a team solely dependent on goaltending over the course of the last decade and a half. But it has continued to get the kind of dependable performances that make for a stable base.
That's what Johnson and the Badgers are looking for again in 2020-21.
"Being a goalie at a big school like this is hard," Blair said. "There are big shoes to fill."
Blair had finished a redshirt first season at North Dakota alongside Campbell when the school discontinued its women's hockey program in 2017. She moved to Mercyhurst for the last three seasons, helping the Lakers earn NCAA tournament bids in 2018 and 2020.
"My experience, I think I need to take advantage of that," Blair said.
From Quebec, Gervais played for the powerhouse Stanstead College prep team. Blesi, a redshirt junior, made her first five collegiate starts last season. Kronish has appeared in only one game over two seasons at UW.
"We don't have any knowledge of who's playing so far so it's kind of up in the air," Kronish said this week. "I think that that just makes everybody work a little bit harder, knowing that the opportunity is there and nothing has been decided yet."
Blair said she has been paired in practice with Gervais, which has given the 22-year-old veteran a chance to pass along hints to the 17-year-old freshman.
"I think that really helps her develop and transition into her spot and her role," Blair said. "I know my freshman year having that with (Campbell) at North Dakota really helped. So I think that only helps her as well."
Gervais looks like Campbell in the crease, Blair said. Blair resembles an old-school goalie who prefers facing shots while standing instead of on the ice.
Kronish said she plays a structured style while Blesi has the most aggressive game of the bunch.
They've been good in practice, Johnson said, but that only carries weight until game experience comes in.
"The ultimate viewing for us is going to be in games and how each goaltender handles herself in a particular game," he said. "The challenge is we start off down at Ohio State and then we're up at Minnesota. So they're going to get their feet wet real early. We'll find out, probably, answers about each one of them, depending on how much playing time they get."
There's a high level of excitement with the team after a long build-up to the season, Johnson said. Ohio State, which defeated the Badgers in last season's Western Collegiate Hockey Association playoff championship game, will test UW in all areas of the ice.
National scoring leader Daryl Watts, Sophie Shirley and Britta Curl return to lead UW's group of forwards. Seniors Grace Bowlby and Natalie Buchbinder and junior Nicole LaMantia bring experience to the defensive corps.
But a lot of eyes are on the goalies. Even when they had Vetter, Rigsby, Desbiens and Campbell, Johnson said the Badgers never looked for the netminder to be a superstar, only a part of the puzzle.
The same goes this season.
"There weren't many games that they didn't give us a chance to win," Johnson said. "So this group that we bring in this year and look forward to working with them, if we can say after each of our games that they gave us a chance to win, then we're going to be in good position."