Jake Bunz got to the University of Wisconsin men's hockey team as a midseason roster addition in December 2014, carrying grand aspirations.
"I wanted to be a top-six defenseman," Bunz said. "I wanted to be the hometown hero, the superstar, all that stuff."
It's not how things turned out, at least on the ice.
The reality of the situation was that the Middleton native always has been a depth player for the Badgers. He has played only 30 times in 4½ seasons, only three in the past two.
As it became clear to Bunz his impact wasn't going to be from playing for the Badgers, another kind of difference-making took over.
Bunz has been heavily involved in organizing fundraising projects and performing service work for an organization close to his family and close to his heart. The nonprofit Fond Blanc Foundation helps fund and maintain an orphanage and school in Haiti.
His work there drew the attention of those with the Hockey Humanitarian Award, who included him as one of five finalists for the 2019 prize given to college hockey's finest citizen.
And as his time with the Badgers draws to a close, Bunz has a wider perspective on things relative to his earlier dreams of stardom.
"In my junior and senior year, as I haven't had as much playing time, I've realized I wasn't brought to UW to be that guy," Bunz said. "I was brought to UW to use my platform to help the foundation and other people as well."
Bunz is one of six seniors who will be honored before Saturday's regular-season finale against Michigan at the Kohl Center. The teams open the Big Ten Conference series tonight.
As much as hockey has been a part of Bunz's life, his experiences in Haiti have changed his vision of what living is.
Bunz didn't create the Fond Blanc Foundation, but he was at the core of its creation in the summer of 2012.
First trip makes impression
Jake Bunz and his mom, Tia, were part of a mission trip to Haiti then, two years after the island suffered massive destruction from a magnitude 7.0 earthquake.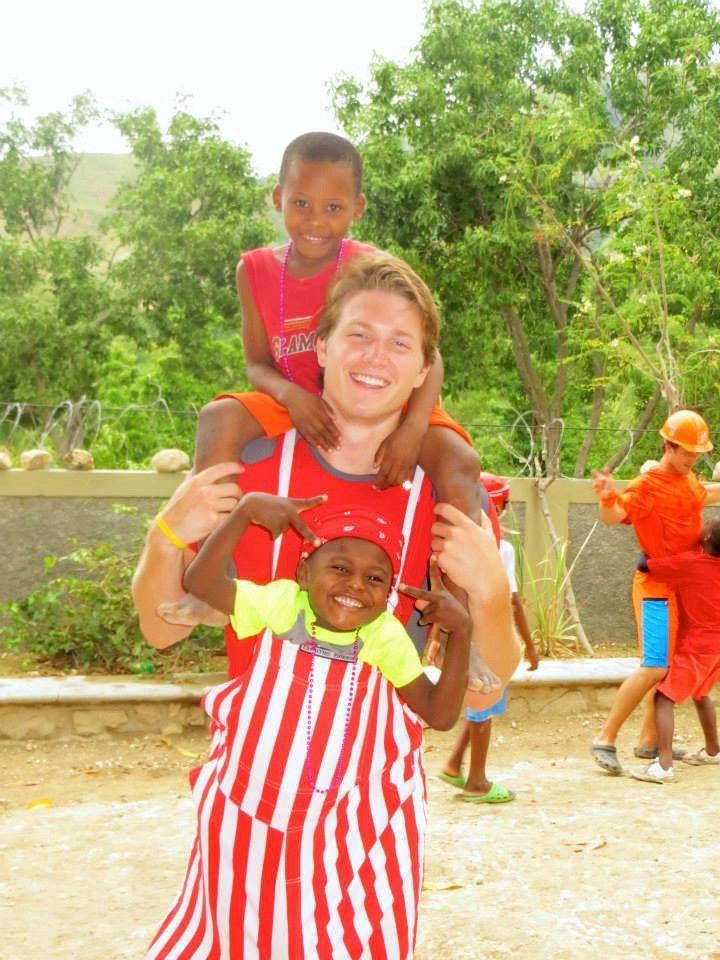 They were leaving the orphanage founded by Jean Claude Sylvain in the remote mountain village of Fond Blanc, a bumpy, two-hour drive from the airport in Port-au-Prince. An emotional Jake Bunz confided in his mom words that still resonate with her:
"You have always told us to look up from our lives and make sure we're not leaving something out, and you are driving away and those kids are starving," Jake Bunz told Tia.
It was the start of the path toward the Middleton-based Fond Blanc Foundation, for which Tia Bunz serves as executive director.
"I felt like, 'All right, God, I get that you speak through different ways and this is the one way that I felt you were speaking was through Jake.' And from that moment, he was committed to what was happening," Tia Bunz said. "There was a group of adults who started it, but he was never far from what we were doing."
Jake Bunz has been to Haiti around a dozen times, working on various projects. The orphanage started as a skeleton of a building, and work through the foundation has helped to build new structures that allow for shelter and education programs.
One of Bunz's gifts, his mom said, is an ability to mobilize people toward a cause, and it has been a boon to the charity.
He got the Phi Gamma Delta fraternity at UW-Madison to make the foundation the beneficiary of its philanthropy work. And he has organized trips for between 10 and 30 chapter members to go to work at the orphanage after the end of the spring semester.
The money raised has been used to start a sustainability project with chickens and terraced farming.
Bunz got Badgers Give Back, UW Athletics' community outreach program, involved in annual fundraisers. The first, with Badgers athletes from a variety of sports in September 2015, raised $35,000. The next year, the event brought in another $40,000.
With that funding, the Fond Blanc Foundation expanded the school offering at the orphanage to include other children from the community. The nearest other school, Tia Bunz said, is 60 miles away.
"He's learned how to connect people to service," she said. "He'll always say to me, 'People want to serve. They just don't know how to do it, how to get involved.' And so he just gets people involved. That's a pretty cool thing for a kid to be able to do."
Tia Bunz estimated the Fond Blanc Foundation has raised a little under $500,000 for the orphanage and school, which have an operating cost of just under $100,000 per year. She said the foundation is all volunteer-based and doesn't take any of the money donated.
'Model citizen'
Badgers senior forward Will Johnson has been on two trips to Haiti with Bunz, who organizes groups to go for a week at a time after the school year.
"He's one of those guys that you just light up when you see him, and he's good at lightening the mood," Johnson said. "He's a smart kid. He does everything off the ice that you respect as a person, so it makes it really easy to like the kid."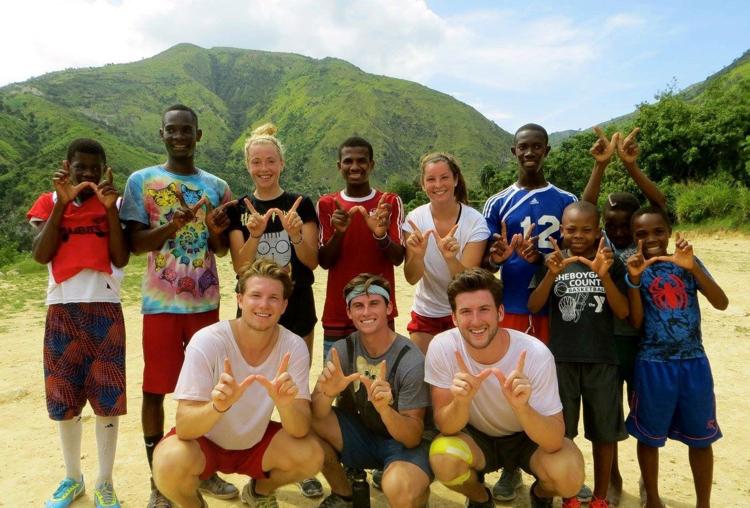 Closer to home, Bunz has been a part of at least 16 events through Badgers Give Back, according to director of community relations Jackie Davenport. On Feb. 10, he and six other men's hockey players pledged to have buckets of cold water dumped over their heads if fans raised more than $1,000 for Special Olympics at a women's hockey game.
He had a smile on his face after taking the plunge.
"He has a smile on his face when he comes to the rink," Badgers coach Tony Granato said. "He has a smile on his face when he leaves the rink. He's a great kid to have in your program. He's a great kid to have in the classroom, on the streets. All he does is do things the right way. He's a model citizen."
With the foundation's help, the Fond Blanc orphanage has grown to include around 60 children who get medical attention, education and consistent meals.
"Since we've been going there for so long, I've gotten to see the transformation process of not only the actual orphanage and the buildings itself but the kids," Jake Bunz said. "And the kids have gone from really unhealthy — malnutrition — to they're all sprouted up in growth. They're getting regular protein, regular meals and they're all really healthy and happy now."
Bunz said he is grateful for the Hockey Humanitarian Award nomination and the attention it has brought to the foundation. The award will be presented on April 12 at the men's Frozen Four in Buffalo, New York; Annie Pankowski from the UW women's team also is among the finalists.
At 23, Bunz is the oldest of 26 players on the men's hockey roster. He's due to graduate in May with a degree in real estate.
His hockey career might not have gone as he hoped, but it would be hard for him to say he didn't use his years at UW well.
"I've been blessed with a lot of opportunities, and I try to take advantage of all of them," Bunz said. "I always talk about your life resume, you want to build it up as much as you can because at the end of your life, you get to look back and say, 'Wow, I got to do that. I enjoyed my time doing that.'"