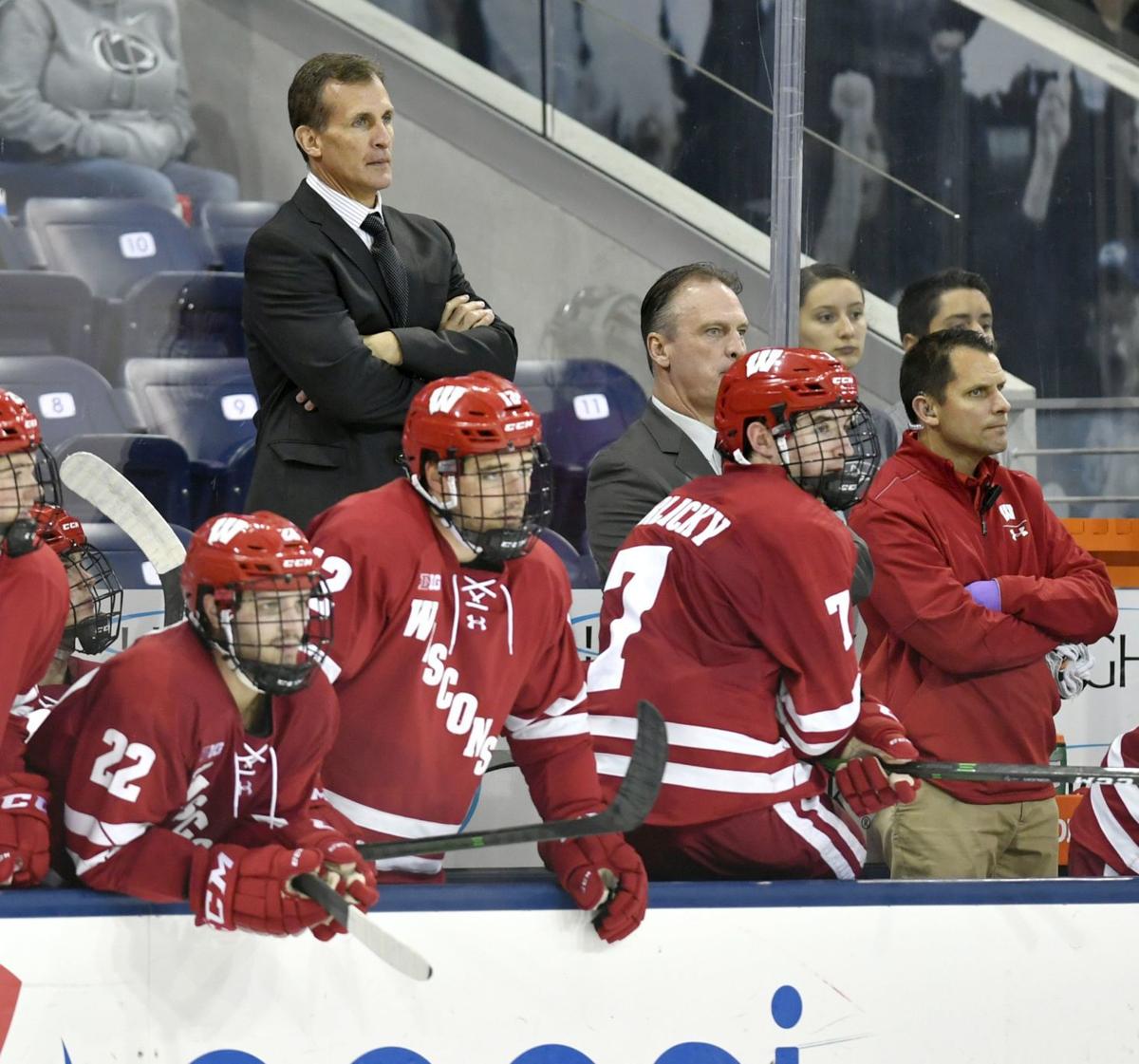 Through 10 games, the University of Wisconsin men's hockey team has been a largely even bunch, right down to the number of faceoffs it has won and lost — 295 each.
One of the reasons why the 15th-ranked Badgers are an even .500 for the season at 5-5, however, has been their uneven play in the third period over the past three weeks.
Not counting empty-net goals, they have been outscored 10-1 in the final period of the past six games, a stretch in which they're 2-4. The one goal in their favor was critical — Owen Lindmark's go-ahead score in the final seconds of an Oct. 26 home victory after Clarkson rallied with two goals earlier in the period.
In two of the past three games, the Badgers were either tied or within a goal entering the final 20 minutes but weren't able to net a difference-making score and lost.
Answers for the third-period goal disparity haven't been easy to find.
"I think we've just slowed down in the third period," center Mick Messner said. "The offense hasn't really come to us there."
Wisconsin State Journal reporter Todd Milewski and columnist Tom Oates break down everything Badgers fans need to know about the University of…
He said he doesn't think fatigue should be an issue, and coach Tony Granato said the team's forward depth and a approach of giving all four lines opportunities further rules that out.
Tied 2-2 after two periods at Penn State on Nov. 1, the Badgers lost 4-2 after a counterattack goal and an empty-net score. Trailing 3-2 at Omaha last Saturday, UW successfully killed a penalty to start the third period but allowed a goal on the next shift.
UW's third-period stats for shot attempts for and against over the past six games aren't out of line with what it has experienced over the first two periods. But while it has been even in shots on goal over the first two periods, it has allowed 10 more than it has taken in the third.
And goaltender Daniel Lebedeff's save percentage has fallen as the periods have progressed in the past three weeks — .937 in the first, .871 in the second and .841 in the third.
The challenge gets tougher this week against No. 4 Notre Dame, which is plus-10 in third-period scoring margin and averages a national-best two goals in the final regulation period.
The Fighting Irish erased a 1-0 deficit last Saturday with a pair of goals in the final 12 minutes for a 2-1 victory over Ohio State.
You have free articles remaining.
Granato said the Badgers will have their work cut out for them in the third period as they resume conference play.
"I think that has to be a focus moving forward, that third periods should be ours," he said. "Every game you play in the Big Ten is going to be 2-2 or 3-3 (in the third). That's the way you have to understand the competition that we're going to play. And the balance in our conference is games are on the line in the third period, and that's when you have to be your best to be successful."
Learning the line
After Dylan Holloway was ejected from last Friday's game for making head contact with Omaha goaltender Isaiah Saville while skating past the top of the crease, Granato said he didn't want his freshman center to back away from being physical.
Holloway has no intention of changing, although he said he still needs to get used to how college games are called.
"I still want to play hard," said Holloway, a top prospect for the 2020 NHL draft who was called for tripping and slashing minors before the hit. "Obviously, I didn't mean to hit the goalie or anything. It was kind of an accident. But I'm going to continue to play as hard as I can."
Holloway had an assist on Saturday after going four games without a point. He missed the Oct. 31 game at Penn State with an injury.
The Badgers were ranked 15th ahead of a Big Ten series against No. 4 Notre Dame at the Kohl Center.
From the infirmary
Senior goaltender Jack Berry was involved in a scary incident at the end of Monday's practice, when he had the back of his left hand skated over by a teammate as he tried to cover the puck with his glove.
Berry was bleeding as he skated directly to the bench and immediately had his hand wrapped up by athletic trainer Andy Hrodey.
Granato said later Monday that there was no damage other than a cut that needed stitches.
"It was a scary thing for all of us to see," Granato said. "But he's fine."
Berry stopped all 10 third-period shots he faced Saturday in relief of Lebedeff.