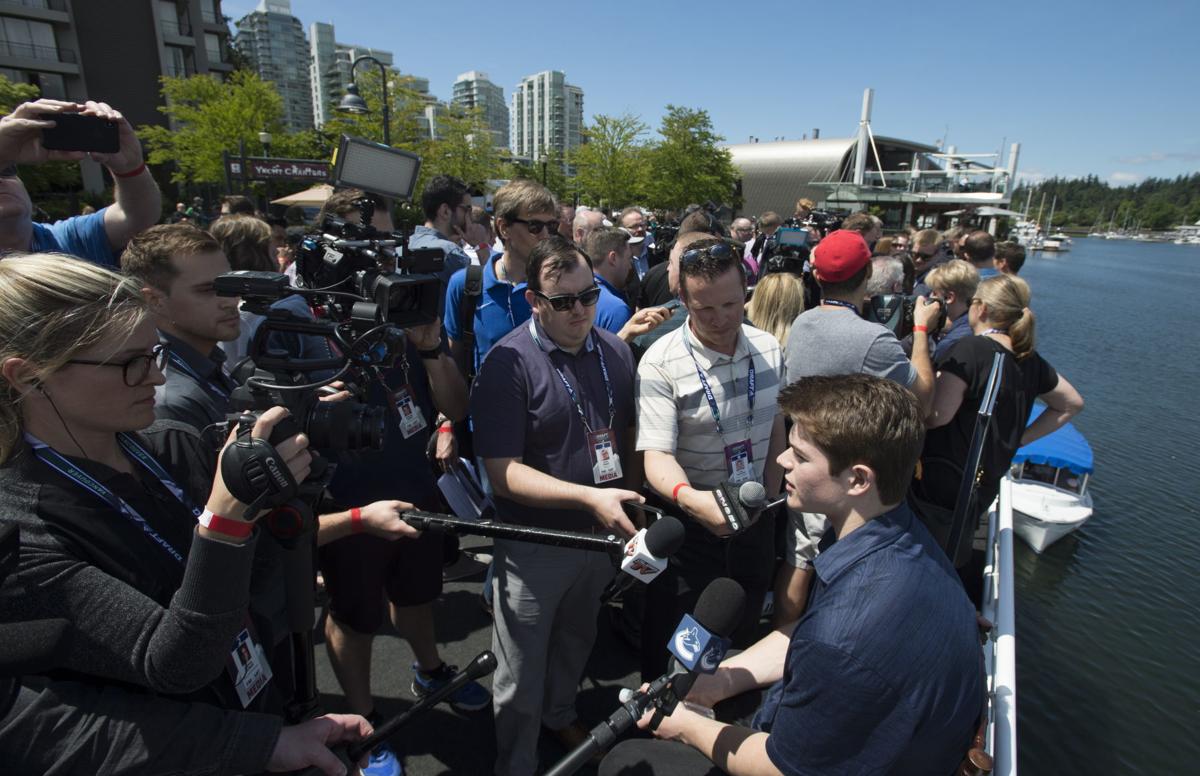 The summer can be a time of uncertainty for first-round NHL draft picks who are scheduled to enter NCAA hockey. Perhaps all the more so for others who have an interest in their future plans.
Even the most honest answer comes with a caveat: The decision to play in college can be quickly reversed.
Two incoming University of Wisconsin players who were among the top 15 picks in last month's draft have faced the traditional barrage of questions about where they'll play in the upcoming season.
Another incoming freshman who's expected to be a first-round pick in 2020 had to throw cold water on rumors after his major junior rights were traded.
Such is life for talented players who are in high demand. But forwards Alex Turcotte, Cole Caufield and Dylan Holloway are all on UW's campus, participating in the team's offseason sessions and saying that Madison is their home for the next campaign.
Turcotte was the fifth overall pick by the Los Angeles Kings, and Caufield was selected 10 spots later by the Montreal Canadiens.
As players give oral commitments to the University of Wisconsin men's hockey team, we'll add them here with their stats.
They went through development camps with the teams that hold their NHL rights, getting a first taste of the pro life and a forum to be asked when they'll be back on a more permanent basis.
"I'm just being honest: I think coming here is a great decision for me to help me develop and mature my body," Turcotte said last week of his decision to play at UW. "And get used to playing against older guys and getting stronger in the gym.
"I've probably said that answer a thousand times, if not more. It's been a lot. But I wouldn't say it if I didn't truly believe it. I think coming here is the best decision for me, and I'm really excited and happy about it."
Caufield was noncommittal on his future in interviews during Montreal's camp but said last week that he "couldn't be in a better spot" than with the Badgers.
"For me this year, you just kind of take it day by day," he said. "Right now, I want to be here."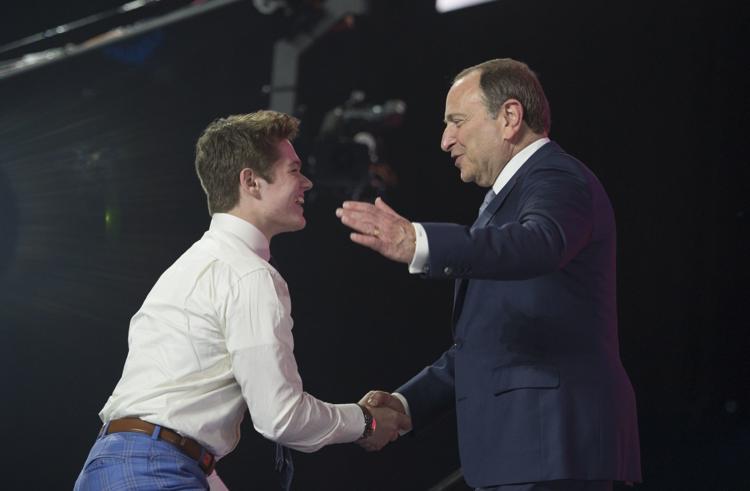 If the Canadiens want Caufield to participate in their preseason camp, the high-scoring right wing would have to back out of his plans to play for the Badgers. Would he entertain that possibility if the NHL team presents it?
"I'd obviously have to think about it," Caufield said. "It's a cool opportunity, and if they want you, you've kind of got to take a look at it. But until that day comes, I'm not really too worried about it. I just want to be here and enjoy my time here. It's college. It's a fun experience. I'm looking forward to it a lot."
Incoming Badgers center Alex Turcotte was selected by Los Angeles with the fifth pick on Friday, and Cole Caufield went 15th to Montreal.
You have free articles remaining.
Badgers coach Tony Granato played with Kings president Luc Robitaille and general manager Rob Blake, and Turcotte said those connections helped put the Los Angeles front office at ease about a season playing with UW.
"They were really comfortable with me coming here," said Turcotte, a center who was just the third Badgers player ever selected in the top five of the draft. "They just told me to keep getting better every day and just have fun and worry about this season. Don't worry about anything else. I totally agree with them."
Granato pointed toward the Badgers' history of producing NHL players and the opportunity to practice all season against five drafted defensemen as reasons why sticking with the college route would be beneficial to Turcotte and Caufield.
He said he's confident the duo will be on his roster when the regular season opens Oct. 11 at Boston College but allowed that "stranger things have happened."
"What we're offering them, I don't think there's another place that would be able to match what the full package does at our school," Granato said. "Whether that's arrogant or cocky or whatever, it doesn't matter. That's the way I feel.
"That's why I came back here, to be part of something that I thought was not only special because this is where I played but I thought it was special because this is the place that I believe gives student-athletes the best opportunity from the education side of things — so life after hockey — but it also gives them a chance to grow and develop as a player."
The Vegas Golden Knights picked incoming Badgers forward Ryder Donovan in the fourth round, and Owen Lindmark went to the Florida Panthers in the fifth round.
Holloway's major junior Western Hockey League rights were traded to the Winnipeg Ice on June 14. Such a move occasionally is merely a flyer by a team that hopes to change a player's mind about his path to the pros. It occasionally is because the player has already changed his mind.
Holloway, a left wing who was Canada's Junior A player of the year last season, quickly shot down the rumors.
"Honestly, it didn't really affect me too much," he said. "I knew I wasn't going to go that route. I knew I was coming here either way."
The Badgers last week started a series of early practices that are permitted under NCAA rules because of their scheduled trip to Vancouver, British Columbia, for a pair of exhibition games over Labor Day weekend.
UW will play at the University of British Columbia on Aug. 30 and Sept. 1 as part of a foreign tour that's allowed every four years.
Six undrafted Badgers players will join 12 players whose rights are held by NHL teams in prospect camps that start this week.
The quick pace of the first two practices at LaBahn Arena stood out to Granato. UW's seven incoming freshmen have to adjust to that new level, although some already have a head start on others.
Turcotte, Caufield and Owen Lindmark played against college teams and international competition with the USA Hockey National Team Development Program. Holloway also has international experience with Canada at the Under-18 World Championship and the Hlinka Gretzky Cup.
Forward Ryder Donovan and defenseman Mike Vorlicky are coming in directly from the Minnesota high school level with only some United States Hockey League junior experience. Defenseman Shay Donovan played the last three seasons in the Tier II North American Hockey League.
"It's different for everybody depending on the path that they got here," Granato said. "But you can see by their competitiveness and their work ethic and the condition that they're in that they've done a heck of a job the first two practices on jumping right in and being able to play at that pace."