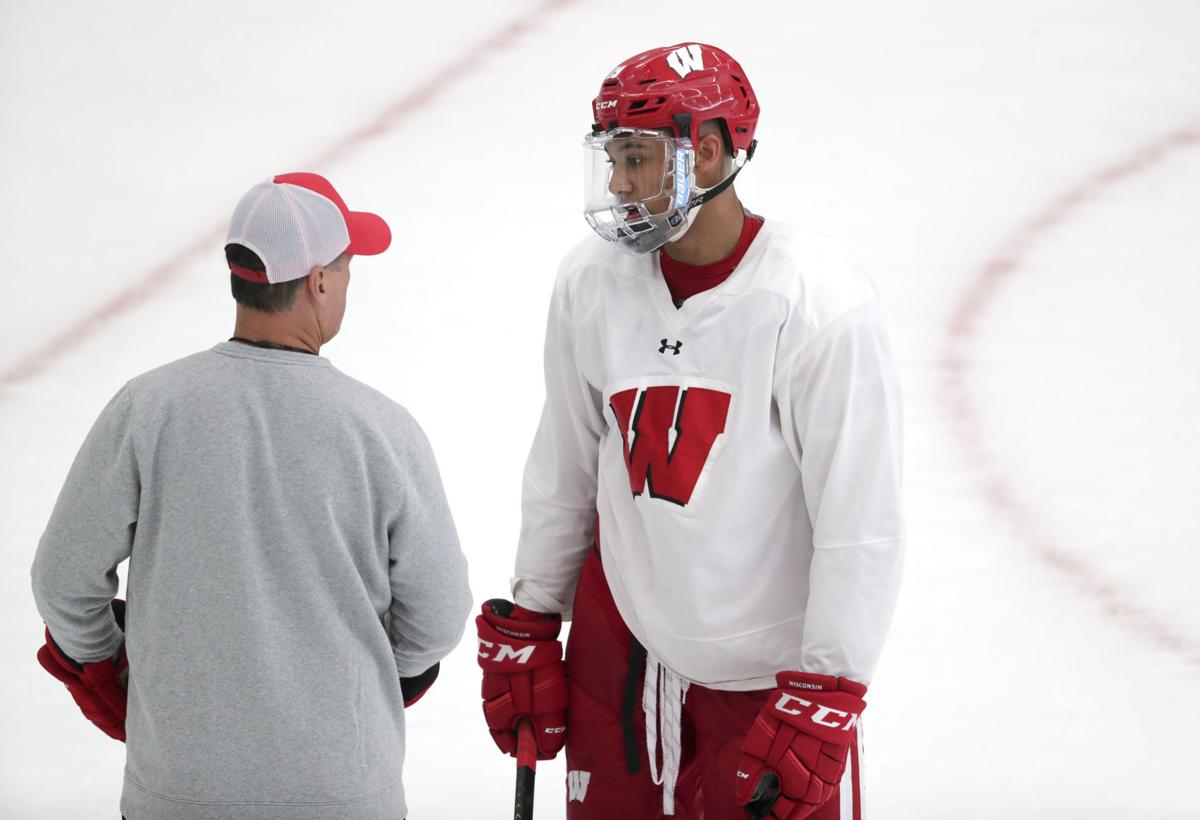 The University of Wisconsin men's hockey team faces the prospect of opening the season without one of its top defensemen.
K'Andre Miller has been suspended for a violation of team rules, associate head coach Mark Osiecki said Saturday.
Miller was the only player not present Saturday when the team practiced at the Kohl Center.
The NCAA men's hockey season officially opens Saturday, though the 16th-ranked Badgers don't play until next Friday at No. 11 Boston College.
Osiecki said Miller's absence was related to the suspension, but Miller is still with the team and involved in off-ice workouts. Osiecki, who was in charge of practice in the absence of head coach Tony Granato, didn't divulge the reason for the suspension.
The sophomore won't take part in Sunday's intrasquad scrimmage, Osiecki said. Whether Miller will play in Friday's season opener at No. 11 Boston College or next Saturday at Merrimack will be evaluated Monday, Osiecki said.
Miller was a unanimous pick by league coaches to the preseason All-Big Ten team announced last Monday. He led the Badgers in scoring when his freshman season when he suffered a left leg injury Feb. 9 that forced him to miss the final nine games.
You have free articles remaining.
The TV schedule starts with next Friday's season opener at No. 11 Boston College, which is scheduled to air on NESN+.
A first-round draft pick of the NHL's New York Rangers in 2018, Miller said in a recent interview that he thought he needed at least one more year of college hockey before turning pro.
"I think the coaching staff is very high class," he said. "You can't really find this anywhere else, at least college hockey-wise. So I know with this group of guys, we have something special going on. Especially with this new group coming in, I don't think it would have been smart to leave early and leave these guys behind."
The Badgers are ranked 16th nationally and were picked to finish third in the Big Ten.
Granato has been away from the Badgers while his brother, Don, has been hospitalized with severe pneumonia. Don Granato, a former UW player and associate head coach, is an assistant coach with the NHL's Buffalo Sabres.
Tony Granato won't be back in Madison for Sunday's 12:30 p.m. scrimmage at the Kohl Center, Osiecki said.
Dhooghe returns
Right wing Sean Dhooghe was back at practice Saturday in a blue, no-contact jersey after he was injured in practice Tuesday. He appeared to be favoring his left arm as he skated off the ice after a heavy collision with the end boards.
His absence from Thursday's practice was called precautionary, and he's not expected to miss game time.