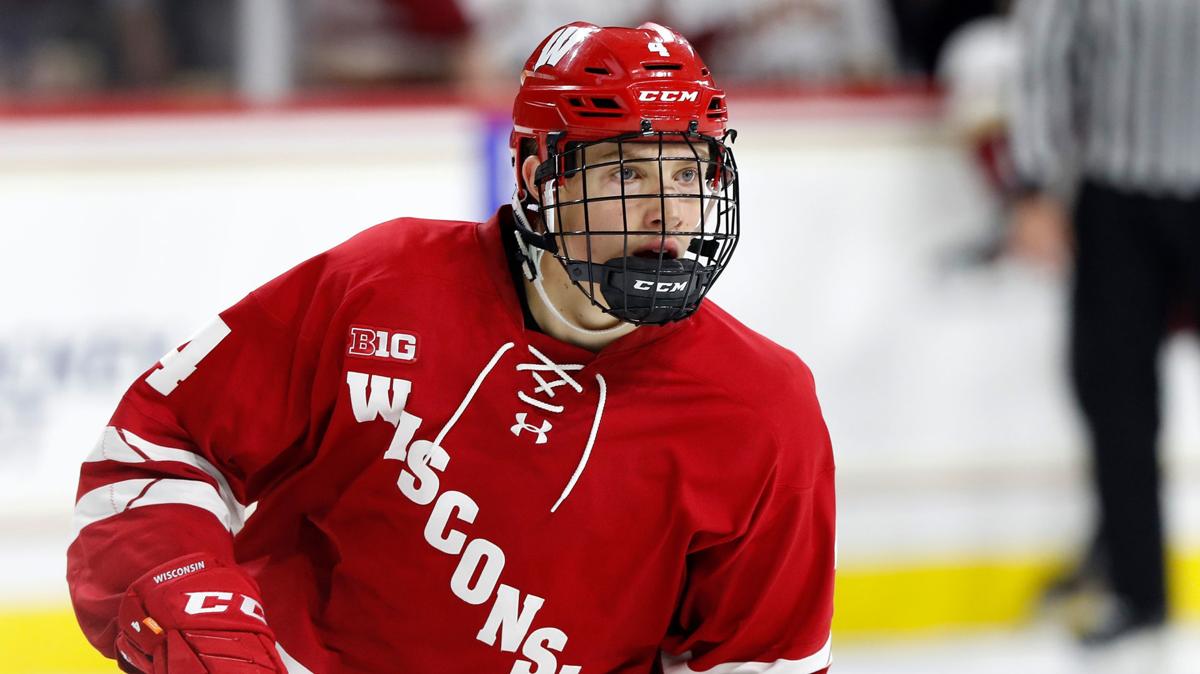 Dylan Holloway says he's the kind of hockey player who can use a good stretch of puck possession to get into a game.
If that's the case, he made a grand entrance for the University of Wisconsin last Friday, even though the play in question didn't result in anything more than offensive zone time for the Badgers and some confidence for the freshman.
On a second-period shift in UW's 6-2 victory over Minnesota Duluth, Holloway essentially went down a checklist of why scouts see him as a first-round pick in next year's NHL draft.
Daniel Lebedeff makes 31 saves in the 17th-ranked Badgers' 3-1 victory over the No. 3 Bulldogs at the Kohl Center.
Speed? Check. Hands? Yep. Vision? On display.
An ability to make something out of next to nothing? That was what made Holloway's skate around the perimeter and quick cut to the net for a close-range shot impressive.
Five minutes after the Badgers took the lead, Holloway nearly extended it with a solo effort, then kept the play alive by helping to force a turnover.
"That's a great shift to describe him because he does so many things that he does better than other players, all in that clip," Badgers coach Tony Granato said after watching a 20-second video of part of Holloway's shift.
Holloway spent a few minutes Monday dissecting the play, which started with him jumping off the bench to replace center Alex Turcotte with 9:20 remaining in the second period.
As teammate Cole Caufield won the puck in the right corner of the offensive zone but fell to the ice, he pushed the puck to open space behind the net. Holloway zoomed past Duluth defenseman Louie Roehl and cut in front of forward Justin Richards to take possession.
"I saw the loose puck, so I knew I could beat the guys there," Holloway said. "I just went as fast as I can to go get it."
He stumbled but quickly regained his footing and collected the puck as he skated into the left corner. His momentum pushed him out toward the left point, where UW defenseman Wyatt Kalynuk helped create a lane for Holloway to get past Bulldogs forward Tanner Laderoute.
A few feet from the blue line, Holloway changed directions to skate across the ice, considering a pass to defenseman Tyler Inamoto before they crossed paths to leave Holloway alone heading for the right-wing side of the ice.
Duluth left wing Cole Koepke was approaching with his stick out in an attempt to disrupt Holloway's possession.
You have free articles remaining.
"So I know I'm the last guy back right now," Holloway said. "I didn't want to try to dangle him or put it through his feet or anything, so I just put the puck into an area."
A turnover there likely would have given Duluth a breakaway, but Holloway made the safe play and hustled past Koepke to regain the puck on his backhand near the top of the right circle.
Owen Lindmark and Cole Caufield each score twice in a 6-2 victory over Minnesota Duluth at the Kohl Center.
He continued around the outside edge of the right circle and said he thought Duluth players were expecting him to cycle back around the net.
One Duluth defender was busy taking away a pass to UW's Linus Weissbach in front of the net and another was on the other side of the slot.
"I just saw an opening," he said of deciding to quickly cut parallel to the goal line and head toward the net. "There was nobody in front of me."
Holloway squared up for a left-handed wrist shot from a sharp angle, targeting the upper right corner of the net, above Bulldogs goaltender Hunter Shepard's left shoulder. He missed by inches, hitting the outside of the post.
From initial possession to shot, 11 seconds came off the clock. Even after, Holloway pressured Roehl into a lead pass from behind the net that missed its target and was intercepted by UW forward Sean Dhooghe.
Holloway's college debut at Boston College on Oct. 11 wasn't memorable for positive reasons: He was minus-3 in a 5-3 loss. He scored his first UW goal the next night at Merrimack even though he wasn't a big factor in the game.
Last weekend against Minnesota Duluth, with two dozen NHL scouts evaluating, he took steps forward in adjusting to the college game.
"It's always important to have confidence," Holloway said. "Obviously, not too much. But confidence when you play is definitely a big part of it. That play, it just kind of all happened, but it definitely built confidence for me."
Holloway was lined up as the center with Tarek Baker and Dhooghe against Duluth after playing left wing the first weekend. Center is his preferred position and what Granato thinks he'll play in the NHL.
"We've still got to remember he just turned 18," Granato said. "We've still got to remember he's coming from a junior league, so it's a big step as far as the speed and the strength of the players he's playing against. But his confidence to be able to play the same way he had success last year says a lot about his confidence in himself and also his skill set."
The largest one-week climb for the Badgers had been six places late in the 2012-13 season.
The Badgers' sweep of two-time defending NCAA champion Minnesota Duluth pushed them to No. 6 in the USCHO.com Division I men's poll, a gain of 11 spots that represented UW's highest one-week climb in more than 22 years of rankings.
Before Monday, the largest gain UW made between weeks was six spots after winning the 2013 Western Collegiate Hockey Association playoff championship.
Clarkson, which plays the Badgers in non-conference games at the Kohl Center on Friday and Saturday, fell three spots to 13th after losing to Providence last Saturday.