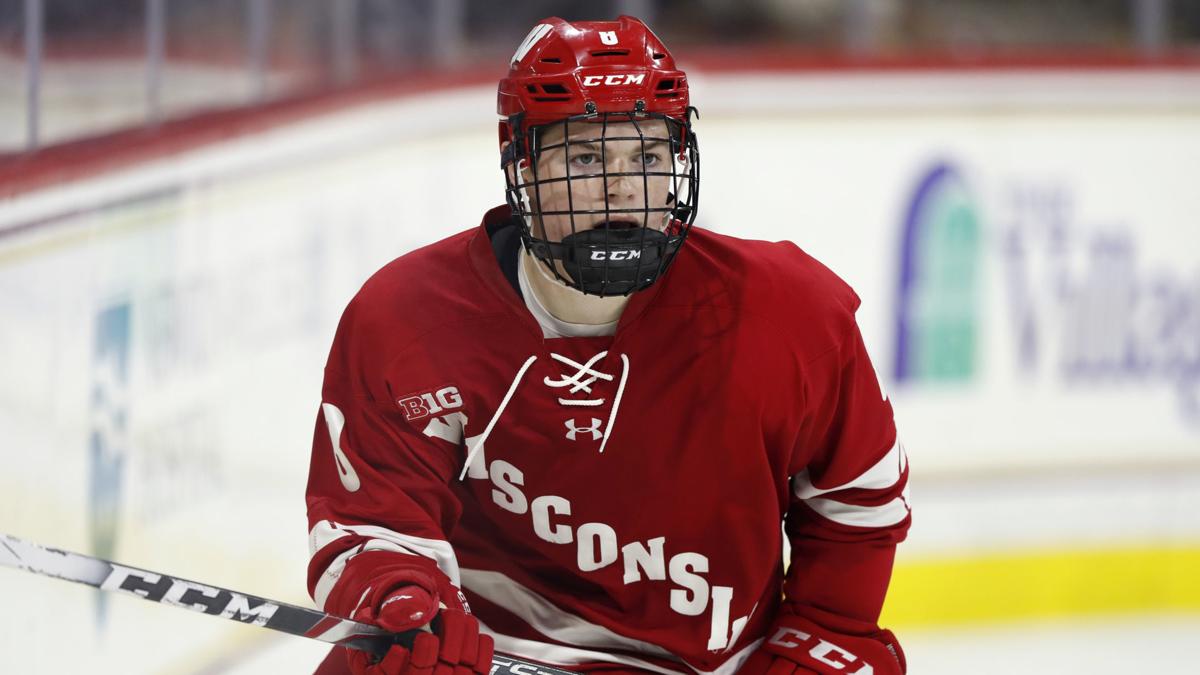 Going three games without a goal has been unusual for Cole Caufield over the last few years.
But the University of Wisconsin freshman has done so twice in November, with just one goal from seven games after scoring eight times in his first seven of the season.
Scorers going through slumps isn't out of the ordinary. Still, how some of Caufield's chances haven't gone in — over the last three games, especially — is a question without a good answer.
"Obviously, you want it to go in and it's not right now," said Caufield, who still leads the Badgers with nine goals and is tied for sixth nationally. "But as long as I'm getting chances, I think sooner rather than later they'll go in. Once I get one, I think they'll come. I'm not going to get frustrated."
Ahead of the 19th-ranked Badgers' home series against Michigan on Saturday and Sunday, here are some things to know about Caufield relative to his recent difficulties putting the puck in the net:
He's getting more shot attempts lately.
There's no issue with Caufield being hesitant to shoot the puck.
In his first seven regular-season games with the Badgers, he scored eight goals on 48 shot attempts. In the last seven, he has one goal on 58 shot attempts.
Caufield is responsible for 13% of UW's shot attempts, a percentage that has risen over the last seven games. His total of 106 attempts is 38 more than the second Badgers player, defenseman Wyatt Kalynuk.
The back half of his first 14 college games has seen a higher percentage of Caufield's shot attempts go wide, get blocked and hit the post than in the first half.
"He's made good shots that just haven't gone in for him," Badgers coach Tony Granato said. "And now he's probably trying to make perfect shots because they're not going in for him."
Many of his shot attempts have been high quality.
Here's a sampling of the good chances Caufield has had over the last three games:
• Two breakaways against Notre Dame on Nov. 16, one gloved by goaltender Cale Morris in the second period and a backhand move in overtime that got through but stopped on the goal line and was cleared away to set up the Irish's winning rush. The latter led Caufield to joke that he thinks the ice should be resurfaced before overtime; built up snow could have slowed his shot enough to keep it from going in.
• A sliding pad save by Minnesota goalie Jack LaFontaine on a one-timer off a pass from Alex Turcotte in the first period last Friday.
You have free articles remaining.
• A ring of the post on a one-timer not long before he set up Sean Dhooghe's power-play goal in the second period last Friday.
• A throwing back of the head after missing the net on a one-timer from Josh Ess later in the same period.
• A shot over the net from the slot with the game tied and 2:25 remaining in regulation last Saturday at Minnesota. That shot was contested by three sticks from Gophers players.
• A 120-foot breakaway with 15 seconds left in the 3-on-3 overtime Saturday on which LaFontaine stopped Caufield's backhand try with his blocker above his right leg pad.
• A shot at LaFontaine's five hole seconds later after Turcotte retrieved the puck and fed Caufield alone in front of the net. The last two attempts sent Caufield off the ice holding his stick atop his helmet.
• A shootout effort that grazed the outside of the post.
"I'm not too worried about that," Caufield said of the chances that haven't gone in for him.
The Badgers won the shootout to get the extra Big Ten Conference point with Max Zimmer's goal in the third round.
"I was really happy with the win," Caufield said. "Obviously, if we would have lost I would have been a little bit more mad at myself for the opportunities that I had to close the game. But I thought it was a good team effort on Saturday. It's something that we should continue to build on going into this week."
His droughts usually precede scoring bursts.
In setting the USA Hockey National Team Development Program record with 72 goals in 64 games last season, Caufield had only two stretches of three games or longer without scoring.
After a six-game drought last October, he scored 13 goals in his next eight contests.
And after going three games without a goal in March, he scored 20 times in his next nine outings, most of them during the Under-18 World Championship.
The Badgers and the U.S. World Junior team, which will get Caufield for the Dec. 26-Jan. 5 tournament in the Czech Republic, would love to see a similar experience.
UW appears to be trying him with a new set of linemates this week as it gets ready for the Michigan series. At practice on Tuesday, he was lined up with junior left wing Linus Weissbach and freshman center Dylan Holloway.
"He'll get back on track," Granato said. "And when they do go in for him, he'll get on a heck of a run. He's too good of a player, too good of a scorer."