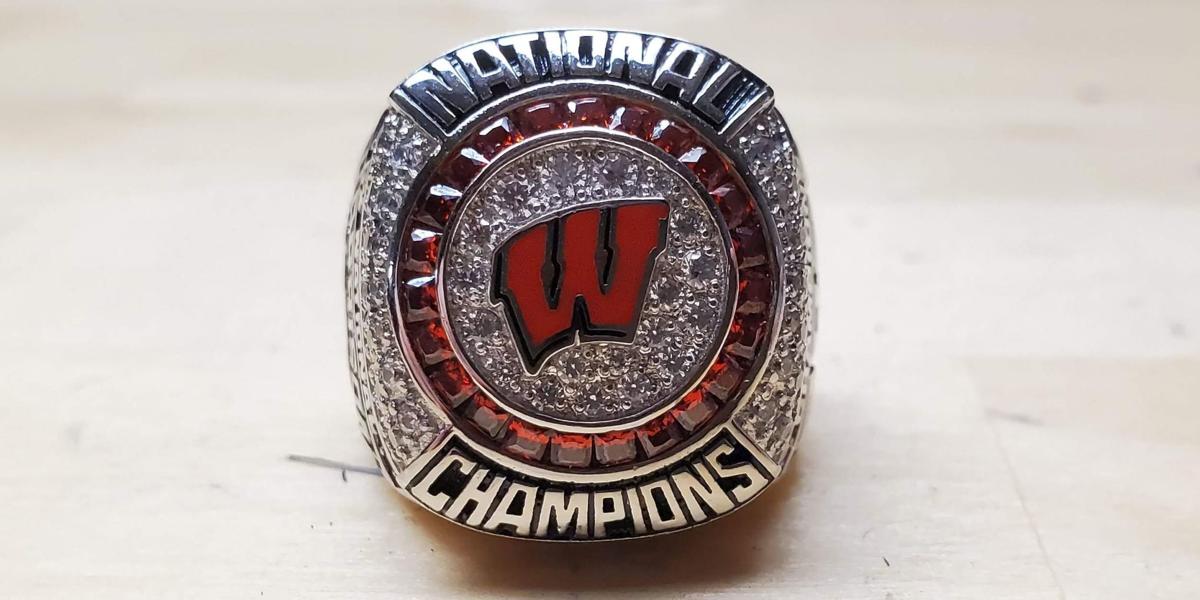 As designed, there's a lot to catch the eye on the University of Wisconsin women's hockey team's 2021 NCAA championship ring.
There are 23 red stones in a circle around a Motion W logo. One side has the Frozen Four logo, the other the Madison landscape as seen from John Nolen Drive — a favorite of one of the team's leaders.
The bottom has six more red stones, one for each of the national championships the team has won.
But it's what's engraved on the inside that might invite the most questions:
"SORRY FOR PARTY ROCKING"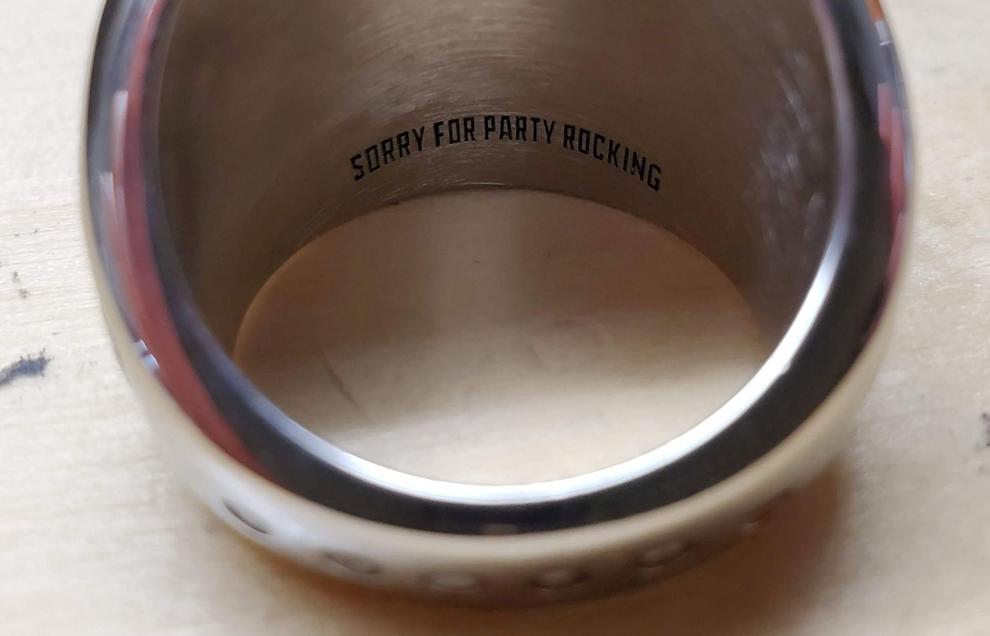 That 2011 song by LMFAO has an unforgettable connection to the 2020-21 season for the Badgers players who went through it. They blasted it in the locker room after every victory.
"It was pretty special for us, so it had to make an appearance on the ring," said Grace Bowlby, who co-captained last season's team and was part of the group of players that helped design the jewelry.
"Everyone in the locker room that sees that will instantly know what the meaning behind that song is," Bowlby said. "You only get to play that when you win. Obviously playing that one after we won the national championship was probably the best, but it'll never get old. Every time I hear that song, it'll remind me of that whole season."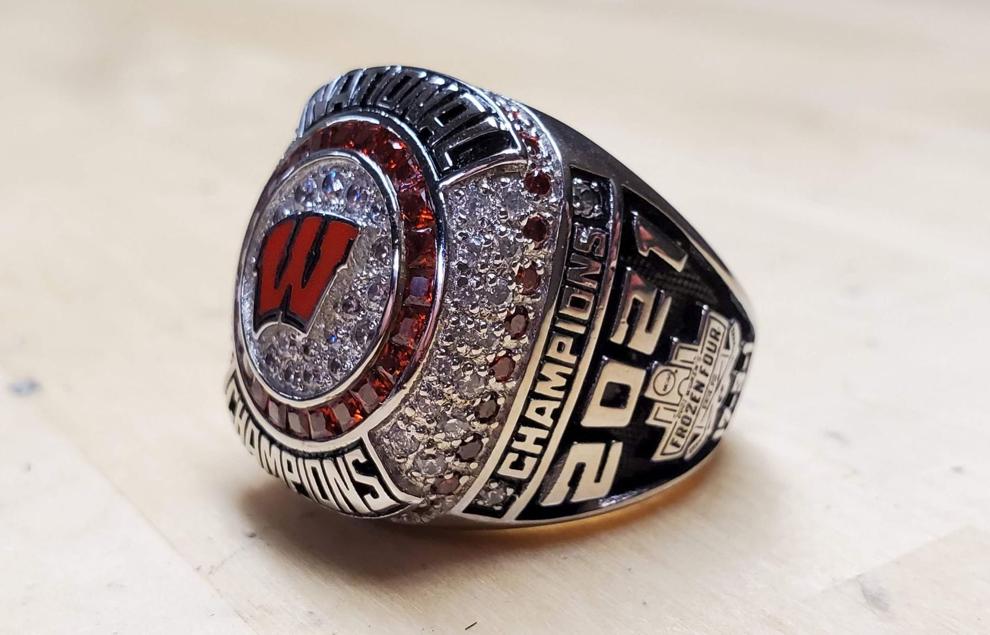 Coach Mark Johnson told the team at the end of last Friday's practice that there were presents waiting for them in their lockers.
Players knew what that meant and rushed in.
"I was actually one of the last ones because I knew what they look like and I wanted everyone else to run in there," Bowlby said. "It reminds you of all the hard work we put in. And we deserve them. It was pretty surreal."
Owners J.C. Fish and Mark Fredrickson of Mount Horeb awards manufacturer Midwest Scholastic said they met with Badgers players not long after they won the title in March to find out what they wanted their mementos to look like.
UW players also got a ring for winning the Western Collegiate Hockey Association regular-season and playoff championships. The conference ring has the black UW-Madison crest that became a symbol of inclusion and unity in the athletic department last season.
The NCAA allows schools to spend $325 on a conference championship ring and $415 for a national title award.
Fish and Fredrickson said the designs they and the players finalized then had to go through UW's licensing department before production started.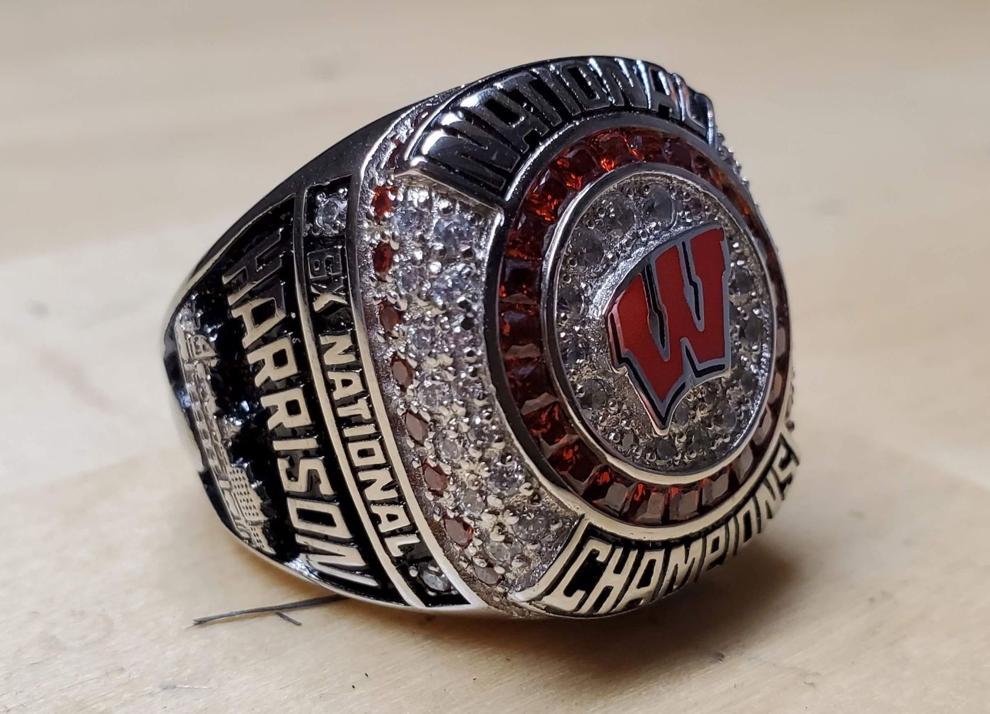 Fifth-year player Brette Pettet, who was co-captain with Bowlby last season, gave the idea for having a representation of downtown Madison's skyline as seen from John Nolen Drive as part of the ring.
"That's one of her favorite views of Madison, driving on that road," Bowlby said. "And we all agreed that it's just a great viewpoint."
Any viewpoint of the ring is going to be a good one for UW players and staff members who have built up a good collection over the last few years. The Badgers have won at least one WCHA title in each of the last seven seasons and NCAA crowns in 2019 and 2021.
"They're pretty awesome," Bowlby said. "They're on a shelf in my room next to my national championship trophies."