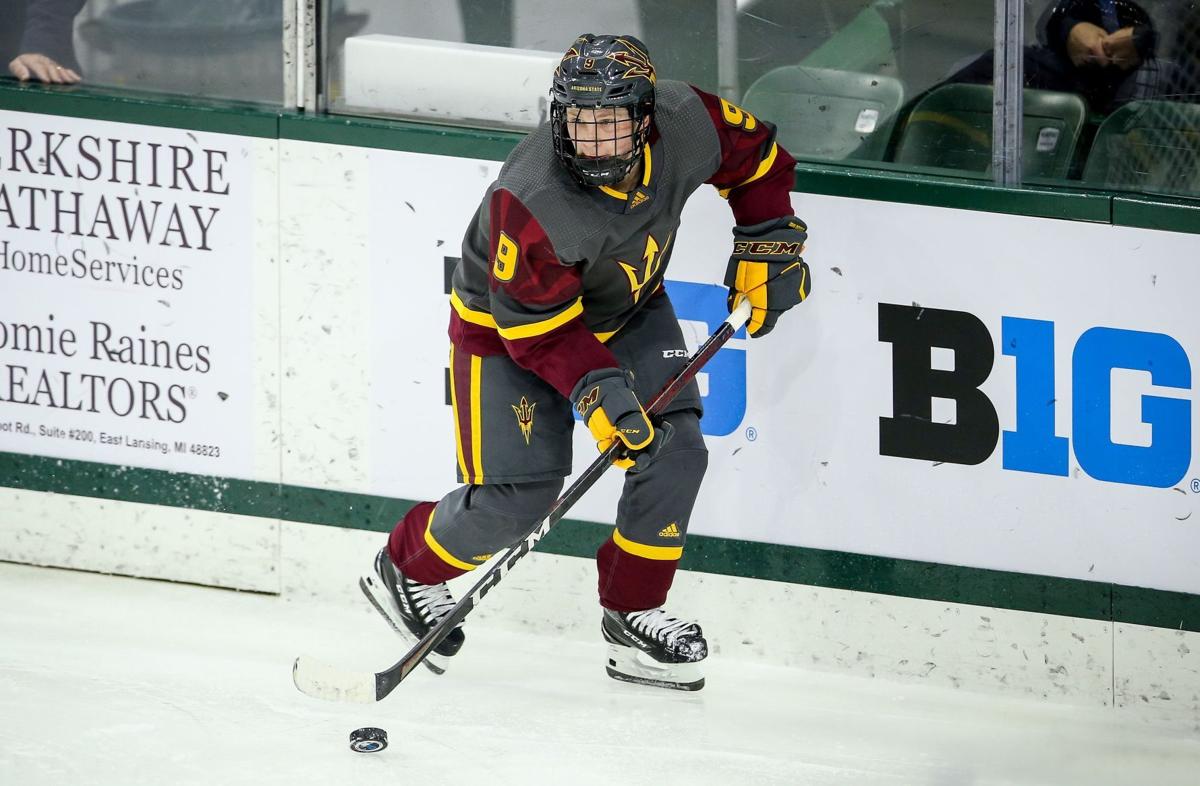 The accommodations in the hotel just off campus have been good enough for Sean Dhooghe to briefly lose track of how many days he and the Arizona State men's hockey team have been in Madison.
The Sun Devils have their own meeting room for meals, with a ping-pong table and movies to pass the time. And there's a lot of time to pass.
"We've been down there a lot playing cards and stuff like that, some games," Dhooghe said.
Nine months ago, the idea that they would spend the better part of two weeks lodging in Madison would have been as strange as Dhooghe spending it with them instead of at his Madison apartment.
After three years playing for the University of Wisconsin, Dhooghe is finishing his collegiate eligibility with Arizona State. The Sun Devils have a scheduling agreement with the Big Ten for the pandemic-altered 2020-21 season, so Dhooghe gets two trips back to Madison to play against his brother Jason, a senior, and a lot of former teammates.
The only time the brothers might see each other face to face, however, is on the ice Saturday and Sunday at LaBahn Arena.
"I think it's going to be exciting and it's going to be fun," Sean Dhooghe said. "I think it's just going to be a little bit of a different look than what I'm used to."
The Dhooghe brothers have been video chatting on their phones and texting but haven't crossed paths at LaBahn Arena, where the Sun Devils have also been practicing since arriving in Madison on Nov. 21.
"With things going on, we didn't want to see each other," Jason Dhooghe said. "They have their own rules and we have our own."
Jason and Sean Dhooghe have been on opposite benches before, so what will take place this weekend won't be new to them. But Jason conceded that there will be a weird vibe to it after they spent three years as Badgers teammates.
Sean Dhooghe entered the NCAA transfer portal after last season. In an interview this week, he declined to discuss why, but he finished his junior campaign as a healthy scratch after returning from a late-season injury.
He said he quickly heard from 25 to 30 schools interested in acquiring him. Dhooghe had ups and downs with the Badgers but ended last season as the team's active career goals leader with 26 in 102 games.
"I think he's a high-character kid that just needed a change of scenery," Arizona State coach Greg Powers said.
He's getting it in a few different ways with the Sun Devils. Playing golf any time of the year is a major change, and he wanted to make sure former Badgers player Wyatt Kalynuk, his frequent golf partner who said over the summer that he gives Dhooghe 12 strokes over 18 holes, knew that his game has come a long way.
"He gave me a couple digs in the paper but he's got no idea what's coming now," Dhooghe said.
The more immediate difference in scenery is the inside of his Madison hotel room. The Sun Devils are on a 22-day road trip to start the season. They agreed to a 28-game schedule against Big Ten teams, all played on the road, so they're taking a few extended trips with bus rides between cities.
The alternatives were limited for an independent program not guaranteed any games in a season where most teams are trying to limit travel.
"I don't think anyone right now would trade this for anything," Sean Dhooghe said. "We're fortunate enough to get to play. We're fortunate enough to have this agreement with a league that's doing everything they can to make sure that we get to play and play safely."
When Sean Dhooghe was in the process of transferring in the offseason, Jason Dhooghe said he didn't consider the same even though he played in only three games in 2019-20.
"We had different things going on here," Jason Dhooghe said. "So I just respected whatever he wanted and supported him. He needed to do what he needed to do for him. It is what it is, and I was happy for him and still am."
Jason Dhooghe didn't start this season in the Badgers' lineup but has made good use of his time since UW lost centers Dylan Holloway to Canada's World Junior Championship camp and Ty Pelton-Byce to a concussion. And he nearly became the first Dhooghe brother to score a goal this season.
He drove up the left wing in the second period of Monday's game against Penn State and, instead of going around the back of the net, cut to the front. Dhooghe tucked a shot between Oskar Autio's legs but crashed into the goalie and was ruled to have interfered with him before the puck crossed the goal line.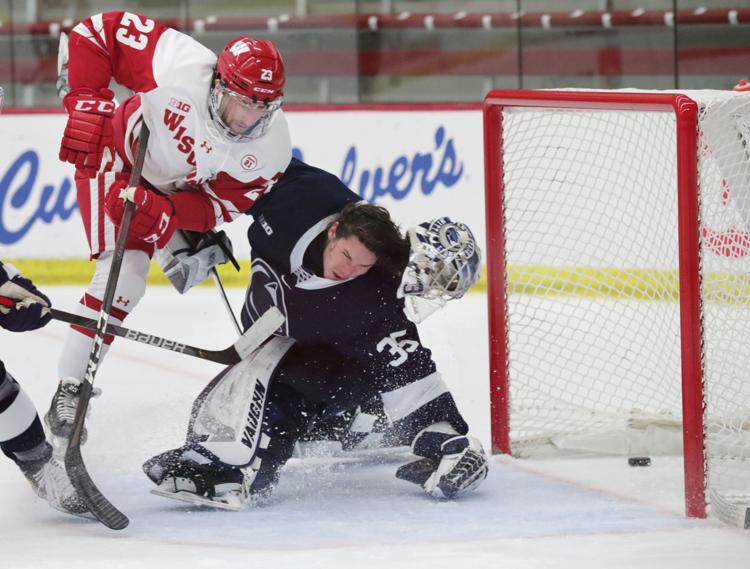 "One thing that I wanted to do this year was get to the net more, get to the dirty areas and try to make an impact there," Jason Dhooghe said. "Especially with how things are going on, I think this is a good opportunity for myself to take advantage of and do what I can to help the team."
Watching the broadcast from Arizona State's hotel less than a half-mile away, Sean Dhooghe was a proud younger brother.
"Especially how the game is now, you just don't really see greasy things like that anymore," he said. "Whether it counted or not, I don't think it matters anymore. For him, it was great to see. I loved it. I thought it was a great goal."
Get ready for Wisconsin Badgers men's hockey season with State Journal's in-depth coverage
Wisconsin State Journal reporter Todd D. Milewski breaks down everything Badgers fans need to know about the University of Wisconsin men's hockey team, the competition the Badgers face in the Big Ten, and other stories to watch during the 2020-21 season.