The opening Cole Caufield was shooting for had roughly the shape of a triangle bordered by the crossbar, the right post and the outline of the goaltender's head and left shoulder.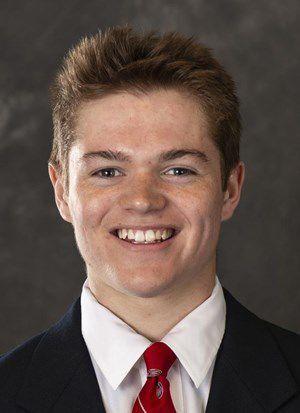 There are 24 square feet to aim for when no one's standing in your way. Add a defenseman poised for a block attempt to the goalie covering most of the cage and there was less than 1 square foot in that top right corner.
It's worth noting it has been Caufield's tendency to accomplish things that many doubt can be done. Score more goals than Auston Matthews or Phil Kessel at the USA Hockey National Team Development Program? Done.
Win the Big Ten scoring championship as a freshman for the University of Wisconsin? Check. Do it again as a sophomore by a substantial margin? Another check.
So what's an 18-foot wrist shot to put a 3-inch disc into less than a square foot of space with your team trailing in the final seconds of the second period with the conference championship on the line?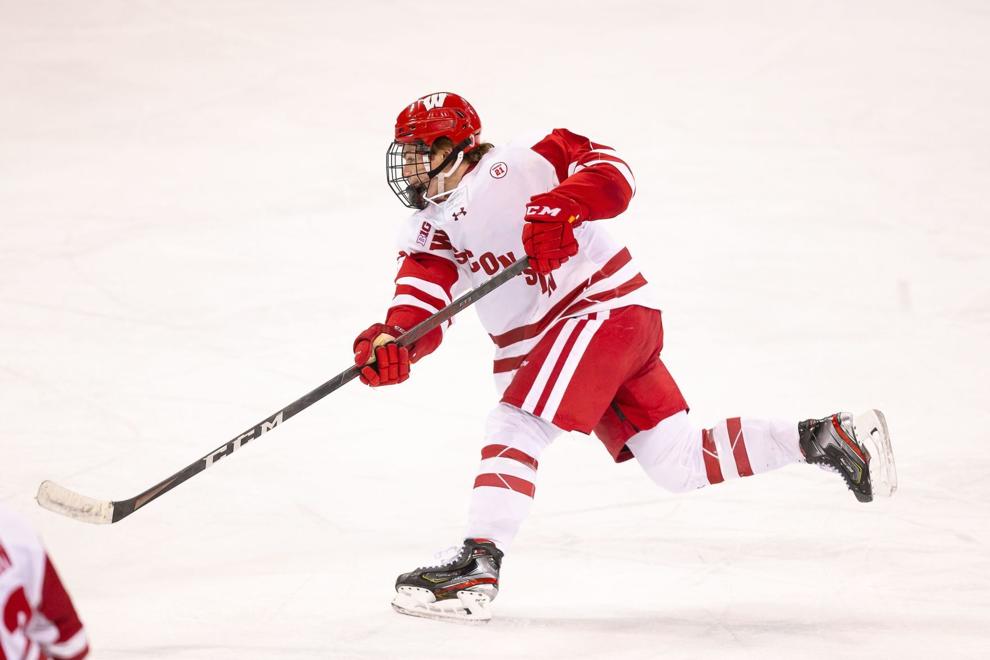 One of the things learned from observing Caufield over the past two seasons is that nothing is off the table.
"You're trying to put a puck in that spot," he said, "and sometimes you get lucky it goes in the perfect spot."
From the way Badgers goalies describe it, there's more than luck involved. Caufield hit that top corner against Michigan State on March 6 from low in the right faceoff circle, scored again in the third period and UW won its first regular-season championship in 21 years.
His quick hands and accuracy even in difficult situations make him one of college hockey's elite players. They have provided 28 goals this season, 10 better than his closest competition in the national rankings.
As the Badgers make their first NCAA tournament appearance since 2014 on Friday against Bemidji State, it's fair to wonder whether Caufield has established himself as one of the best pure shooters in program history.
Eight former Badgers goalies, covering a time period from the late 1960s to the early 2010s, provided insight on who would challenge Caufield for that honor from their eras.
Some common traits
Differences in stick technology through the years, changes in styles of play and the familiarity with only a certain segment of the alumni group made comparisons between players from different decades fruitless.
But the goalies had some ways of connecting the players they faced in practice so many times to what they've seen Caufield do, either in person or on TV, to generate good scoring chances.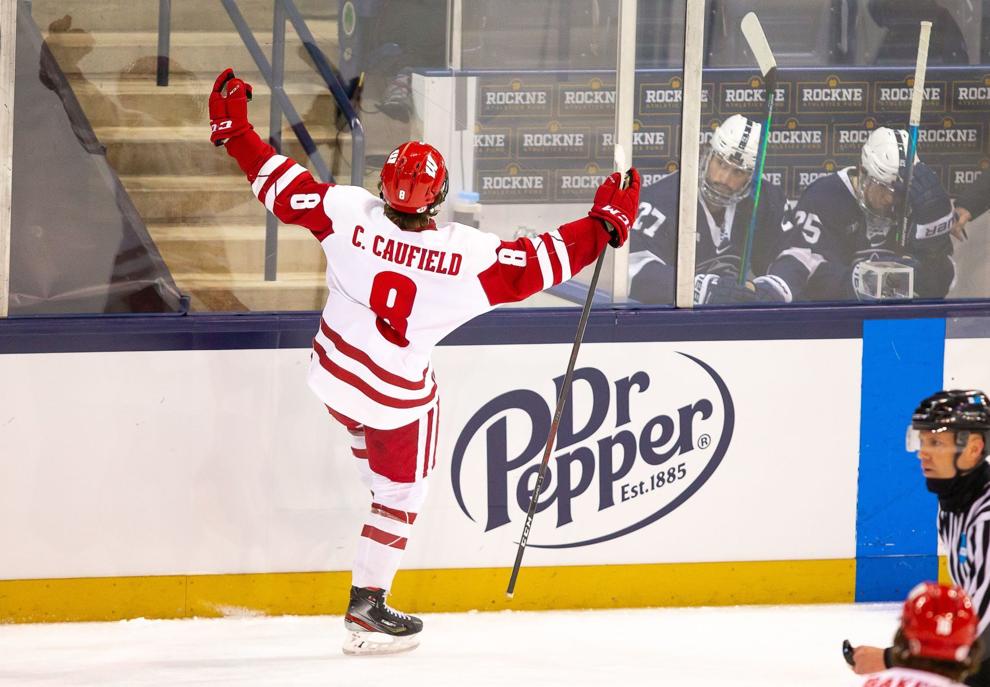 Duane Derksen said using the defenseman as a screen is a throwback to Chris Tancill, John Byce, Gary Shuchuk and Doug Macdonald from the 1990 NCAA championship team.
Wayne Thomas saw Caufield's midrange shots as a throwback to Murray Heatley, a star on UW's first NCAA tournament qualifier in 1970. Graham Melanson said Caufield's ability to shoot just before a goalie moves is reminiscent of Heatley's son Dany, an All-American in 2000 and 2001.
Julian Baretta, UW's first goaltender All-American in 1977, was reminded of Mark Johnson in seeing Caufield fire off a pass and in how accurate he is.
Johnson, the program's all-time leading goal scorer with 125 in 125 games played from 1976 to 1979, is the gold standard for all sorts of measures with the Badgers.
"There was no goalie that he couldn't beat because he could shoot the puck so many different places," said David McNab, who was mostly a reserve goalie from 1973 to 1978 and so often was given the thankless job of facing Johnson in practice. "And he was so fast that he got in close. So he didn't have to just score from 30 feet out, 40 feet out. But he could."
Baretta, who was a year ahead of Johnson, never considered his shot to be heavy — the kind that will leave a mark. But the goalie was left with a bump on his shin for an entire season thanks to a Johnson slap shot in warmups for a 1978 intrasquad game.
Melanson had skilled shooters such as Steve Reinprecht, David Hukalo and Dany Heatley on the 1999-2000 Western Collegiate Hockey Association championship team. He also had Johnson, then in his 40s, as an assistant coach.
"The hardest player to stop my whole time in practice was coach Johnson," Melanson said. "What he would do to me is he would come down, he would raise his stick halfway and then wait. And then just let it go. It would be off the post but never hard. He lightened up on me — he wouldn't do it much on Thursday or Fridays. But early in the week, all four years, I could never figure him out."
Scouting the snipers
More than a dozen other players were mentioned by former Badgers goalies, not an exhaustive list but a good start. Bert DeHate (1966-70) was a Phil Esposito type, Thomas said, methodical about being in the right spot to shoot. Murray Heatley was that era's sniper, with an ability to get pucks into the net off the inside of the post.
Mike Eaves (1974-78) was better than anyone else at surprising a goalie by shooting in stride, Mike Dibble said. Baretta said Eaves' intelligence helped him know where the goalie's weight was when he was placing a shot.
Dibble cited Dave Herbst (1974-77) as a stickler for placement and Mike Meeker (1975-77) as being skilled at hiding the puck on his stick on shots.
Paul Ranheim (1984-88) had the hardest shot of the mid-1980s, Dean Anderson said. Current Badgers coach Tony Granato (1983-87) didn't have to be set to get off a quick shot, Anderson said: "It was just gone before you were ready."
A slap shot from Jason Zent (1990-94) was tricky, Derksen said. "He could really shoot a hard and heavy shot combined." Much the same could be said about Erik Raygor (1994-98), Melanson said.
Joe Pavelski (2004-06) was considered the best shooter on the 2006 NCAA championship team and was smart about it along the lines of Derek Stepan (2008-10).
When Blake Geoffrion (2006-10), the only Hobey Baker Award winner in team history, got into a slap shot on a rush up the wing it was trouble for goalies, Scott Gudmandson said. It didn't hurt that his grandfather, Bernie "Boom Boom" Geoffrion, was credited with making the slap shot fashionable.
Defensemen Craig Norwich (1974-77), Sean Hill (1988-91) and Brendan Smith (2007-10) were credited for either having weight being their shots or being adept at disguising where they were going.
Unpredictable shot
Deception is a big part of what makes for a good shooter.
"The guys that can move the puck, change the puck before getting a shot off, I think it creates a huge advantage for the shooter," Derksen said. "Those shooters have their heads up, they don't have their heads down."
Caufield's shooting patterns are unpredictable, Granato said, which makes it tough for a goalie to get a read on him.
Freshman goalie Cameron Rowe has faced Caufield in practice going back to their days together with the NTDP, so he has seen a lot of the right-handed winger's moves. There are always new ones coming.
"In practice, what makes Cole so special and so deadly too is he can put the puck literally anywhere he wants to," Rowe said. "You watch a lot of his goals and they're going up high and back bar and stuff like that. But a lot of times in practice he's shooting on the ice."
It doesn't seem to matter whether the puck is in a bad spot relative to Caufield's stick, Badgers senior goalie Robbie Beydoun said. He still uses his balance and hand coordination to create a scoring chance.
"You'll ask NHL goalies — it's not the hardest shot. It's not the guy that can pick the little spots. It's the guys like Matthews, (Connor) McDavid, they just get the pucks off their sticks so fast," Beydoun said. "When you're able to do that, the goalie's not going to be as set. When a goalie's set in this league and up, the goalies are going to make the saves on clear-sighted shots. The elite goal-scorers like Cole, those are guys that can beat goalies clean on wristers. And he's able to do that because he's able to get it off extremely quick."
Improvements to Caufield's shot have been through repetition, he said. How much better it can get as he approaches an NHL career is a tempting thought for the Montreal Canadiens, who picked him in the first round in 2019.
Extra work after practices and in the offseason make the improbable shots go where Caufield wants them to.
"I've never played with anyone that wants to get better the way that he wants to get better," Rowe said. "I don't think I've ever played with someone that wants to continue to open up the box and go, what else can I do?"
Look back on State Journal coverage of Badgers men's hockey games in the 2020-21 season
Read stories from University of Wisconsin men's hockey games in the 2020-21 season.