LAKE ELMO, Minn. — The experiences Cole Caufield ticked off in the 131 days from when he was named the 2021 Hobey Baker Award winner in April to when he first touched the trophy Wednesday are the stuff of legend.
It's a long list. The abridged version: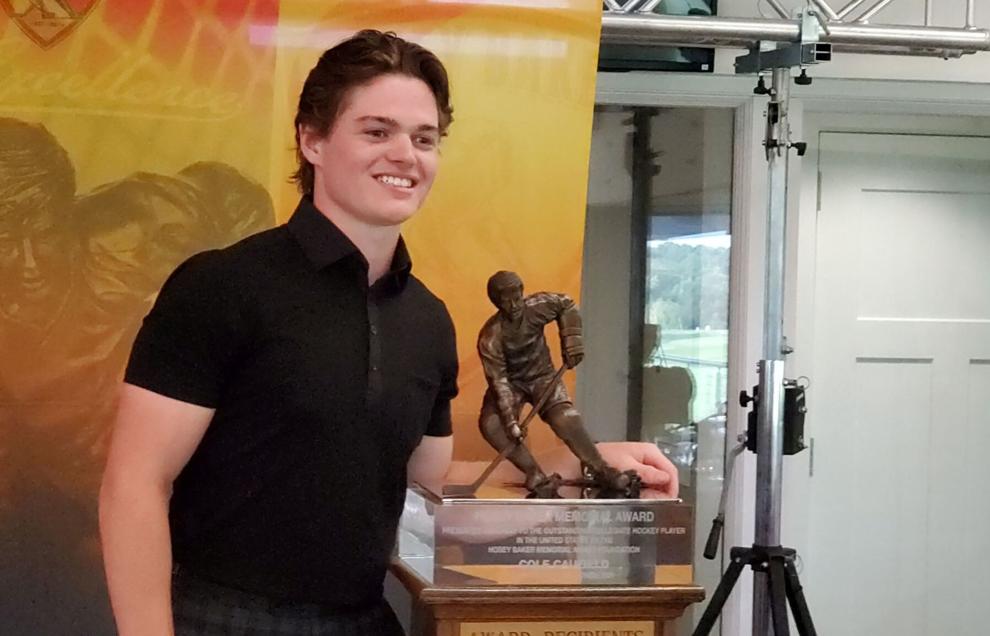 He scored twice in his professional debut with Laval of the American Hockey League hours after winning college men's hockey's top honor for his season with the University of Wisconsin.
He got called up to the taxi squad of the NHL's Montreal Canadiens, then made his introduction to the big leagues with some flair. Days later, he scored his first NHL goal in overtime.
He forced a turnover that led to a 2-on-0 overtime goal to keep the Canadiens alive in Game 5 of the first round of the playoffs, a series they ended up winning in seven games.
He became best buds — at least virtually — with football star JJ Watt, like him a former Badgers player and Wisconsin native. His jersey became the Canadiens' second-best seller behind star goalie Carey Price, with Watt being one of the buyers.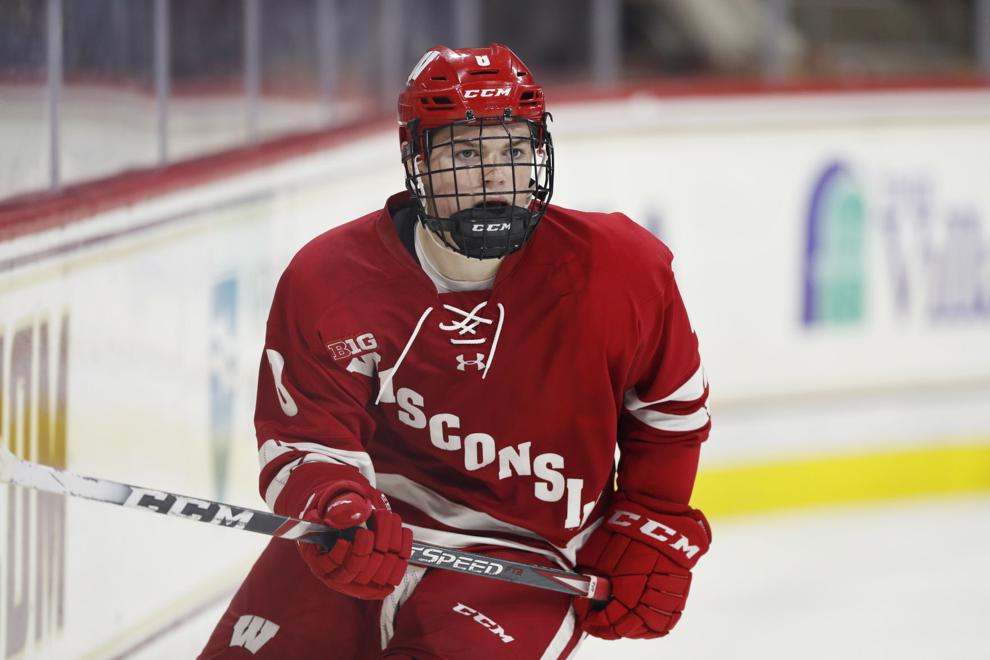 He scored four goals in a six-game triumph against Vegas in the semifinals, adding to the cult status he amassed in Montreal. He got a beer named for him by a brewery in his hometown of Stevens Point even though he's not yet of legal drinking age.
He played in the Stanley Cup Final barely three months out of college, then made a big purchase: a black Jeep with red seats. UW named him its male athlete of the year.
It goes on and on. So did the string of well-wishers Wednesday evening at the Hobey banquet, where Caufield finally got to hold the trophy.
Caufield stepped out onto a balcony for some quiet and pondered a question about whether everything that has happened in a remarkable year has sunk in.
"As you're in the moment you kind of didn't really get to accept or understand or appreciate the success that I did have," he said. "Obviously, this is the time now to really appreciate that you earned it. I'm always going to remember this day and it'll for sure be one of the best days of my life, this year especially."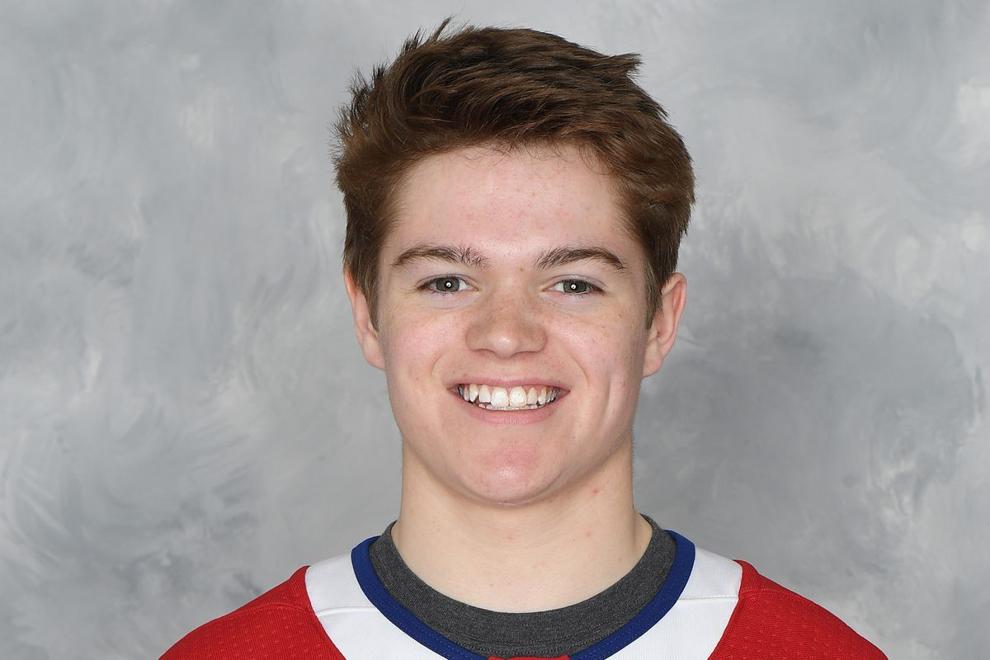 Caufield was the man of the hour Wednesday at Royal Golf Club. Before the pandemic, the Hobey winner posed with the award seconds after the in-person announcement. For the last two years, it has been a virtual ceremony that left the face-to-face formalities for the August golf outing and banquet.
Six of the 40 other Hobey winners since 1981 attended. Former Minnesota goalie Robb Stauber, the 1988 honoree, dished out some advice.
"The world is going to try to pull you, to make you an individual, to be a superstar," he said. "My challenge to you is to resist that, to stay the kid you are today."
The celebration of Caufield's 30-goal season for the Badgers was still going Wednesday night when his parents, Paul and Kelly, talked about how much they wished they could have hit pause during the campaign to savor more.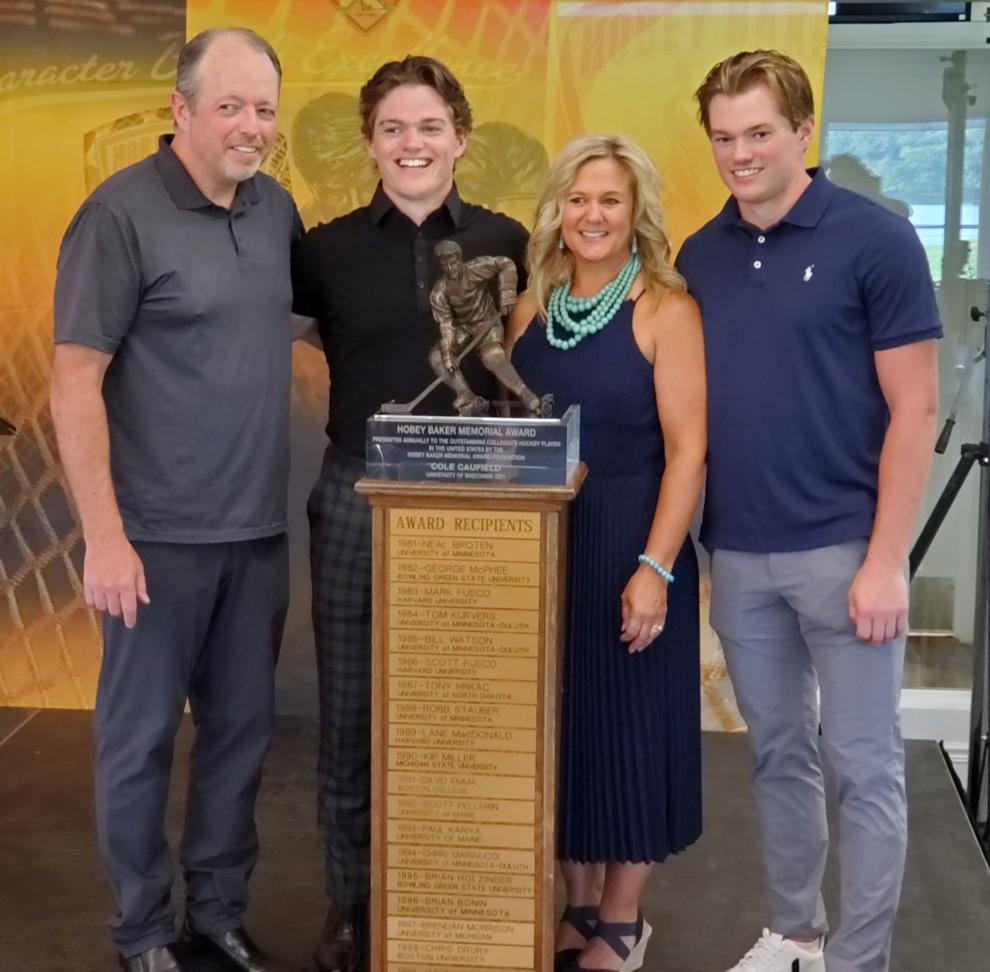 One of the biggest reasons is because Cole and his older brother Brock got to go on the journey together with UW for the last two seasons, the last of which had the Badgers get the Big Ten Conference regular-season championship.
Paul and Kelly Caufield had the same feeling that time was moving too fast as Cole did.
"Don't you think it finally seems all real?" Kelly said, turning to Paul. "There was so much going on that we wanted to enjoy each part."
Longtime Minnesota Duluth coach Mike Sertich, honored Wednesday as the Hobey Baker Legend of College Hockey, watched Caufield from afar last season and was struck by a comparison to a Hockey Hall of Famer.
"There's a little guy with a big heart," Sertich said. "He reminds me of a kid that I had at UMD called Brett Hull. They know how to find places, find holes, find pucks. They know how to get uncovered and they know how to stay out of trouble.
"Everybody said, well, he's just a little guy, he'll never stand up to that big power game. Well, he did pretty well for himself stepping out of Madison and into Montreal."
He did well for others, too. Badgers coach Tony Granato has been asked plenty of times what Cole Caufield did for his team in two seasons. On Wednesday, he was talking about what Caufield did for him personally and professionally.
"I'm 57 years old now. I felt like I was 21 and his teammate this year," Granato said. "That's what I felt like because of the energy and the passion that he played with."
Caufield was signing autographs and posing for pictures as he made his way through the crowd after the formal ceremony. It's all part of life now for an in-demand star.
"There's good times for it and I think today's one of them," he said. "It's nice to be recognized like this. The people in the room are all supporting, all here for you. You kind of owe it to them to be respectful and give them your time. I just really appreciate everybody coming."