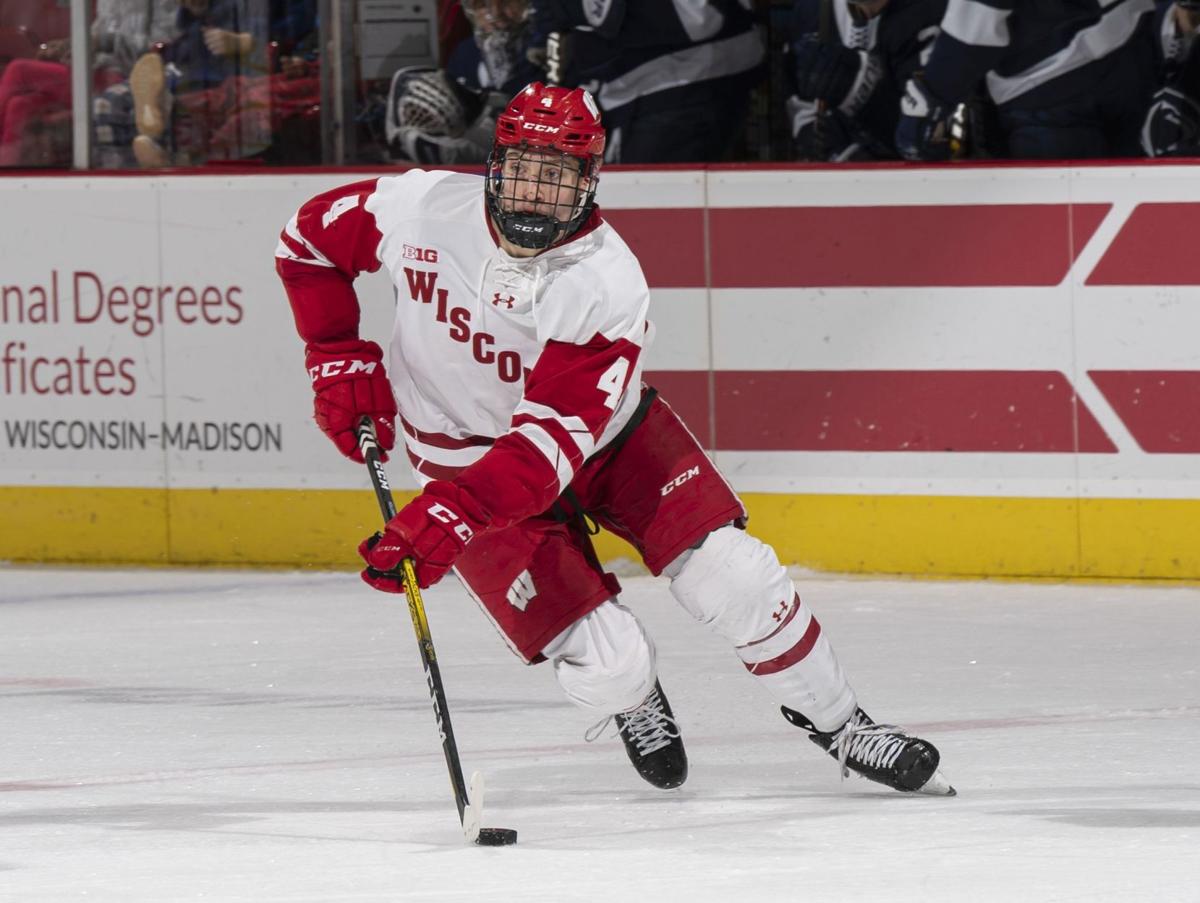 Instead of sitting with his family in seats reserved for players expected to be selected in the first round of the NHL draft, Dylan Holloway plans to watch at a rented house.
Instead of getting handed a hat and jersey to put on as he goes to the stage after learning which team has claimed his rights, Holloway will search through the box sent from the league with hats to cover all 31 possible teams.
Yeah, this NHL draft experience is going to be unusual.
Still, Holloway's selection could happen in an empty room and be broadcast over Zoom and it wouldn't take away the significance to the University of Wisconsin sophomore.
"It's been a big goal of mine since I was a little kid," Holloway said. "Now that it's coming up, it's pretty special."
If the projections hold, Holloway will be the 16th Badgers player selected in the first round of an NHL draft and the fourth in the past three years.
He's one of six UW players or recruits who were in the final NHL Central Scouting rankings for the two-day draft that starts Tuesday. Those rankings were released in April, not long after the league announced that the draft, originally scheduled for late June in Montreal, was postponed.
The COVID-19 pandemic delayed the finish of the 2019-20 NHL season and consequently the selection of players, which now will be done virtually.
Holloway and his family have shifted accordingly. His parents and brother are coming to Madison from their home in Alberta to join him, some extended family members from Michigan and maybe some Badgers teammates for Tuesday night's televised event.
Holloway's family planned to rent an Airbnb house to watch together.
"I'm just happy I get to spend it with my family," Holloway said. "They've sacrificed a lot to help me get to the position I am today."
Ranked 12th among North American skaters by Central Scouting, Holloway has been viewed as a mid-first-round selection in some mock drafts. Teams in that range include two from Holloway's home province — the Edmonton Oilers at No. 14 and the Calgary Flames at No. 19.
The Montreal Canadiens, who took Holloway's UW teammate Cole Caufield 15th last year, hold the 16th pick on Tuesday. Toronto, Chicago and New Jersey also own selections in the early part of the second half of the opening round.
The pandemic forced the cancellation of the scouting combine for top draft prospects but Holloway said he has still talked to officials from all 31 teams.
"I think the projections are just a lot of noise so I try to just stay away from that," he said. "I don't want to get too bogged down on that or get it in my head. ... It's just been a dream to play in the NHL so any team would be just unreal."
Holloway, who started college last fall as a 17-year-old, didn't produce the point totals that had been expected from the reigning Canadian junior player of the year. His contributions on the power play — he was more often part of the second unit — were especially muted: just one goal and two assists.
He had just eight points overall through 25 games but recorded nine in his last 10 contests from five goals and four assists.
Holloway didn't have an explanation for the late surge other than a greater sense of comfort, but statistics show he was more of a presence in the offensive zone: He attempted an average of 4.2 shots per game over the final five weeks compared to 3.2 before that point.
Holloway said he's a better player when he's physical, and a more consistent display of that is what NHL teams will be looking for from the 6-foot-1, 203-pound forward.
The same goes for Badgers freshman forward Sam Stange, who could be the first UW-connected player picked Wednesday when rounds two through seven are conducted. Stange, 19, has a similar skill set based on skating and strength as Holloway did when he entered NCAA hockey.
Stange was ranked 110th by Central Scouting this year but went unpicked in 2019 at 112th. Scouts have had more to digest with Stange after he played a full season of junior hockey in 2019-20 following a high school career at Eau Claire North.
"I kind of learned last year you never really know what's going to happen," Stange said. "I'm not super worried about it, whatever does happen. And I'm trying not to come into it with too many expectations. But I'm definitely excited to see what does happen."
Four other Badgers players or recruits were in the final Central Scouting rankings. Forward Zach Urdahl of the United States Hockey League's Lincoln Stars was 144th among North American skaters and defenseman Daniel Laatsch of the Sioux City Musketeers was 157th.
Among North American goaltenders, Noah Grannan of the Sioux Falls Stampede was 15th and UW freshman Cameron Rowe was 19th.Wisconsin Badgers men's hockey recruiting tracker
As players give oral commitments to the University of Wisconsin men's hockey team, we'll add them here with their stats.
Players are listed in the order in which they committed.
Concerned about COVID-19?
Sign up now to get the most recent coronavirus headlines and other important local and national news sent to your email inbox daily.