VANCOUVER, British Columbia — The trip was for experience, and the University of Wisconsin men's hockey team got an extra scoop on Sunday.
In a wide-open, 7-5 victory over British Columbia that closed a two-game exhibition series, Badgers goalies were asked to get in a little more work, playing in the UBC goal as well.
UW, looking for as much playing time as it could get on its foreign trip, was more than willing to accommodate the request, which came because of injuries to the Thunderbirds' top two netminders.
"It was so fun," UW senior Jack Berry said.
The Badgers nearly saw a 5-0 lead evaporate but emerged with a second victory over British Columbia.
"In practice, you're taking on our power play many times, and then to see it live, in a game, playing against them ... is pretty fun," he said. "Obviously, there's little things that you can anticipate that they do. But it's a little bit different than practice."
The Badgers ran out to a 5-0 lead, with four of the goals scored in the first period against Daniel Lebedeff, who shut out UBC on Friday.
But the Thunderbirds rallied with four goals against Badgers third-string goalie Johan Blomquist to pull within one with 5:47 remaining.
UW freshman Cole Caufield, however, scored his third goal of the game with 1:38 remaining to give fans of the Montreal Canadiens, who took the high-scoring winger with the 15th pick in June's draft, something to remember.
The goalie shift — Berry played the first period for UW before changing into his practice jersey and manning the UBC net for the final two periods — served to mellow the temperament of the game, Badgers coach Tony Granato said.
He was hoping for more of a free-flowing contest than Friday's 3-0 Badgers victory, when penalties and physicality ruled the day.
Dylan Holloway's versatility, Daniel Lebedeff's changed style and Owen Lindmark's all-around game stood out in the Badgers' exhibition victory over British Columbia.
And there was some levity in the situation, too. Knowing Lebedeff was going to be in the opposing net for the first period, Badgers players sent along some chirps.
Caufield jokingly got in Berry's ear.
"Once I found out, I kind of talked to him for a little bit to let him know I was probably going to score on him," Caufield said with a smile. "It was kind of weird shooting on your own goalies for a game, but it was pretty fun."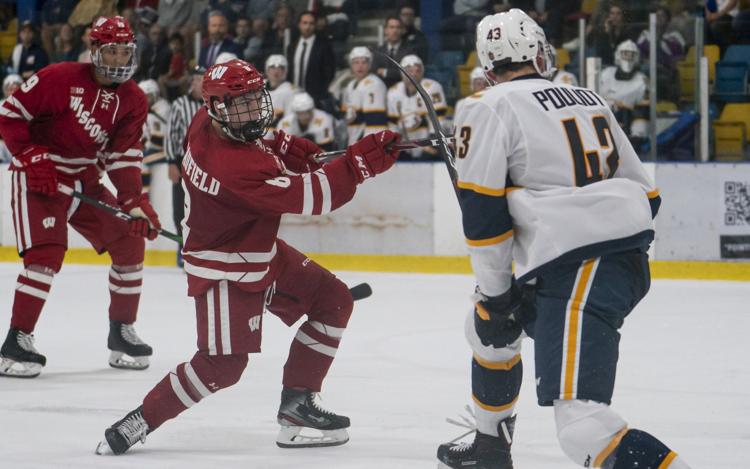 Caufield followed through in the second period to finish off a set of fantastic passes from Alex Turcotte and Linus Weissbach for a 5-0 lead and make the Badgers 4-for-4 on the power play.
His third goal came after Berry scrambled to get back in the net; he had started to leave for an extra attacker when possession changed hands in the neutral zone.
You have free articles remaining.
Register for more free articles
Stay logged in to skip the surveys
"It's just an exhibition game, so it's not really counting," Caufield said. "But it's nice to have some confidence going into the season, for sure."
Berry stopped all five shots he faced in the UW net and 16 of 18 in UBC's crease. Lebedeff allowed four UW goals on 15 shots in 20 minutes. Blomquist stopped 15 of 20 Thunderbirds shots over the final two periods.
Coach Tony Granato says college hockey coaches need to show young Canadian players that their route is an option before they commit to major junior teams and nullify their NCAA eligibility.
The passing on the power play was at a high level, a positive sign for a team that was 37th of 60 NCAA Division I teams last season with a power play that converted 16.7% of the time.
An infusion of offensive talent like Caufield, Turcotte and Dylan Holloway has remade the power-play units.
"There's weapons all over the place as far as shooters go," Granato said. "Wyatt (Kalynuk) was our go-to shooter pretty much the last two years, and teams started taking that away. But you can't take away Wyatt any more because you've got guys on both sides that can pound it, and you've got other guys that can make plays from down low. So it's going to be a harder penalty kill to pre-scout and defend and put a game plan in place."
The power play also gave away a goal in the second period when a bad pass in the zone sent UBC's Matt Revel past Kalynuk for a breakaway. Revel scored through Blomquist's pads to make it 5-1.
Revel scored on a breakaway again in the third period, then two goals by Jake Kryski cut UW's lead to one.
After Caufield's goal, Austin Glover again made it a one-goal game with 40.9 seconds left before Jack Gorniak scored into an empty net.
First-period goals by Kalynuk, Sean Dhooghe, Caufield and Holloway, three of them on the power play, set Sunday up to be a comfortable day on the scoreboard for the Badgers.
It didn't really turn out that way, but that wasn't what the contest or the trip was about from the UW side.
"We wanted to get a couple games under our belt," Granato said. "We wanted to get the team together and have a chance to get the season up and running. We wanted to come out of it healthy; I'm pretty confident we're going to come out of it healthy.
"We've had some great team-building stuff going on away from the rink, which I think was really important. So I'm really, really happy with what we were able to do while we were here."
British Columbia 0 1 4 — 5
First period: W — Kalynuk (C. Caufield, Miller), 4:10 (pp); S. Dhooghe (Baker, Miller), 6:54; C. Caufield (Miller, Weissbach), 10:10 (pp); Holloway (Emberson, S. Dhooghe), 14:22 (pp). Penalties: Faith, B, 2:39; Pouliot, B, 9:33; Kryski, B, 13:15; C. Caufield, W, 16:28.
Second period: W — C. Caufield (Weissbach, Turcotte), 4:31 (pp). B — Revel, 14:13 (sh). Penalties: Sandhu, B, 2:53; Dosanjh, B, 13:28; Becker, B, 17:02; Dosanjh, B, 19:20; Ahcan, W, 19:20.
Third period: B — Revel (Smart), 3:07; Kryski (Vetterl), 4:57; Kryski (Benjafield, Smart), 14:13 (pp). W — C. Caufield (Turcotte), 18:22. B — Glover (Pouliot), 19:19. W — Gorniak (Mersch), 19:47 (en). Penalties: R. Donovan, W, 5:26; Messner, W, 12:41.
Saves: W (Berry 5-x-x; Blomquist x-5-10) 20; B (Lebedeff 11-x-x; Berry x-7-9) 27. Power plays: W 4-for-6; B 1-for-3. Att. — 818.