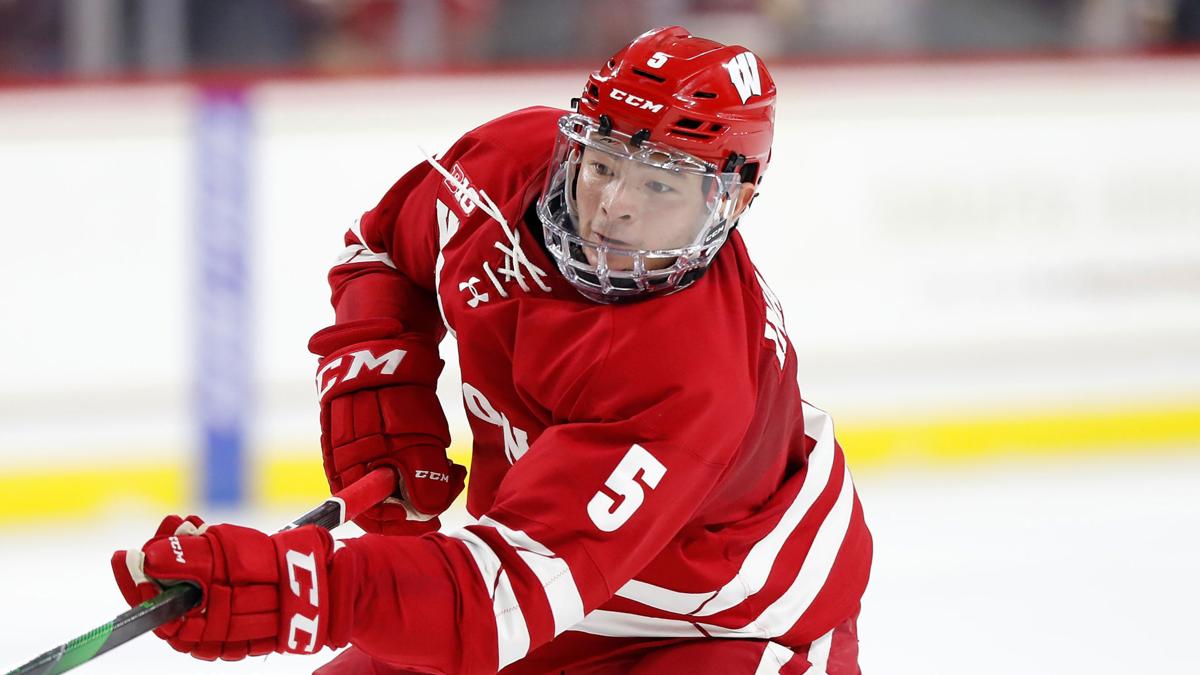 It took Tyler Inamoto nearly 15 minutes of game play to really get into the season.
That's how long it took for the University of Wisconsin senior defenseman to block his first shot against Notre Dame on Nov. 13.
A few days later, he was able to laugh about it. It wasn't very funny in the moment.
As the Badgers defenseman dipped down to his right knee to get more of himself between the shot off the stick of Notre Dame's Zach Plucinski and the net, the puck slammed into his left forearm.
"Not much protection there," Inamoto said. "So that one stung."
He got in the way of six others over the two-game series that opened the season, giving reason for his teammates to make noise on the bench. He blocked 11 more in two losses to Michigan last week.
He'll probably have more work to do Monday and Tuesday when the Badgers host No. 10 Penn State at LaBahn Arena.
The Nittany Lions have led the nation in average shots on goal for the past six seasons. In four games against Penn State last season, Inamoto blocked 19 shot attempts, nearly a quarter of his team-leading total for the campaign.
Through four games this season, Inamoto has picked up the pace in preventing shots from getting through to the goal. So have his teammates.
Inamoto's early average of 4.5 blocks per game might be unsustainable over the length of the campaign. It's nearly double his average of 2.26 last season.
But if the team as a whole can keep up its statistical improvement in getting in the way of shots, it stands to help the defensive effort in the long run.
UW is averaging 18.5 blocks compared to 14.3 last season. Defensemen have done most of the work, as is their nature, but Badgers coach Tony Granato said forwards are more confident getting in shooting lanes.
"Making that commitment to our team game, to our goaltender to let him know we're willing to take some big blocks for him," he said, "that's been a real positive."
Badgers goalie Robbie Beydoun provided the visual of teammates icing their feet and ankles after games because of the amount of shot blocks.
"It's been super inspiring," Beydoun said. "It means a lot to me as a goalie knowing that I'm going to have that help where if I'm not seeing a puck or if they're just taking away a lane, they're going to block shots. I think any successful team has to block a lot of shots, at any level of hockey."
In a season where reinforcement has to come from within a team instead of from an engaged crowd, a block to prevent a good scoring chance has been as energizing as a hit or a goal for the Badgers' bench a few times.
A sliding block by forward Jack Gorniak in the Nov. 13 opener had UW players making noise with their voices and sticks.
"I think that'll do dividends for us," Inamoto said. "It's definitely a hard thing to do with no fans. The atmosphere's very calm and mellow and not a lot of energy. So it definitely comes from the bench."
Inamoto's game is based on stability in the defensive zone and simple puck movements. Granato said that players that are effective early in the season can trace improvements to making offseason commitments to work.
He said Inamoto falls into that category, even though the defenseman was among those who wasn't able to get on the ice regularly for a long stretch because of COVID-19 quarantines.
A makeshift weight room in the basement of his family's suburban Chicago home helped with strength training before he returned to Madison. He used the driveway to work on stickhandling and shooting, although his parents' garage door didn't suffer.
"They don't let me shoot by the garage," Inamoto said. "So I've got to shoot into the field by our house."
He said his mobility and passing have improved from what he was able to do over the offseason.
Inamoto also played his role as an alternate captain alongside Ty Pelton-Byce and captain Ty Emberson. During quarantine periods, they each took a group of players to keep in touch with.
"Getting to know the new guys and keeping up with the old guys," Inamoto said. "When we got here, it just seemed natural. Everybody fit in. It's going well so far."
Blocking shots isn't part of a typical offseason regimen. It all comes back with the first bruise of the season, as Inamoto remembered.
"He always finds a way to get in the way," Granato said.
---
What's different in Big Ten hockey this season? A look at standings, tiebreakers, travel, crowd noise
What's different in Big Ten hockey this season? A look at standings, tiebreakers, travel, crowd noise
Teams get a point just for getting to overtime.
The NCAA in the offseason approved a 3-on-3 overtime format for all of college hockey. Big Ten coaches and administrators then had to consider whether teams should get all three points in the standings for an overtime win or just two, with the overtime loser getting one point like in the NHL.
They decided that once a conference game is tied after regulation, both teams will get one point. The five minutes of 3-on-3 overtime and, if still tied, a shootout will determine who gets the extra point.
Victories in 3-on-3 overtime will be considered a full win for purposes of the standings and tiebreakers, a note that will come in handy shortly.
Standings will still be kept by points unless there's an unbalanced schedule.
Acknowledging the chance that Big Ten teams won't be able to play all 24 games on the league schedule because of the COVID-19 pandemic, the conference introduced a separate protocol in case some teams have played more than others at the end of the regular season.
A team must have played 13 conference games to be eligible to be named regular-season champion. If there's an unbalanced number of games, the final standings and playoff seedings will be determined by winning percentage in all games.
Also new this year: The first tiebreaker is head-to-head competition. It had been the most regular-season victories.
There are changes in how many players can travel for road games.
The Big Ten didn't get a blanket waiver to allow all players to go on road trips, so the limit of 21 skaters and three goaltenders is still in effect.
But that doesn't apply when a school is out of session. Administrators also added a clause this year allowing a full roster to travel when a team is playing two series on one road trip.
How teams travel is likely to be different around the league, too. The Badgers, for instance, took two buses to Notre Dame for their opening series instead of the typical one.
Hockey will use the same color-coded chart as football does.
Big Ten hockey players and staff members are tested six days a week using the same antigen testing that has been deployed in football. An initial positive test then gets confirmed using a PCR test; another positive test there means a player must miss a minimum of 21 days and go through cardiac testing.
Decisions about the continuation of practices and games amid positive tests will go through the same green-orange-red scale for test positivity rate (number of positive tests divided by total number of tests administered) and population positivity rate (number of positive individuals divided by total population at risk).
With smaller rosters in hockey than football, however, it probably would take only three positive individuals to put a team on pause.
On-ice officials have to go through testing, too.
Referees and linesmen have to travel to the game site the day before the start of a series to take an antigen test. They'll also be tested on the day of each game.
Big Ten coordinator of officials Steve Piotrowski said he's scheduling one referee and one linesman to be on call at home in case a replacement is needed to travel because of COVID-19 or injury.
Officials also are being instructed to wear a gaiter mask during stoppages, and they've been given pealess whistles that are designed to release fewer droplets into the air.
Artificial crowd noise will be used in rinks.
The noise that will run throughout to simulate the murmur of a crowd can top out at 70 decibels, or a normal conversation level.
Those running the audio can do up to five seconds of a louder reaction to big events during play but that can't exceed 90 decibels, roughly the level of a blender.
The schedule is missing non-conference games except for against one opponent.
The foundations of the Big Ten schedule are no different than they have been since Notre Dame joined in 2017. Teams will all play 24 conference games, four against each opponent — two at home, two on the road.
What has changed is that non-conference games are out with the exception of four home games for each team against independent Arizona State.
The Sun Devils, ranked 15th in the USCHO.com preseason poll, started with a 22-day road trip that has them scheduled to play games at Michigan (Nov. 14-15), Michigan State (Nov. 19-20), UW (Nov. 28-29) and Notre Dame (Dec. 3-4).
Games against Arizona State don't count toward the Big Ten standings. The Sun Devils aren't eligible for the Big Ten regular-season or playoff championships.
There are more games planned for Thursdays than Saturdays at the start.
With crowds being shut out of games or limited to only family members, game times and dates have been more flexible this year. The Badgers, for instance, start their first six series of the season on six different days of the week.
The Big Ten is trying to make games take less time to complete.
The conference was granted a waiver from the NCAA to shorten intermissions to 12 minutes from the standard 15 or 18 that are allowed in the rule book.
Also, media timeouts for games that are televised by Big Ten Network and games not on TV have been scaled back from three per period to one, taken at the first eligible stoppage after the 10-minute mark.
Postgame handshakes are over.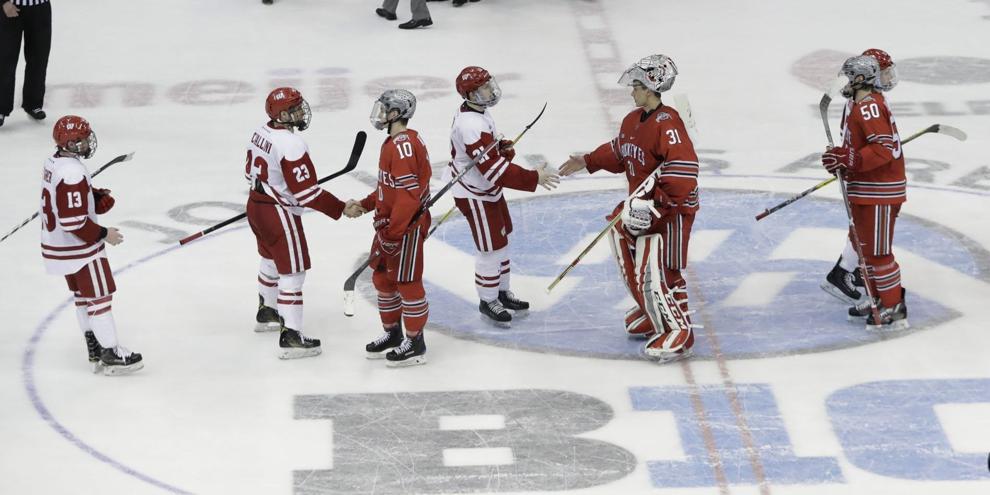 Instead, the teams will line up at their blue lines for a stick salute.