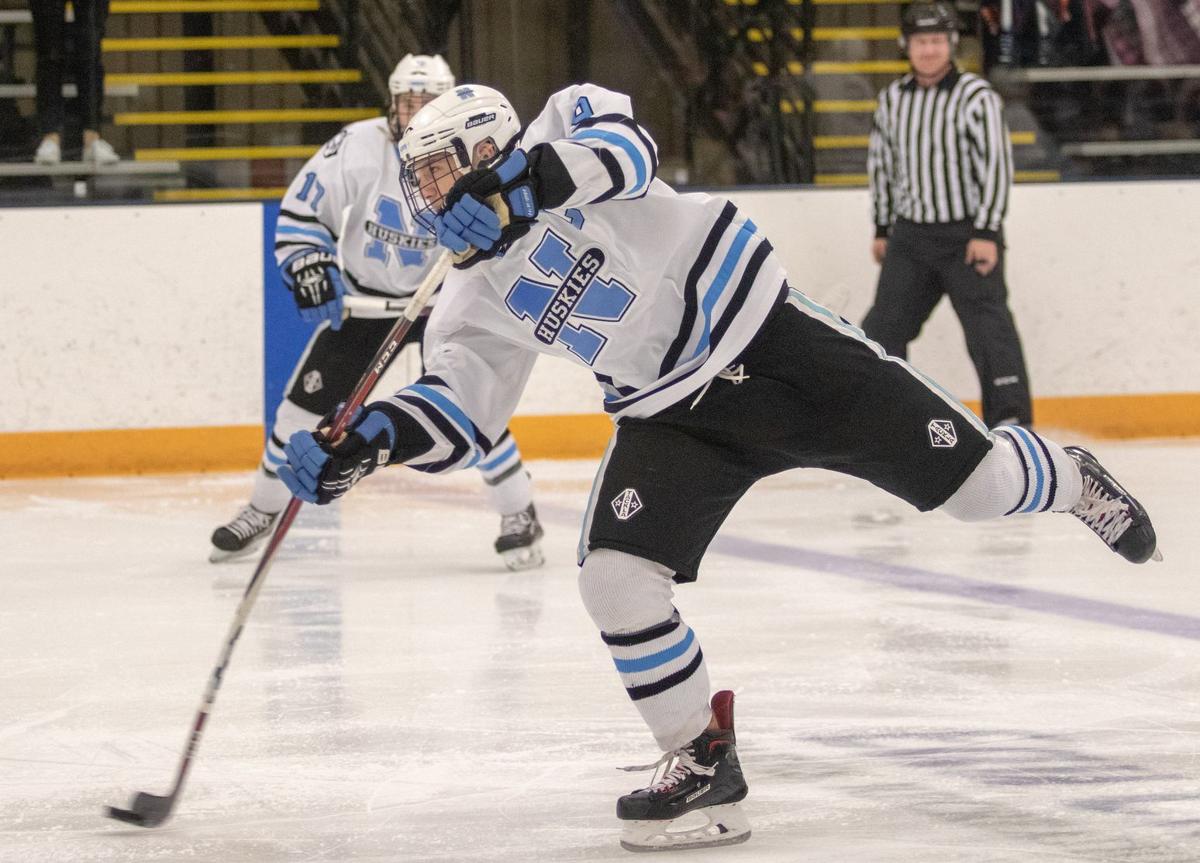 On a preseason trip, Sam Stange found the intersection of two big parts of his athletic life.
The University of Wisconsin men's hockey recruit was on the bus with the Sioux City Musketeers in September, rolling through the Fox Valley toward Green Bay for some United States Hockey League exhibition games, when he saw Fox Cities Stadium out the window.
He got out his phone to share some good memories with friends.
On that Grand Chute baseball field in June, Stange hit a go-ahead, three-run home run that rallied Eau Claire North to the WIAA Division 1 state title.
As players give oral commitments to the University of Wisconsin men's hockey team, we'll add them here with their stats.
Earlier that week, he was named the top high school baseball player in the state in his division — an honor that matched one for hockey that he received less than four months before.
"That was an incredible experience, being able to win it in such a crazy game," said Stange, whose home run in the bottom of the sixth inning led to a 5-4 victory over Sun Prairie. "I was thankful to be able to have a big part in it."
There's another part of that story, however, that impacts the other part of Stange's sporting endeavors.
Because he was playing baseball in the spring, he wasn't playing hockey. It was a choice Stange stands behind today, but it may have cost him when the NHL draft took place days after his baseball heroics.
Stange was ranked 112th among North American skaters for the 2019 draft but wasn't among the 217 players chosen.
"For me, I was shocked," said Sioux City coach Luke Strand, like Stange an Eau Claire native. "I was expecting someone should maybe have (picked him), but at the same time maybe his body of work wasn't big enough for people."
All the more motivation for this hockey season for Stange, who enters full-time USHL play looking to elevate his game before he joins the Badgers as early as next fall.
After Eau Claire North lost to Verona in a state quarterfinal boys hockey game last season, Stange played six USHL games with Sioux City over spring break. But when April came around, he was back in Eau Claire for baseball season.
In an age of single-sport specialization, Stange excelled in two because he wanted to make good on a commitment.
You have free articles remaining.
"I think it was too cool of an experience to miss out on, having the connections that I had at North," he said of opting for baseball over hockey last spring. "I felt like there was a little bit of unfinished business and that I might have been letting some people down if I had ducked out."
Stange hit .533 with 41 RBIs for Eau Claire North after scoring 31 goals with 36 assists in 24 hockey games.
He was reliable in both, but Huskies boys hockey coach Ryan Parker said it was more than just in games.
"I could count on him being ready to go when the season started," Parker said. "I could count on him giving everything he had in practice, keeping that tempo going, whether it's a down day or an up day, a pregame, work day, whatever it may be.
"And I could count on him to create or make something happen. Not only was he explosive offensively for us, but he also blocked just as many shots."
The next level of Stange's hockey career, Strand said, is being hockey-centric.
That could emerge this season with Sioux City, where Stange will be more immersed in the game. A smooth skater with a 6-foot-1, 200-pound frame, he has the coordination to be a high-level player.
But he wants to see how this season goes before he's able to put a firm timeline together for his college future.
The Badgers have a few reasons to keep an eye on Sioux City this season. Defenseman Anthony Kehrer, who's expected to join UW next fall, is in his second year with the Musketeers after earning USHL second-team rookie honors as a 16-year-old.
Strand, a former UW associate head coach, called Kehrer a big-time player with explosive potential.
"He's got speed, he's a major warrior of a kid and what's going to happen this year is just being comfortable," Strand said. "He played last year as a double underager in our league and did more than fine. Ate minutes, played against the other team's top groups. And now hopefully this year he adds more offense out of his pure ability."
The Musketeers also have the USHL rights to 19-year-old defenseman Luke LaMaster, who's trying to get his career back on track after suffering two ACL injuries. He committed to the Badgers before his senior season at Duluth East in 2017 as one of Minnesota's top two-way defenders but sat out all of last season.
UW recruit TJ Koufis, a forward, is on Sioux City's affiliate list but will play this season in the Alberta Junior Hockey League with Okotoks alongside UW-committed forward Brett Moravec. Badgers freshman Dylan Holloway played for Okotoks in the previous two years.
Forward Tanner Latsch, defenseman Daniel Laatsch and goaltender Noah Grannan are with the USA Hockey National Team Development Program's under-18 group before their expected arrival in Madison in 2020. Forward Caden Brown was invited to the under-17 team.
The move up in levels for Stange means he'll have to adjust to quicker, stronger opponents than he faced in high school. But it also comes with additional video resources to study his play, something he said he's eager to try out.