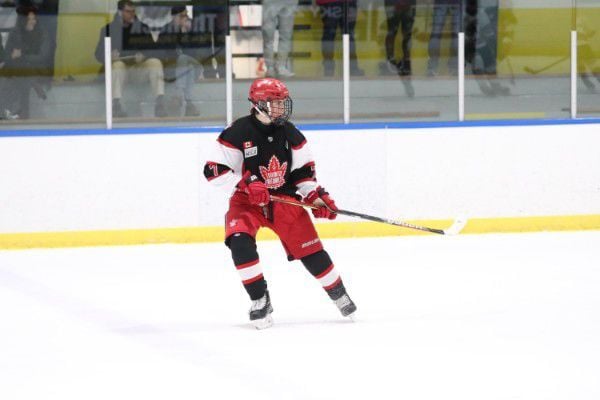 Not long after Shawn Ramsey was eligible to make an unofficial visit to the University of Wisconsin men's hockey team in January, he got the full behind-the-scenes experience.
It made a big impression on the 16-year-old defenseman from the Toronto area.
"Ever since I went to Wisconsin for the first time — that was the first school I toured — I just fell in love with it right away," Ramsey said.
When NCAA rules allowed the Badgers to make an offer on Aug. 1, the Badgers were on the phone to Ramsey. On Saturday, he gave them a nonbinding oral commitment to join the team as early as the 2022-23 season but more likely in 2023-24.
Ramsey said he also had heard from New Hampshire and had looked into Colorado College and Denver but UW made the only offer so far.
He was a fourth-round pick of Peterborough in this year's Ontario Hockey League draft. He and his family decided to pursue NCAA hockey instead.
"We all agreed that education is key," Ramsey said, "and that even if hockey doesn't turn out then I always have education."
Ramsey was one of two Canadian players to commit to the Badgers over the weekend. Aiden Fink, a 15-year-old forward from Calgary, Alberta, also indicated that he'll play for UW.
Listed at 5-foot-10 and 159 pounds, Ramsey considers himself an offensive defenseman in the mold of Quinn Hughes, whose offseason training habits he got to study in Oakville, Ontario.
Ramsey's family adviser, Harkie Singh, gets an assist for connecting Ramsey with members of the Badgers coaching staff with whom he's close.
Drafted by the Green Bay Gamblers of the United States Hockey League this year, Ramsey took part in the team's camp earlier this month but he's not sure where he'll play in the 2020-21 season. The Junior A Central Canada Hockey League with teams in the Ottawa area is a possibility, he said.
He posted 15 points in 33 regular-season and playoff games for the Toronto Young Nationals' under-16 team in the Greater Toronto Hockey League last season.
---
Wisconsin Badgers men's hockey recruiting tracker
As players give oral commitments to the University of Wisconsin men's hockey team, we'll add them here with their stats.
Players are listed in the order in which they committed.