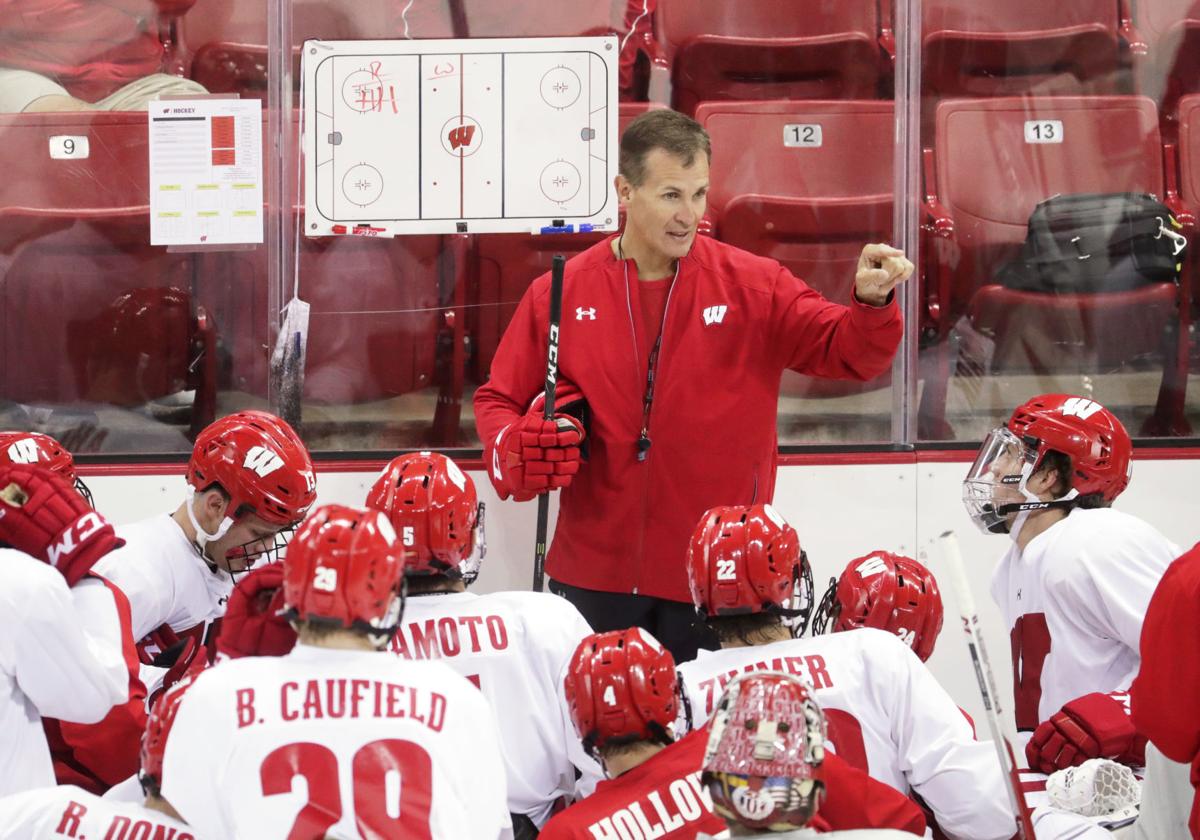 The road has been a bit rockier than he anticipated when he returned to the University of Wisconsin in 2016, but men's hockey coach Tony Granato finally has the once-proud program at a place where he feels comfortable uttering the following line in public:
"We've been trying to grow for this moment."
Yes, the moment UW's coaches, players and fans have been waiting for is finally at hand.
The arrival of a third consecutive deep and talented recruiting class — this one even better than the first two — has ramped up expectations that this could be the year the Badgers return to college hockey's upper echelon. Three years of building a culture and recruiting elite-level talent has put Granato's team in a place where it realistically can think about winning the Big Ten Conference championship and, more important, making the NCAA tournament for the first time since 2014.
With some of UW's elite-level recruits almost certain to head to the NHL after the season, this might be the most critical year in the program's history in terms of restoring it to its former glory.
"I think it's a really important year," said junior forward Sean Dhooghe, who got in on the ground floor as a member of Granato's first big recruiting class. "I think there's been a lot of stress from outside the locker room on expectations, but it's the same thing inside the locker room. I think we have a lot of expectations for ourselves. I think the last couple years we've come up a lot shorter than we anticipated, but that hasn't hindered anything. We have the same game plan and we're going to stick to it. And I think this summer we've taken tremendous strides forward as a whole. From coaching to players to attitude to commitment, everything's just been on the rise and it's in a good spot right now."
Granato doesn't shy away from such optimism. In fact, he's promoting it.
His confidence is reinforced every day in practice, when he sees a remarkable seven-man freshman class on the ice, adding competitiveness, energy and skill to the proceedings. Forwards Cole Caufield and Alex Turcotte are NHL first-round draft picks; forward Dylan Holloway is projected to be one in 2020; forwards Ryder Donovan and Owen Lindmark have also been drafted by NHL teams; and Mike Vorlicky and Shay Donovan are college-ready defensemen. Add Madison native Ty Pelton-Byce, a transfer forward from Harvard who has two seasons of eligibility remaining, into the class and the influx of talent could be program-altering.
Not all by itself, mind you. The seven-man junior class, led by NHL draft picks Tyler Inamoto, Wyatt Kalynuk, Josh Ess and Linus Weissbach, and the even larger sophomore class, led by NHL draft picks K'Andre Miller (first round), Ty Emberson and Jack Gorniak along with grinders such as Mick Messner and Dominick Mersch, have learned the hard way success must be earned in college hockey.
You have free articles remaining.
It is the experience gained by those two talented classes, however, that fuels Granato's belief UW will snap its string of back-to-back losing seasons. Unlike the sophomore and junior groups, the current freshmen entered a program that already has solid pieces in place, which is the reason Granato feels UW's moment has arrived.
"When you add a freshman class that we have, which has high-end skill but young players, you have to have the foundation around it to be able to support it," Granato said. "You look around and you've got Mersch, you've got Messner, you've got Emberson, you've got Kalynuk, you've got Inamoto, you've got warrior-type players that have grinded it out for two years to be ready to support a group like this. I think that's the biggest thing we've bragged about, as we should, because it's a fun class that's coming in. But really what makes it exciting is the kids that are in here and in place already that have worked through a couple of years to be ready for this."
Because of that, there won't be as much pressure on the freshmen as one might suspect. There was no pressure when the current juniors arrived in 2017, but that was for a different reason: The program's talent had thinned out and expectations were low. The opposite is true now.
"I think as a freshman group we didn't feel a ton of pressure," said Kalynuk, a defenseman. "It's similar to this group that's come in now. I think they've just fit in right away. I don't think they feel like they're going to have to come in and totally carry us. I think there's guys that have been here and guys that are older that can show them the way. Not to take anything away from them, they're great players, but I think they're not going to have to come in and feel like they have to carry us."
There will be growing pains, of course. One of the goaltenders still must stand up and be counted and the roster remains young, in part because six of the seven freshmen are right out of high school in a sport where most freshmen are 19 and 20 years old.
But that's by design. If UW is going to get good and stay good, it will have to continue to recruit highly touted players who might stay only a season or two. The past three classes reflect UW's recruiting plan under Granato, which is to sign three or four players who might leave early and three or four who will become four-year contributors in every class.
The current freshman class is more precocious than most, however. Caufield, Turcotte and Lindmark were in the USA Hockey National Team Development Program, which played frequently against college teams. Also, the freshmen got a valuable head start with two games against a Canadian team in Vancouver in early September. Clearly, they won't be going into the season blind.
Looking at all that, it's easy to see why Granato, an All-American at UW in the 1980s, thinks this season will be a turning point in program history.
"That's what we've been brought back to do, to put a team on the ice that not only was exciting and represented our program the right way but could make something special of it by being at the top of the Big Ten and considered one of the best programs in the country again," he said. "A few years ago, it was hard to say that. We could talk about it and say that based on what we did five, 10, 20, 30 and 40 years ago we were (at that level), but right now we're not. I think we're back to the point where we should feel that it's OK to say that and do it with pride. Because this group of kids has the potential to represent us like the Suters, like the Pavelskis, like the Chelioses, like Bob Johnson's teams did and like Jeff Sauer's teams did. We have the chance to have one of those years. The pieces are in place and now it's just drop the puck and see what happens."
Indeed, the foundation is in place, the talent is there and the goal is clear. If Granato is ever going to return UW hockey to its rightful place, this is the year to do it.
Be the first to know
Get local news delivered to your inbox!