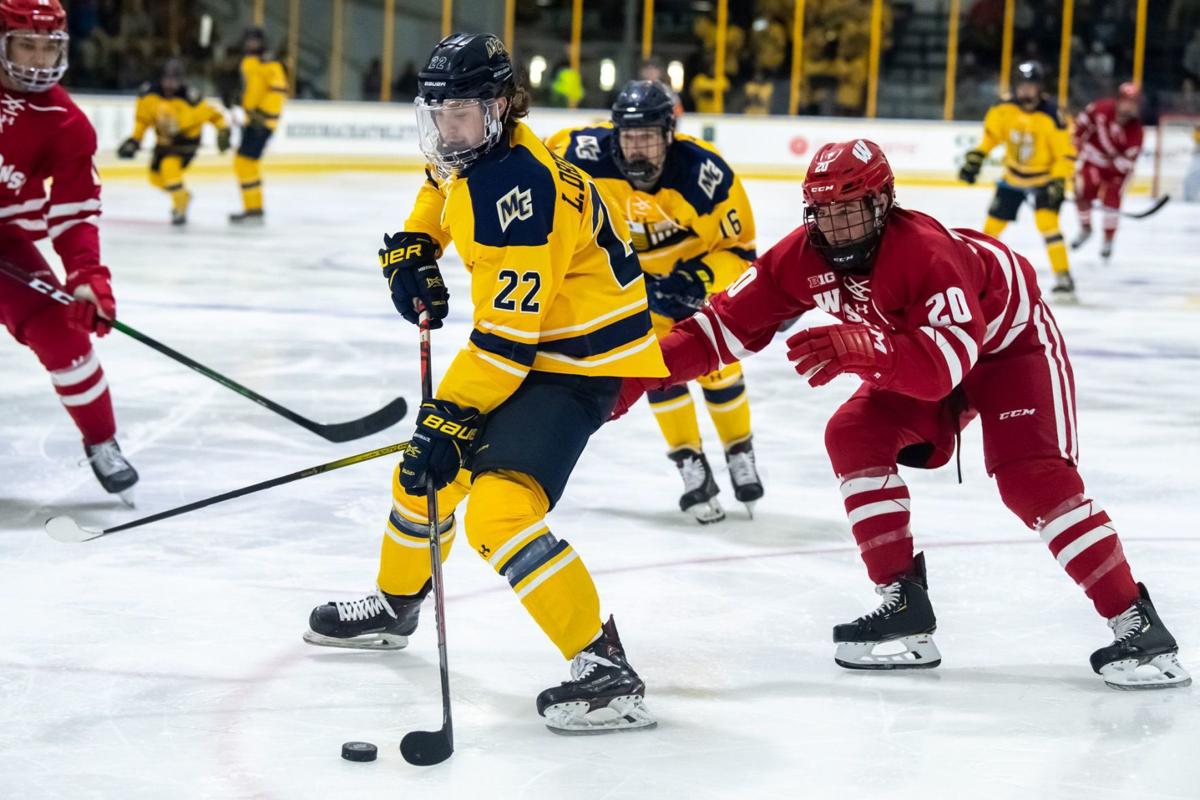 NORTH ANDOVER, Mass. — In the initial NCAA hockey rankings, only one of the first eight games on the University of Wisconsin men's hockey schedule indicated an unranked opponent.
That was Saturday's matchup against Merrimack, a rebuilding team that cleared the deck to bring in 16 freshmen under second-year coach Scott Borek.
Less than two minutes into the second period at Lawler Rink, however, a positive start was falling apart for UW, which suddenly trailed the Warriors after allowing three goals in 63 seconds.
Think about that when you see that the Badgers ended up scoring 11 times and winning by six goals.
The Badgers overcame a 3-2 deficit with six second-period goals.
They scored goals 16 seconds apart to regain the lead. Then they scored goals 43 seconds apart to push the advantage to three. Then they scored goals 3:04 apart to make it a rout.
It added up to six UW goals on nine second-period shots, paving the way for an 11-5 victory and the team's largest road output in more than 42 years.
"If teams want to back down on us and give us opportunities and let us play offense, I think we can put up as many goals as you could think," said Alex Turcotte, who joined Cole Caufield and K'Andre Miller with two goals.
The third line of Ty Pelton-Byce, Roman Ahcan and Owen Lindmark started the turnaround with the tying and go-ahead goals after the Warriors jumped ahead with two scores in the opening 1:35 of the second period.
Pelton-Byce scored from the right side on a cross-ice assist from Ahcan 5:45 into the frame for a 3-3 tie. A few breaths later, UW led after Ahcan tapped in a Pelton-Byce shot that trickled past Jere Huhtamaa, the first of three Warriors goalies who played.
"They changed the game," Badgers coach Tony Granato said of the Pelton-Byce line.
Things started inauspiciously Saturday for Pelton-Byce, who flailed wildly as he took the ice for warmups. Things like that happen when you put on the wrong skates, ones without blades in them.
Wisconsin State Journal reporter Todd Milewski and columnist Tom Oates break down everything Badgers fans need to know about the University of…
"Usually when something like that happens to me in warmups, it usually ends up being a good game," Pelton-Byce said. "Maybe I'll have to keep doing that."
Tyler Inamoto and Mick Messner scored to make it 6-3. Messner was left with an empty net after backup goalie James Corcoran sent a clearing pass into his stomach with his first touch of the puck.
Caufield scored his first of the game, then Turcotte added his second of the game, the Badgers' third on the power play.
You have free articles remaining.
"Our power play was clicking pretty good," Turcotte said of a UW unit that has scored on five of 10 opportunities through two games. "We created a lot of chances off of that and scored a lot of goals. I think all the guys were going after that."
Caufield, Miller (short-handed) and Dylan Holloway scored in the third to prompt a run for the record book.
The 11 goals was the most by UW in a road game since it defeated Michigan 11-8 on Feb. 5, 1977. It marked the largest goal output since an 11-0 victory over Northern Michigan on Nov. 1, 1992.
The Badgers scored six times in a period for the first time since the opening frame of a Jan. 14, 2006, game at Colorado College.
The six goals in 10:14 of the second period made things a lot more comfortable for the Badgers (1-1) than they were entering that span.
After Miller and Turcotte scored power-play goals to put UW ahead 2-0, Regan Kimens got Merrimack (0-3) on the board with 14.2 seconds left in the first period.
The game was tied 47 seconds into the second on Jordan Seyfert's drive to the net up the left wing, and the Warriors took the lead 48 seconds later with a Kimens tip-in.
"We were playing pond hockey," Granato said. "We thought it was going to be easy and thought we could get 10. And we forgot you get 10 because you do things right defensively."
The Badgers allowed five goals for the second straight night; they lost 5-3 at No. 10 Boston College on Friday. Daniel Lebedeff (15 saves) allowed three Merrimack scores before giving way to Jack Berry (two saves on four shots) for the final 15:31.
"We've got to clean that stuff up," Caufield said of the defensive breakdowns. "Next weekend, that's not going to fly."
The Badgers host two-time defending NCAA champion Minnesota Duluth, the focus of Caufield's concern.
"We've got some things we've got to clear up before Friday night's game," he said. "That's a big part of how we're going to win, the D zone."
First period: W — Miller 1 (Turcotte), 4:51 (pp); Turcotte 1 (Weissbach, Kalynuk), 13:57 (pp). M — Kimens 1 (L. Drevitch, Irvine), 19:45. Penalties: Kramer, M, 3:29; R. Donovan, W, 10:40; Tavernier, M, 12:34; T. Drevitch, M, 15:10; S. Dhooghe, W, 17:33.
Second period: M — Seyfert 2 (Dockery), :47; Kimens 2 (L. Drevitch, Carlile), 1:35. W — Pelton-Byce 1 (Ahcan, Lindmark), 5:45; Ahcan 1 (Pelton-Byce, Lindmark), 6:01; Inamoto 1 (Ess, S. Dhooghe), 8:58; Messner 1, 9:41; C. Caufield 3 (Emberson), 12:55; Turcotte 2 (C. Caufield, Kalynuk), 15:59 (pp). Penalties: Uens, M (major, game misconduct), 12:49; Holloway, W, 12:49.
Third period: W — C. Caufield 4 (Weissbach), :06; Miller 2 (Ahcan), 6:32 (sh). M — Kramer 1 (Modry), 8:04. W — Holloway 1 (Baker, S. Dhooghe), 9:32. M — Vinnell 1 (Welsher), 11:31. Penalties: Emberson, W, 5:43; Seyfert, M, 12:53; R. Donovan, W, 15:54; Carlile, M, 15:54.
Saves: W (Lebedeff 6-8-1, Berry x-x-2) 17; M (Huhtamaa 4-0-x, Corcoran x-3-4, Kobryn x-x-4) 15. Power plays: W 3-for-6; M 0-for-3. Att. — 2,106.