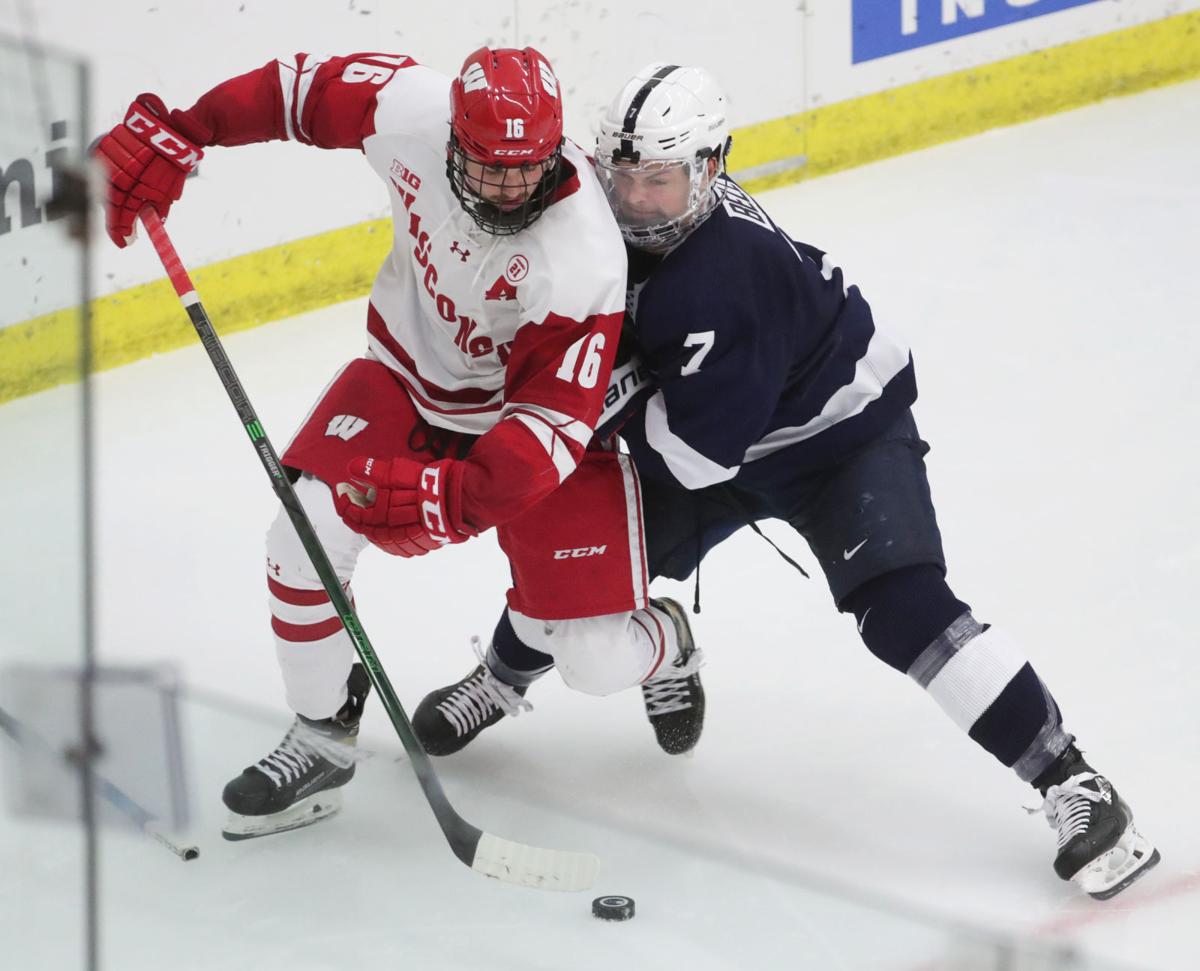 Tarek Baker convinced himself to take time to weigh his options but deep down he knew what the outcome was going to be.
Coach Tony Granato told University of Wisconsin men's hockey seniors that there would be a spot for them if they wanted to use the extra season of eligibility the NCAA provided because of the pandemic.
"For me, it was more so why would I want to leave this place?" Baker said. "The facilities, the coaching staff, the players — this is NHL-caliber right here."
There was a bonus waiting for the Verona native that was unveiled on Thursday: He'll be the Badgers' captain in the 2021-22 season.
He'll be the first Madison-area product to lead UW since Adam Burish in the NCAA championship season of 2005-06. That's a meaningful connection to Baker, who wears No. 16 in part because that's what Burish sported with the Badgers.
"I'm just more proud of the fact that the guys in the locker room and the coaching staff have this belief in me, to wear the 'C' with honor and pride," Baker said. "That's really the biggest thing for me."
Fifth-year senior defenseman Tyler Inamoto will stay an alternate captain next season, and senior forwards Roman Ahcan, Brock Caufield and Dominick Mersch will join him.
Baker, Inamoto and defenseman Josh Ess all decided to extend their stays with the Badgers. Senior forwards Ty Pelton-Byce and Linus Weissbach signed pro contracts along with goaltender Robbie Beydoun. Jason Dhooghe decided not to return.
Inamoto and Ess were fifth- and seventh-round NHL draft picks of Florida and Chicago, respectively. Baker was a free agent who has been to NHL development camps in previous offseasons.
Baker, 24, was the Badgers' third-line center and part of the second power-play unit last season, when he had three goals and 12 points in 27 games. He missed four contests because of COVID-19 protocols.
He was an alternate captain in the player leadership group led by Ty Emberson that was lauded for installing a more positive culture. Ahcan said UW players voting Baker captain was a "no-brainer."
"I just think that he does all the right things on and off the ice, and that's what our team needs right now," Ahcan said.
Thursday was a big day for Baker academically, too: He finished his final presentation for a Life Sciences Communication degree. He said he'll apply to enter the graduate program in Educational Leadership and Policy Analysis.
On the ice, he'll be a valuable presence as a veteran center after the departures of Pelton-Byce and Dylan Holloway.
"I think over the four years I've understood where my game's at now, especially with last year," Baker said. "So for me it's more so just being able to dial in on the little things of being a great faceoff guy, being able to play against top lines, being good on the (penalty kill). And then when those other opportunities arrive of maybe touching power play or something, try to make the most of it."