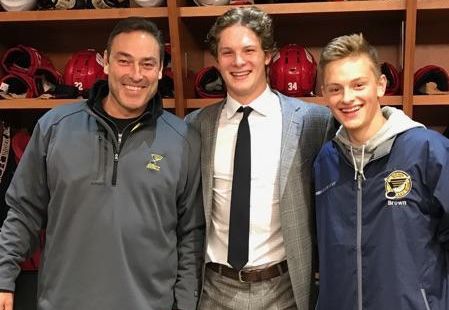 Caden Brown's dad and older brother both carved a path to the NHL through the Ontario Hockey League.
So why is Brown, a 14-year-old center from the St. Louis area, choosing to take the college hockey route with an oral commitment given to the University of Wisconsin?
He said it has always been his intention to go a different direction.
"I grew up here in St. Louis and we were always talking about college hockey, and there were always cool players we were looking at like (former North Dakota star Zach) Parise," Brown said. "It was always a dream for me to go to college."
Brown gave Badgers coaches a nonbinding commitment over the holiday weekend, joining Alberta defenseman Corson Ceulemans as 2003-born players in UW's list of recruits. The earliest they'll join UW is the fall of 2021.
He said his dad, longtime NHL player Jeff Brown, also had previously been in contact with former Denver coach Jim Montgomery, who earlier this month took the head coaching job with the NHL's Dallas Stars.
Jeff Brown played parts of four seasons in major juniors before beginning a 747-game NHL career that included five seasons in St. Louis. He also coached the OHL's Ottawa 67's.
Caden Brown's older brother, Logan, was a first-round pick of the NHL's Ottawa Senators in 2016 after his second of four years in the OHL, one of three major junior leagues considered professional by the NCAA. He made his NHL debut last season.
But Logan Brown told his younger brother to do what felt most comfortable to him and not worry about what he and his dad had done.
You have free articles remaining.
"I wanted to change it up and not follow in my brother's and dad's footsteps," Caden Brown said.
Brown, a two-way center, said he carries a pass-first mentality on the ice. His hockey sense and playmaking ability have graded well.
He'll play for his dad with the St. Louis AAA Blues' under-16 team next season before trying to earn a spot with the USA Hockey National Team Development Program.
Jeff Brown said the Badgers' coaching staff was a primary attraction.
"They checked all the boxes for us," he said. "There's great programs all over, but I think at the end of the day, coaching and proximity and, really, the city — it's a great city to play hockey in."
The Badgers have enjoyed success with players from the AAA Blues program. Former UW forwards Luke Kunin and Trent Frederic were products of the same youth organization before becoming two of the AAA Blues' five first-round picks in the 2016 NHL draft.
Jeff Brown coached both of them as well as former Badgers player and St. Louis native Sean Dolan.
"There's a bit of a pipeline here in St. Louis heading up to Wisconsin," Jeff Brown said. "I know a lot of guys who have gone there and have spoken incredibly highly of the program and the school and the city."
Frederic, the Big Ten Conference freshman of the year in 2016-17, was the one who showed Caden Brown around the UW facilities after a game last season. Brown said Frederic was one of his favorite AAA Blues players growing up.
"I always loved the way he played, and then he went to Wisconsin and I just kind of fell in love with it there," Caden Brown said.