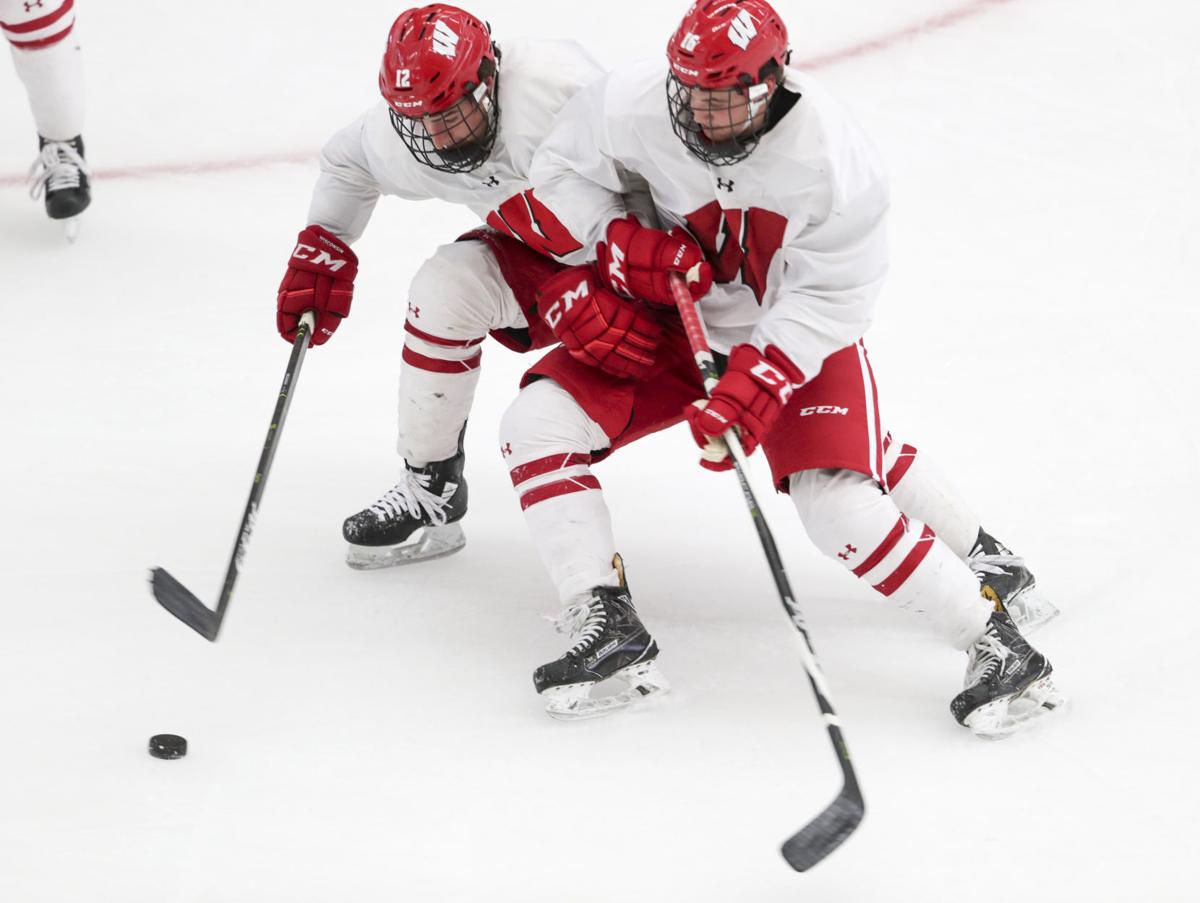 After being selected in the NHL draft last weekend, four incoming University of Wisconsin men's hockey players are getting set for their next taste of the pro hockey life.
Alex Turcotte, Cole Caufield, Ryder Donovan and Owen Lindmark will be in development camps this week with the NHL teams that secured their rights last Friday and Saturday.
They join seven previously drafted Badgers players who are expected to be in the prospect camps along with five UW forwards and one defenseman who received free agent invitations.
Brock Caufield is joining Turcotte in Los Angeles. Mick Messner and defenseman Mike Vorlicky headed to Las Vegas with Donovan.
Incoming Badgers center Alex Turcotte was selected by Los Angeles with the fifth pick on Friday, and Cole Caufield went 15th to Montreal.
Sean Dhooghe is at Arizona's camp with defenseman Ty Emberson, a 2018 Coyotes pick.
Tarek Baker was invited to the New York Rangers' camp along with 2018 first-round pick K'Andre Miller, a defenseman.
And Roman Ahcan got a trip to Pittsburgh for the Penguins' event.
The 17 players expected to take part in NHL development camps was up from 11 last season.
Development camps give teams a chance to keep tabs on players that are in their prospect pipeline and look at others who could be free agent signings in the future. Those from college teams have to pay their own way to maintain NCAA eligibility.
Donovan, selected by the Vegas Golden Knights in the fourth round on Saturday, was headed to the desert a day later. He entered into an atmosphere that Baker, who was invited to the team's camp last season, said was special.
Baker was taken by the greetings he got from Vegas fans walking to the rink for training and by the team's practice facility.
"I'm probably going to be blown away," Donovan said Saturday. "I've never even been to Vegas, so it's going to be sweet for sure.
The Vegas Golden Knights picked incoming Badgers forward Ryder Donovan in the fourth round, and Owen Lindmark went to the Florida Panthers in the fifth round.
"I want to go there and play well and prove them right and do my best and just show them excitement for the future. But I'm just also really pumped to get back to Madison after that."
Turcotte and Cole Caufield were due for the first-round pick level of attention in Los Angeles and Montreal, respectively. Lindmark was a fifth-round pick by Florida on Saturday.
The other Badgers players expected in camp with the teams that hold their rights are forwards Max Zimmer (Carolina, 2016) and Jack Gorniak (Montreal, 2018), and defensemen Josh Ess (Chicago, 2017), Tyler Inamoto (Florida, 2017) and Wyatt Kalynuk (Philadelphia, 2017).
Linus Weissbach, a seventh-round pick by Buffalo in 2017, is home in Sweden and will be training there.
Having 17 of the 27 players that are expected to be on the 2019-20 roster get a few days of NHL-level experience over the summer could be big for the Badgers in the fall.
"Once we all get back from our camps, we'll be all dialed in and it's going to be awesome because everyone's going to get that experience," Donovan said.
Badgers players in 2019 NHL development camps
| NHL team | Badgers players | Camp starts |
| --- | --- | --- |
| Arizona | D Ty Emberson (2018 draft), RW Sean Dhooghe (free agent) | Monday |
| Carolina | LW Max Zimmer (2016 draft) | Wednesday |
| Chicago | D Josh Ess (2017 draft) | July 15 |
| Florida | D Tyler Inamoto (2017 draft), C Owen Lindmark (2019 draft) | Thursday |
| Los Angeles | C Alex Turcotte (2019 draft), RW Brock Caufield (free agent) | Tuesday |
| Montreal | RW Jack Gorniak (2018 draft), RW Cole Caufield (2019 draft) | Tuesday |
| New York Rangers | D K'Andre Miller (2018 draft), C Tarek Baker (free agent) | Monday |
| Philadelphia | D Wyatt Kalynuk (2017 draft) | Tuesday |
| Pittsburgh | LW Roman Ahcan (free agent) | Wednesday |
| Vegas | C Ryder Donovan (2019 draft), C Mick Messner (free agent), D Mike Vorlicky (free agent) | Tuesday |