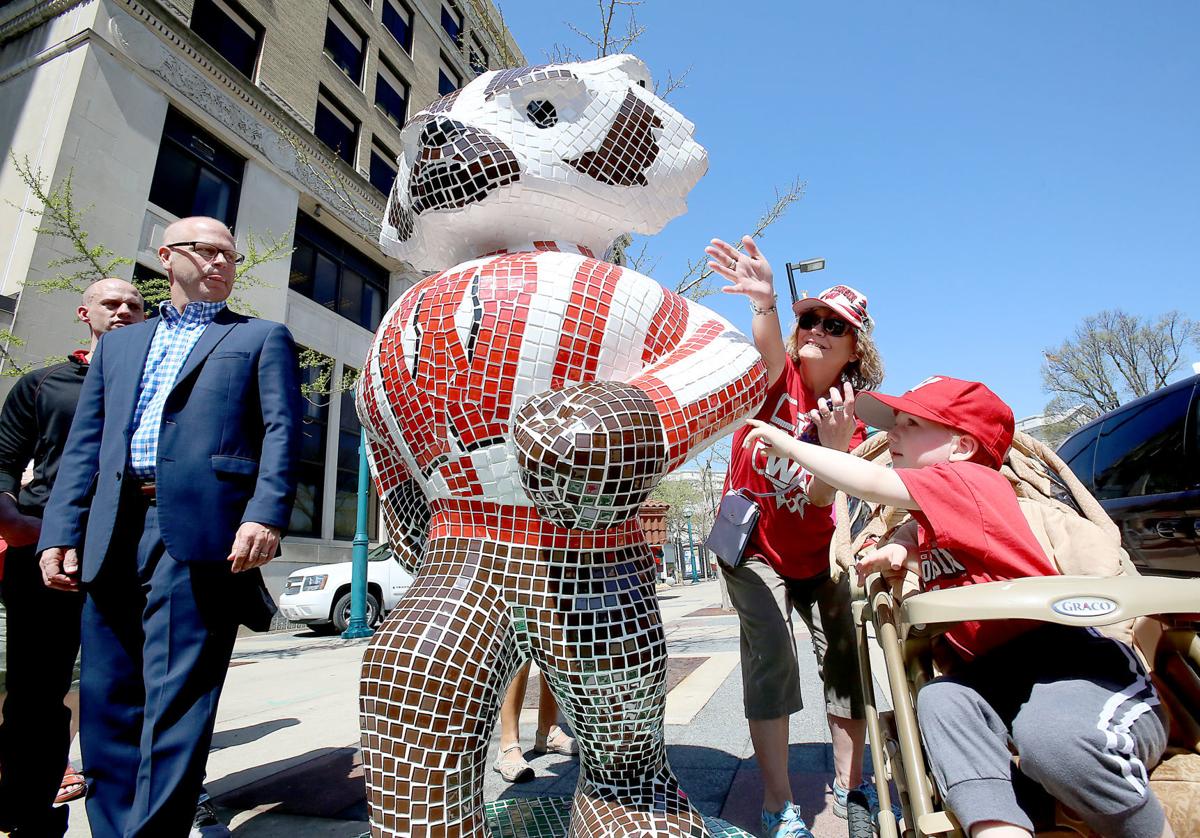 If you've been following University of Wisconsin men's hockey for a while, you'll see a familiar face returning to broadcasts this season.
Former Badgers player Rob Andringa is doing color commentary for eight of the Badgers' games on Fox Sports Wisconsin this season alongside his former radio partner, Brian Posick. Their first outing is Friday night against No. 12 Boston College at the Kohl Center (7 p.m., Fox Sports Wisconsin Plus, 1070 AM).
It's no stretch to say it's a welcome return for many around the UW program.
Andringa was diagnosed last December with colon cancer and has been undergoing treatment.
Think of this engagement as complementary medicine.
"We're not going to worry about tomorrow. We're not going to worry about yesterday. We're going to live in the moment," Andringa said in a phone conversation this week. "That's why doing Badger hockey was one of those things that I had in the back of my mind, like, if I could get well enough to do that again, I know that would pick up my spirits and probably give me as much medicine as any chemo pill would ever give me, to be in an element that I feel so comfortable and happy being around. We made a point, my wife and I, to go for it and to have fun doing it."
A Madison native who was a defenseman on UW's 1990 NCAA championship team, Andringa works in the Twin Cities for RBC Wealth Management. He reunited with Posick for the radio call of the Badgers' series at Minnesota last December.
He said his health is doing well with manageable side effects from the medicine he takes.
After stints as part of the radio and TV broadcasts for Badgers men's hockey games and a time as an analyst for the Big Ten Network, the opportunity to return is special to Andringa.
"Badger hockey's tough to get out of me," he said. "It's something I grew up with, something I love. The way I've always described it to people is I grew up as a fan. I was a brother of a Badger. I became a Badger. And now I'm a fan again, and I get to do work for the Badgers. You'll never get Badger hockey out of my blood. And it makes me feel good, let's just say that, to be back."
Caught on video
Here's Badgers winger Sean Dhooghe talking about the series against the Eagles (while being distracted by teammates):
Three more things
• The Badgers won 69 percent of the faceoffs in their exhibition game against Victoria last Sunday. Competition level aside, that's an encouraging sign for a team that hasn't finished on the plus side of 50 percent for a season since 2013-14. Last season, UW was 52nd of 60 Division I men's teams at 47 percent on draws. At the end of Thursday's practice, the Badgers had a lengthy session working on faceoffs.
• UW is expected to dress 13 forwards and six defensemen on Friday. An NCAA rule change allows 19 skaters to play, one more than in previous seasons. If nothing else, that extra skater could be of help in games with a lot of special teams situations. A penalty-killing specialist would help keep the ice time down for players who also are on the power play.
• The Badgers defeated Boston College 5-2 last October, but that was a sloppy outing for UW at a time of the season before the Eagles had their footing. BC started out 1-5-1, a stretch that cost it a spot in the NCAA tournament. With many expecting the Eagles to be back in the national picture this season, it seems unlikely that UW would be able to get away with a subpar performance again.
Put it in quotes
"We're trying to carve out a new identity of how we're going to play. I don't think we were consistent enough. I think there's more depth on this team. I think there's going to be more energy on this team. I think it's going to be more of a four-line team."
— Badgers coach Tony Granato on the difference between last year's 14-19-4 team and this year's group.
Lining up
The projected Badgers lineup for Friday:
Max Zimmer - Seamus Malone - Will Johnson
Linus Weissbach - Tarek Baker - Sean Dhooghe
Jack Gorniak - Mick Messner - Matthew Freytag
Roman Ahcan - Brock Caufield - Dominick Mersch
Extra forward: Jarod Zirbel
K'Andre Miller - Peter Tischke
Wyatt Kalynuk - Tyler Inamoto
Starting goalie: Jack Berry
Keep reading