The plan is for Charlie Stramel to start playing for the University of Wisconsin men's hockey team when he originally was scheduled to be a senior in high school.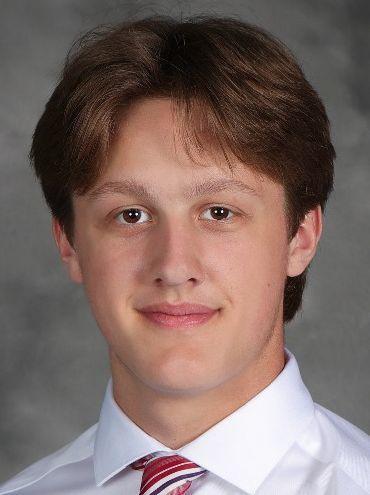 Advancing a year seems to be natural for the 16-year-old power forward.
Stramel announced his nonbinding oral commitment on Sunday, giving the Badgers a highly sought gem for their 2022 recruiting class.
He recently finished playing with the U.S. at the Under-18 World Championship as the youngest player on the roster. He scored twice, had two assists and was plus-3 in five games as a center for the Americans, who lost in the quarterfinals.
That advancement came after Stramel was moved up to the USA Hockey National Team Development Program's Under-18 team in January. He's on pace to finish high school in only three years, with some coursework this summer leaving him one more year to complete.
Stramel's hope is to be ready for NCAA hockey after next season.
"It's always been a goal of mine ever since I got here at the program and it's something I continue to strive for and try to get ready for," Stramel said. "Because obviously it's a big jump from junior hockey to college hockey."
Stramel, from Rosemount, Minnesota, also had North Dakota and Boston University in his top three college picks. He adds to a group of 2004-born Badgers recruits from the Twin Cities that already included forwards Nick Pierre and Dylan Godbout and defenseman Reed Kluender.
He was listed at 6-foot-3 and 210 pounds when he played for Team USA, and scouts noted his combination of power and skill. Stramel said he has always been one of the biggest kids in his classes but the challenge was getting the strength to match.
"It's still something I'm working on today," he said.
His October birth date means he isn't eligible for the NHL draft until 2023. Another year at the NTDP and the 2022-23 season with the Badgers should give him plenty of scouting viewings.
"When I earn my spot into the lineup on the team I feel like they play the type of style ... where I can make an impact that first year there at Wisconsin," Stramel said. "And that'll obviously help out the draft stuff as well."
NCAA coaches aren't allowed to make scholarship offers until Aug. 1 before a prospect's junior year in high school. Stramel's advancement became official for recruiting purposes in late February.
The NCAA hasn't allowed recruiting visits during the pandemic but Stramel took part in a camp at UW before rules establishing the age when prospects can be contacted were enacted.
"The coaching staff was always great for me from day one," Stramel said. "They always kept in touch throughout the whole recruiting process. I've always liked them as coaches as well and the way they play. I love to win, I'm a competitive guy and Wisconsin always seems to be one of those top teams in the Big Ten, competing for the Big Ten title every year. The school's great too. You know you can't go wrong with the education there."