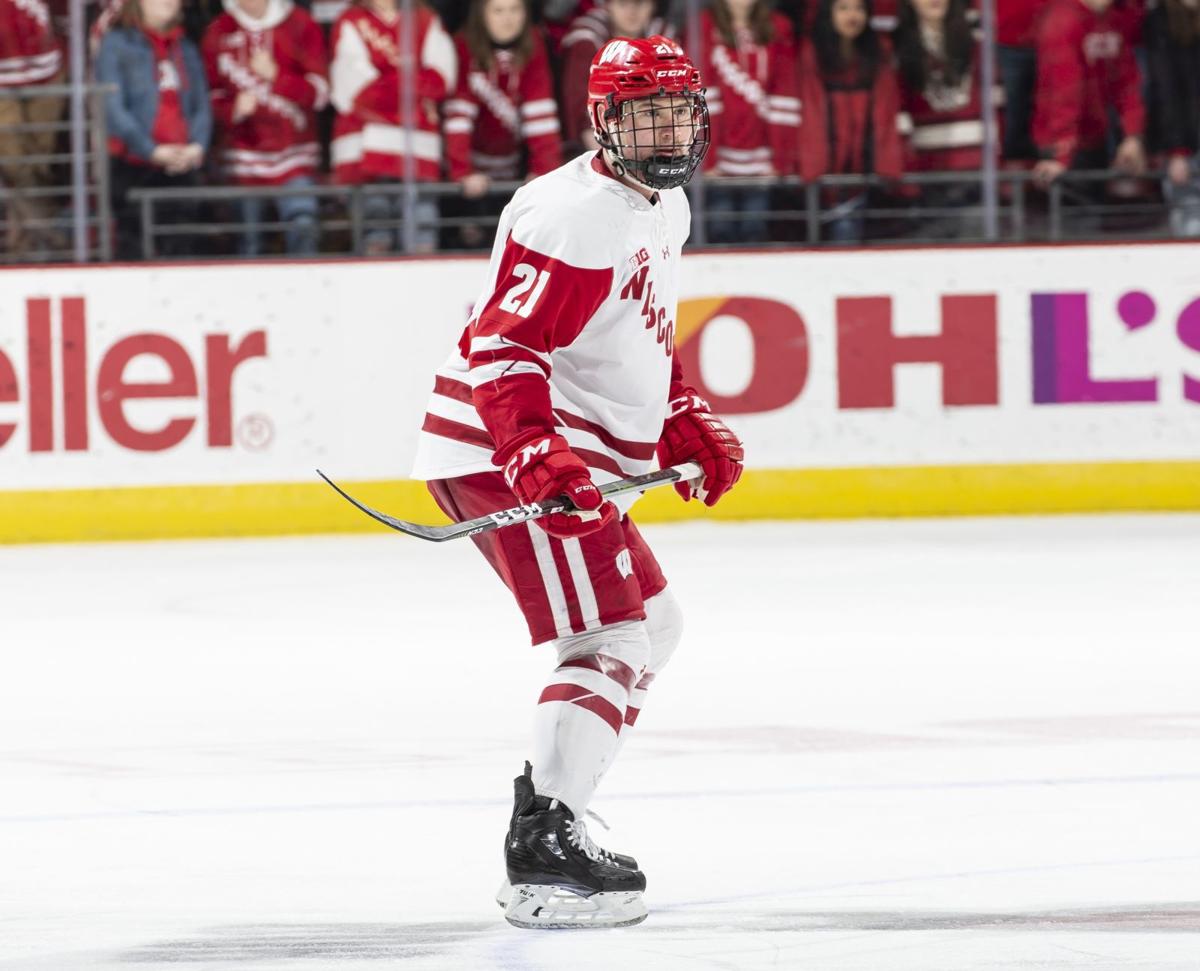 Don't bother trying to find Ty Emberson's name on the rosters for last year's World Junior Summer Showcase. He wasn't invited.
And you won't spot Emberson in the team picture for the silver medal-winning United States group at last season's World Junior Championship. He was cut days before the tournament started in December.
Those are two primary elements in the drive that Emberson, a University of Wisconsin defenseman, will take into this year's offseason scouting event.
"I think I've been through enough tryouts in my life — and I've gotten cut from some here and there — to understand that it's not a given shot for anything," he said. "So I'm just going out there to prove what I can do, what I've worked on the past couple years and just making myself let them know that if they don't pick me this year it'll be a mistake."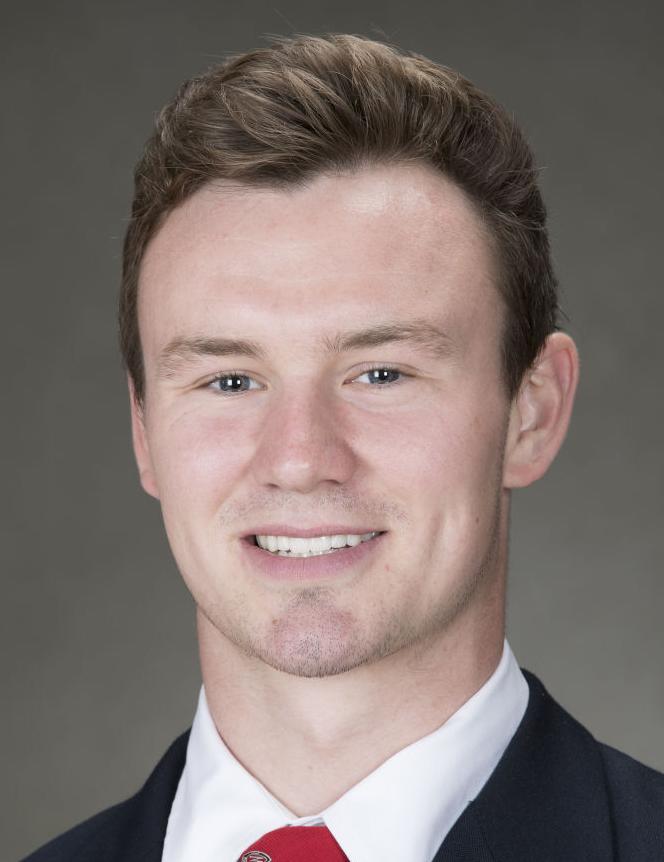 Emberson is one of five Badgers players heading to Plymouth, Michigan, for the World Junior Summer Showcase that starts Friday. He and forwards Cole Caufield, Owen Lindmark and Alex Turcotte are part of U.S. Blue, which is half of the 44 invited American players. K'Andre Miller, who played in the World Juniors last season, is on U.S. White.
"I just know when I'm playing my best hockey, I'm physical," Badgers defenseman Ty Emberson says, and he has been heavy on the hits lately.
The American teams square off Friday before splitting up to face teams from Finland and Sweden on Saturday and Sunday. A pared-down, combined U.S. team then goes forward starting Tuesday with a game against Canada.
Players get a chance to put themselves in a better position to make the rosters for the World Juniors, which features some of the top talents in the under-20 age group.
Except Emberson didn't get that opportunity last summer, even as a product of the USA Hockey National Team Development Program who was a third-round pick in the 2018 NHL draft. A productive first half of his freshman season with the Badgers later landed him a last chance to force his way onto the final World Junior roster as an underage player in the final December camp, but he was let go.
As players give oral commitments to the University of Wisconsin men's hockey team, we'll add them here with their stats.
Emberson has considered himself to be the kind of player who flies underneath the radar. That's not a bad thing for a defenseman during a game, but it's less than perfect when he's trying to capture attention to earn a spot on a team.
His past World Juniors interactions have him motivated for this time around.
"I had a chip on my shoulder last summer not even getting the invite," Emberson said. "Then getting the invite (in December) was a little bit of a confidence boost. But it put me back in my place when I got cut. Obviously, they didn't want me last year so I'm going to make sure they want me this year."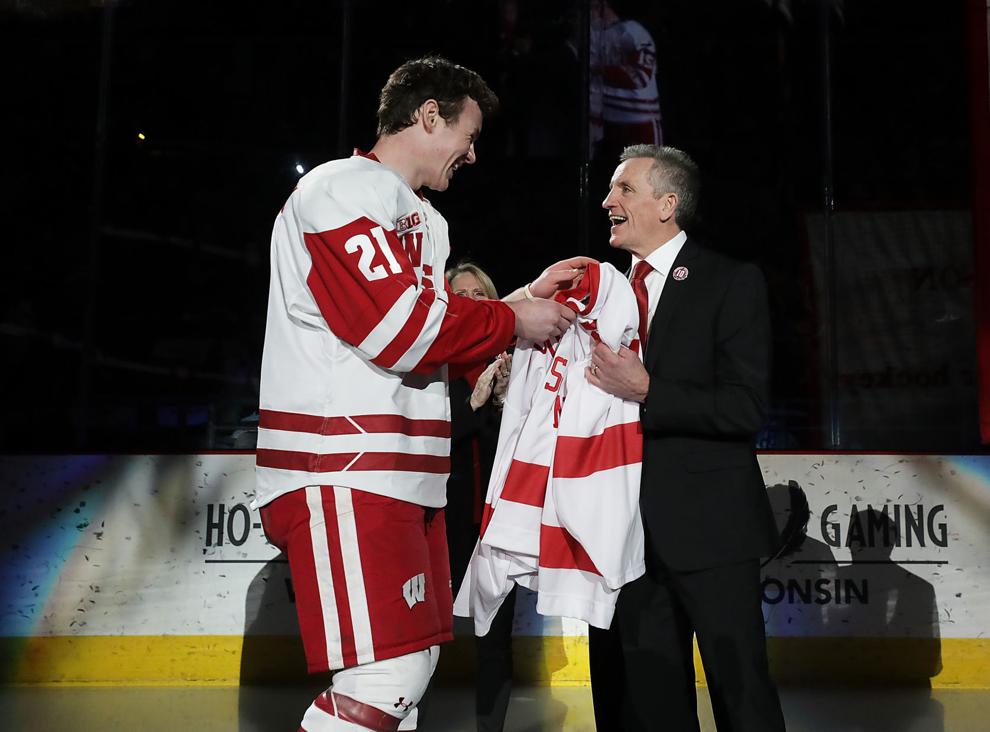 The World Junior Summer Showcase comes at a time when Emberson is building more confidence in his game through on-ice work and time in the weight room. The Badgers have lifting sessions four days a week as part of a summer program.
For the last three weeks, they've also practiced with UW coaches because of their upcoming exhibition trip to Vancouver over Labor Day weekend.
Those up-tempo sessions will benefit the five UW players that are going to the summer showcase, Badgers coach Tony Granato said.
"I think they should go in feeling good about the work that they put in," he said. "It's not hard to find those five guys on the ice and recognize that they're special for a reason. K'Andre and Ty have been through the experience of going to World Junior tryouts last year; they know what to expect. I think they've helped the other three guys get ready."
Emberson, an Eau Claire native, played in all 37 Badgers games as a freshman last season. His defensive pairing with classmate Miller for most of the campaign combined Emberson's grit with Miller's smooth play and offensive flair.
Both also showed room for growth in the college game.
The Badgers open the second half of the season against Denver, with two players carrying a chip on their shoulders from being cut from the U.S. World Junior Championship team.
"The thing that we've talked about probably the most with both of them is just trusting what they have in their legs," said Badgers associate head coach Mark Osiecki, who works with the team's defensemen. "Because if they understand that, there's no panic anywhere on the ice for them.
"We were doing some 3-on-2s. Trust your partner, trust your feet, trust your legs. If they gain that confidence, now everything else takes care of itself for them."
Turcotte and Caufield, both first-round picks in last month's NHL draft, are good bets to make the U.S. World Junior team as underage players. Miller, a 2018 first-round selection, is one of two defensemen from last season's U.S. team eligible for a second trip along with Western Michigan's Mattias Samuelsson.
This would be a convenient season for the Badgers to lose multiple players to the World Juniors for the first time since Derek Stepan, Jake Gardiner and John Ramage won gold with the U.S. in 2010. UW doesn't play a regular-season game during the Dec. 26-Jan. 5 tournament in the Czech Republic.
If Emberson gets the call this year, it'll reflect his improvements in understanding the way he has to play the game. That took a step over the course of last season, when, as an 18-year-old, he developed the capacity to play like a more experienced defenseman.
"I was an underage guy," he said of last season's World Juniors disappointment. "But this year, I'm the older of the two years so I think they recognized my play last year and are giving me a shot."