If Mark Johnson's first pick would have been available 42 years ago, No. 10 wouldn't be going into the Kohl Center rafters on Saturday night.
When Johnson joined the University of Wisconsin men's hockey team in the fall of 1976, fresh off a record-setting high school career at Madison Memorial and about to embark on what would wind up as a trailblazing three years with the Badgers, he sought sweater No. 17.
That's what he had worn at Memorial as a tribute to Dean Talafous, the UW player Johnson idolized as a stick boy for the Badgers in the early 1970s.
The number was already spoken for, as it turned out.
"The guy that was wearing it when I got there was pretty good," Johnson said. "He was our captain, Mike Eaves."
Eaves was midway through a collegiate career that left him atop the Badgers' all-time scoring list with 267 points. Johnson hadn't even started a stint in which he would set the program high with 125 goals in 125 games.
"I guess we defaulted to No. 10," Johnson said.
That move carries a lot of significance this week as Johnson and his No. 10 get the honor of being the first Badgers men's hockey jersey to be retired before Saturday's game against Ohio State at the Kohl Center.
Johnson, who has been the Badgers' women's hockey coach since 2002 after six seasons as a men's hockey assistant, is the humble picture of the UW hockey program, according to his former teammates.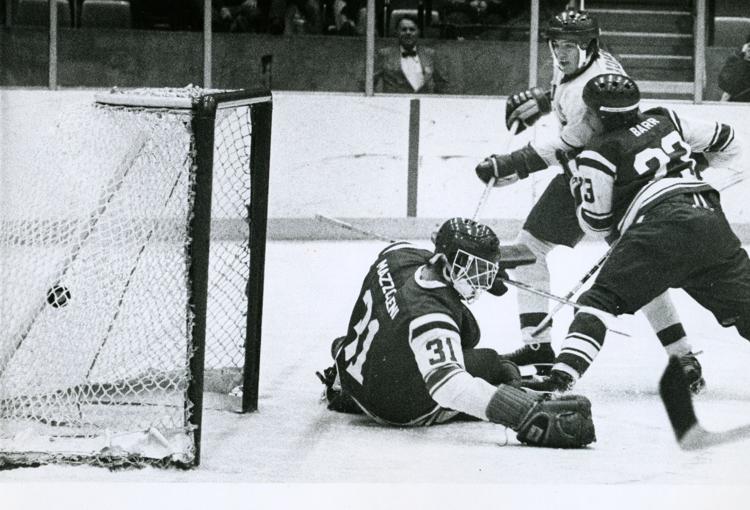 The Madison native and son of legendary Badgers coach Bob Johnson became a U.S. hockey icon when he led the Americans in scoring en route to the Olympic gold medal in 1980. That came after three seasons with the Badgers in which he won the NCAA championship as a freshman in 1977 and put his name on more than a dozen team records.
Before that, he played three varsity seasons at Memorial and left staggering statistics for goals (158) and points (273) in just 65 games.
How did he do it? Here's how 10 people who played with him, played against him or coached him described what made Johnson a star.
'Mental toughness'
"He could shoot a puck like very few people could shoot a puck," said Eaves, Johnson's teammate for two seasons. "That was one of his gifts. The other one, I thought, was the way he understood the game and his vision of the game. And then, his skating ability. You put all those three together, and he's a guy that was a really good hockey player."
Eaves had 81 points to Johnson's 80 in the 1976-77 NCAA championship season. Both trailed leading scorer Craig Norwich, a defenseman who had 83.
There was something inside of Johnson that stood out to Eaves.
"He was not a big man in our era, at college or at the pros," Eaves said. "But he was a tough little nut. The year we won the championship, most of the year he had a separated shoulder and he was wearing some kind of sling that restricted his mobility. But he could still find ways to shoot that puck and score goals. His mental toughness and his ability to compete and the natural gifts that he had, they molded him into a very special player."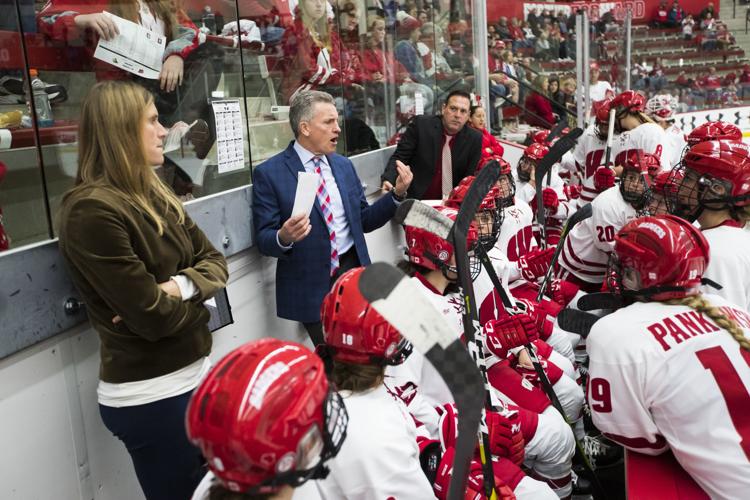 'He just surprised so many goalies'
"Probably the most special talent he had was he was one of the first guys that I ever saw who could shoot in stride," said Norwich, the primary puck distributor on the power play that converted on 39 percent of its chances in 1976-77. "It didn't matter what stride he was in — left foot ahead, right foot ahead — he could shoot the puck from any position while he was skating. ... He just surprised so many goalies."
Norwich had a Badgers record 65 assists in 1976-77 from setting up Johnson and Eaves on the power play.
"Pound for pound, he was the most skilled player I ever played with," Norwich said of Johnson. "I mean, Mark had it all."
'He knew where it was going to go'
"He had great hands and great skill," said Bill Howard, Johnson's coach at Memorial and a longtime friend of Bob Johnson. "The one thing about him is he could see the net without seeing the net, if you know what I mean. He knew where he was going to shoot the puck right away. I'd have him in goalie practice, and he'd get the puck and — bing — he knew where it was going to go."
The shooter's touch developed through repetition that working in his father's clinics and camps allowed.
"He'd stay on the ice and he'd work extra on his shot," Howard said. "He just had a natural touch of scoring, but he also worked at it."
'A quiet confidence'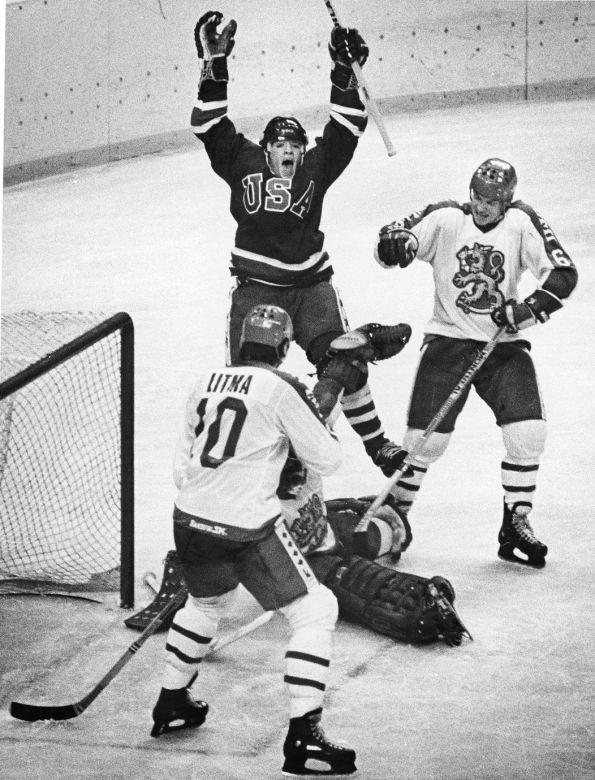 "There's a certain confidence that Mark always had," said Theran Welsh, a defenseman who played with Johnson from 1977 to 1979. "Compared to his dad — his dad walked in the room, you knew who the hell Bob Johnson was. Mark Johnson walks into that same room, you wouldn't even know Mark Johnson was in the room. And yet extremely competitive people, both of them. Mark had a quiet confidence that was pretty unique."
Johnson found the creases between opponents that got him scoring chances but also kept him from being pummeled by bigger players.
"He was slight, he was light but he had tremendous skating ability and his shot spoke for itself," Welsh said. "He could certainly shoot it, man. The final 35 seconds of the game, you knew whose stick you were trying to find."
'He was so smooth'
"There's a lot of subtle things that no one picked up," said Kevin Sergenian, a teammate at Memorial who grew up playing with Johnson. "He's very smart, patient. He was always one or two steps faster than everybody. It didn't look like it because he was so smooth. He was really creative."
When Memorial won the state championship in 1976, it had to overcome a tough challenge in the final from Superior, which took a 3-0 lead. Johnson scored twice and Sergenian tied the game with 60 seconds left in regulation before Ben Hable won it in the second overtime.
"His greatness is because of his character," Sergenian said. "His skills, every aspect of the game, he's really good at. He can pass, he can shoot. He's a goal scorer. He can play multiple positions. We double-shifted him in (the state title game). He was on defense as well so he played every second shift."
'That much better than everybody else'
"His ability to just set up and be able to see the ice, make the right play, whether it was to shoot the puck, one-time it, or control it and make the pass (stood out)," said Rob McClanahan, who faced off against Johnson while playing for Minnesota, then became his linemate on the 1980 Olympic team. "He was a very good skater, great hands. Just a really solid awareness of all that's going on. He was very hard to play against because of that. He was also a hell of a lot of fun to play with because of that."
McClanahan finished second on the 1980 team with 70 points in 63 games, counting the Olympics and the pre-Games season tour. Johnson beat him by 22 points despite playing three fewer games.
"He was just offensively that much better than everybody else," McClanahan said.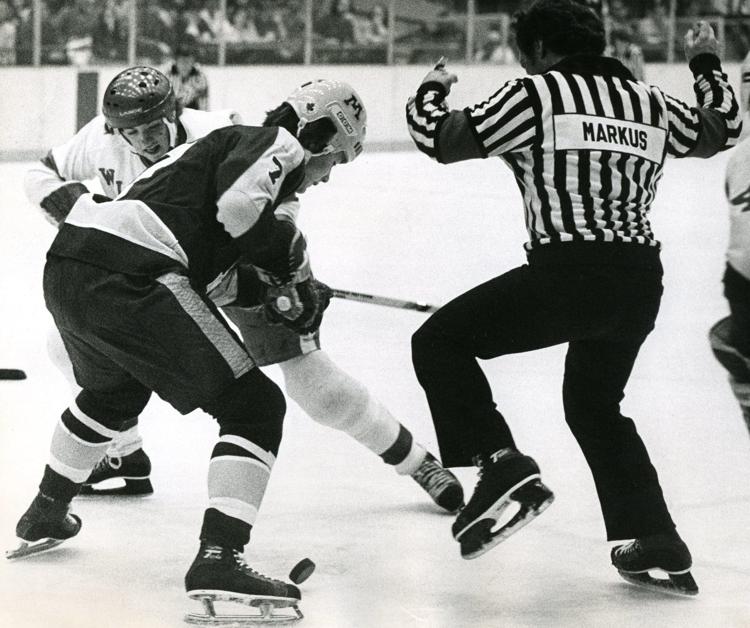 'He could do it all'
"When I was recruiting, when I looked at a player, the real important thing to me was how he impacted a game," said Grant Standbrook, a Badgers assistant coach from Johnson's first year in 1976 to 1987. "And Mark impacted games in so many different ways. It didn't matter whether it was the power play or a great play he made or going 200 feet with the puck, he could do it all."
Standbrook saw that from Johnson's middle school years, when he first had him in a camp in Faribault, Minnesota. Johnson's skating was always an asset.
"He had rapid foot turnover," Standbrook said. "He had real good cadence. And he was effortless. He was very smooth and really coordinated. And it didn't matter whether he was shooting the puck or passing the puck or what it was, he could see the ice."
'He had just this other gear'
"The thing that made him so great was his deceptive speed," said Ron Vincent, who played alongside Johnson for part of the one year they were together as Badgers teammates. "He had just this other gear. He'd come down on the defenseman and just turn it on on the outside, and just go right by him. That was one of his real skills. He was a phenomenal skater."
Vincent thought he was a pretty good skater, too, until Standbrook pulled him aside to watch film of Johnson's stride.
"Obviously, it goes back to Grant Standbrook and Bob Johnson coaching him and spending a lot of time with him," Vincent said. "That was certainly the paramount of his skill set."
'Intuitive knowledge of the game'
"(It was) his instincts in the game in terms of knowing where to be, where to go," said Vic Levine, who was an assistant coach at Memorial when Johnson played there. "He was not selfish at all. He distributed the puck as well as being able to score. But I think it was just his intuitive knowledge of the game, which I'm sure he got from his dad and working all the hockey camps and being around the Badger program as a kid growing up."
A math teacher who was Memorial's head coach from 1977 to 2006, Levine kept the scoring records for Memorial hockey that show Johnson with a ridiculous 4.2 points per game in his high school career.
"Mark was fortunate, I think, in one thing: With Bill Howard as his coach and Bill being so close to the Johnson family, I think Bob gave Bill pretty much free rein in discipline and making sure that Mark did what he was supposed to do," Levine said. "I do remember Mark being told, if anybody went after him, you just turtle. Just go down and don't retaliate. And he did."
'He was the whole package'
"It amazed all of us ... how natural it came to him," said Ian Perrin, a Badgers defenseman who played with Johnson for three seasons and sat between him and Bob Suter in the dressing room in the 1978-79 season. "He was the most fluid skater. He had the most natural shot. He seemed to read the play the most naturally. Every one of those other guys had ingredients of him, but he was the whole package rolled into one."
Perrin recalls a particularly violent game at North Dakota in November 1978 in which Johnson got hammered by an opposing player. Johnson's revenge was sweet: He scored in overtime to quiet the barn.
"Farm boys like me from Saskatchewan would have went out there and tried to run the guy over," Perrin said. "Mark will just embarrass him in front of his home crowd. It was awesome. He found a different to be successful instead of bullying people or running them over."