HAMDEN, Conn. — At this point, what else could the women's hockey teams from the University of Wisconsin and Minnesota have left to find out about each other?
Very little, from the way they described things on the eve of their latest matchup, one that carries their game's ultimate prize as the significance.
"There's no secrets now," Badgers senior center Emily Clark said Saturday.
Over the past five seasons, UW and Minnesota have played each other 26 times. The Badgers have won 12 and the Golden Gophers 11, with three ties. Six of the games have been in the postseason; each side has won three.
None of those contests, however, has been for an NCAA championship, which is what's at stake when the border rivals meet today at People's United Center.
"We know what we're going to get," Badgers fifth-year senior defenseman Maddie Rolfes said. "We've seen them at their best and they've seen us at our best. I think it's really cool that we're going to ... be able to end the season with this rivalry and hopefully come out with the win."
Other than their own, there's probably no team that Badgers coach Mark Johnson and Gophers coach Brad Frost knows as well as the one they'll line up against in the title game.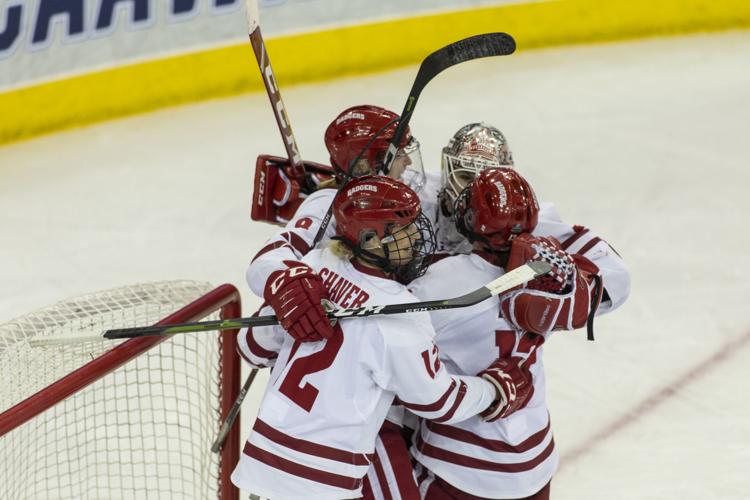 "Aside what from pregame meal they're eating, I could tell you anything else you want to know in regards to their players, their staff, what they're trying to do, what we're trying to do," Frost said.
UW and Minnesota have been the two best teams in college hockey — both this season and over the 19 years that the NCAA tournament has been played.
Minnesota has made the most Frozen Four appearances at 14. UW is second at 12. The Gophers have a record 15 Frozen Four victories. UW is second at 12.
UW's current streak of six straight Frozen Four appearances is tied for the longest with one Minnesota built from 2012 to 2017.
Minnesota has won a record six national titles. UW can tie Minnesota Duluth for second with a victory on Sunday for its fifth.
"The Wisconsin-Minnesota rivalry is so special and it comes with so much history," said Badgers senior co-captain Sophia Shaver, a Wayzata, Minnesota, native. "And I know that every time we get the chance to play Minnesota, we're all so excited as a team to get out there because we know it's going to be a really competitive game."
The rivals have squared off with a championship on the line 11 times previously; the Badgers have won seven, including the Western Collegiate Hockey Association playoff crown two weeks ago at Minnesota's Ridder Arena that put this season's series in their favor at 3-2.
UW won the 2006 NCAA championship against Minnesota. The Gophers returned the favor in 2012.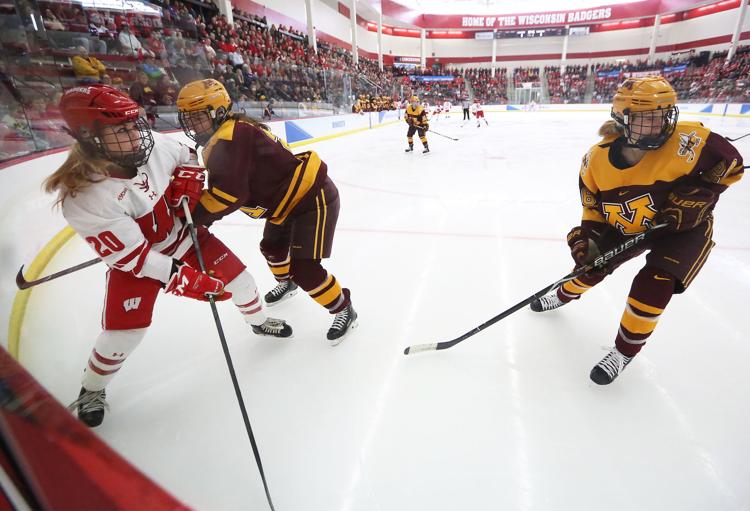 Of the past 21 games between teams ranked in the top two since 2008, the Badgers have been in all of them and the Gophers have been the opponent in 17. UW goes into Sunday's game at No. 1 in the USCHO.com rankings; Minnesota is No. 2.
It all adds up to Minnesota and UW bringing the best out of each other when they play, Frost said.
"They make us better and we make them better just by the players that we recruit and how each of the teams play," he said.
The championship game matchup carries the intrigue of featuring Division I's two best offenses (Minnesota's scoring average is better) against two of the three best defenses (UW's goals-against average is lower).
Both teams have a player who won an Olympic medal last year — gold with the U.S. for Minnesota center Kelly Pannek and silver with Canada for UW's Emily Clark. And both have players who chased an Olympic team spot last season but fell short: Annie Pankowski for the Badgers and sisters Sarah and Amy Potomak for the Gophers.
"I think what makes it so special is they're always a strong team and we're always a strong team," Clark said. "There's definitely a big respect for each other, and it makes for great games."
Wrapping up their college careers against Minnesota is fitting for six Badgers seniors who have seen so much of the Gophers over the past four or five seasons.
"I just keep thinking that we want to leave our hearts and souls on the ice this last game," Rolfes said. "I don't think we're going to leave anything to spare. It's just going to be really special, and we don't take that for granted."