HAMDEN, Conn. — It's coming up on the second anniversary of the day that rocked Kristen Campbell's world.
It's a little more than a year since she had a night to forget that instead turned into a motivator.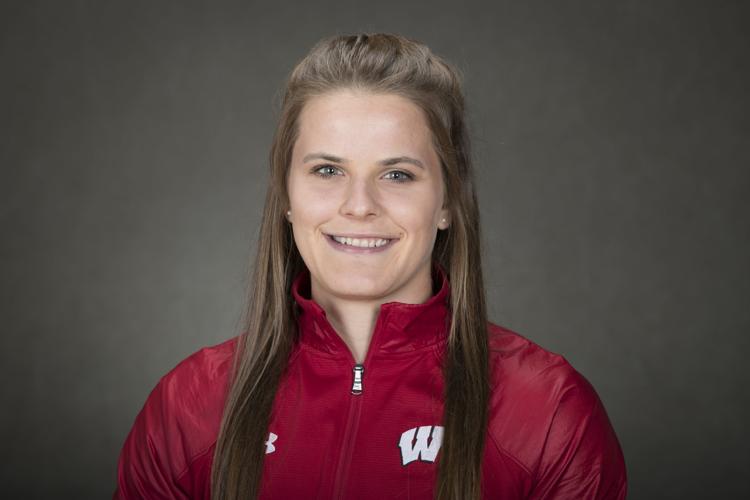 So when she skated off the People's United Center ice on Sunday as a national champion with the University of Wisconsin women's hockey team and as the NCAA Frozen Four's most outstanding player, Campbell could have been forgiven for checking to make sure it was all real.
"It's honestly super surreal right now," she said.
It also was something never seen before in Division I women's hockey.
A year after finishing the season by allowing a double-overtime goal to Colgate in the Frozen Four semifinals, Campbell stopped the last 69 shots she faced this season, covering more than three games and 210:36 of game time.
The last 27 saves and 60 minutes came in the Badgers' 2-0 victory over Minnesota in the title game on Sunday.
Campbell became the first goaltender to go the distance in a Division I NCAA women's hockey tournament without allowing a goal.
"Our coaching staff thought that if Kristen gave us an opportunity to win in the playoffs, we were going to have a good chance to win," Badgers coach Mark Johnson said. "And she gave us an opportunity, obviously, in every game."
A couple years ago, Campbell pictured herself winning a national championship but thought it would be with North Dakota, where she initially attended. In late March 2017, the school dropped women's hockey in a cost-cutting move, sending Campbell and others into the unknown.
Campbell found a home at UW and has put herself among the greats that previously occupied the crease for the Badgers.
"I couldn't thank the coaching staff here enough for taking a risk on me and taking a chance to bring me into this program," Campbell said. "As soon as I got that opportunity, I knew that I was going to make the most of it."
The redshirt junior had to be strong throughout the game, with two saves on Sarah Potomak in the first period and a denial of a Amy Potomak rebound try in the second. She used her blocker to turn away Nicole Schammel's attempt in the final period.
The finish to the season was strikingly different than in 2018, when she allowed a career-high four goals in the double-overtime loss to Colgate.
"She's been visualizing this game since they lost last year," said Badgers senior Annie Pankowski, who sat out last season because of Olympic centralization but was Campbell's roommate when she returned to Madison. "It wasn't a fluke. She was ready."
Penalty kill comes through
Even taking Pankowski's short-handed goal out of the equation, the Badgers' penalty kill was a big factor in Sunday's victory.
Called upon twice in the second period with the team holding a 1-0 lead, UW's penalty killers allowed six shots on goal but also got two key shot blocks from Natalie Buchbinder and Sophia Shaver.
"Penalty killing is more fun than scoring goals for us," senior Maddie Rolfes said, speaking for her fellow defensemen. "So when we see we're about to kill, we get fired up, we get momentum going, we get excited. We're going to do whatever it takes.
"We don't care if our legs are burning. We don't care if we're going to block a shot in our stomach or our leg. Whatever it is, it's so much fun."
Campbell also had a big role in net, but Pankowski's work on her short-handed goal was what Minnesota coach Brad Frost called a "high-level play."
"Sometimes you've got to tip your cap to a great player," Frost said. "That one hurt. That was a huge turning point. We were generating some things on the power play and then a big-time play there to (put them up two)."
The UW penalty kill finished the season allowing only one goal in seven postseason games and two in its last 12 contests.
Slap shots
A championship celebration is planned for 6 tonight at the Kohl Center.Admission is free. ... Five Badgers players — forwards Pankowski and Abby Roque, defensemen Rolfes and Mekenzie Steffen and goaltender Campbell — joined Minnesota forward Nicole Schammel on the all-tournament team. ... The officiating crew of referees Katie Guay and Kelly Cooke and linesmen Amanda Tassoni and Delaney Harrop were the first all-female group to work an NCAA championship game.