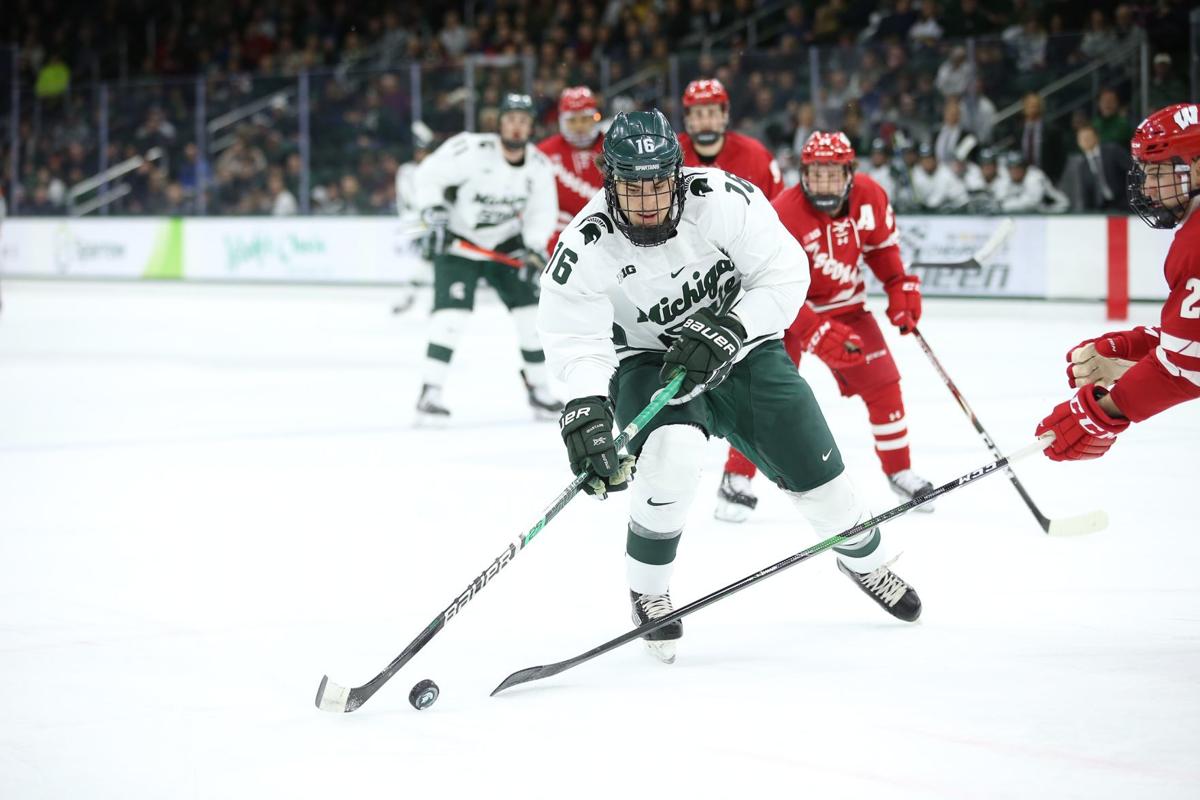 EAST LANSING, Mich. — In less than five minutes of analyzing the University of Wisconsin men's hockey team's shutout loss to Michigan State on Friday, coach Tony Granato kept coming back to the same theme.
Chances, chances, chances.
"We just couldn't find a way to score," Granato said.
John Lethemon backed up his Big Ten Conference-leading credentials with 41 saves in a 3-0 Spartans victory, a result that ensured the 19th-ranked Badgers will enter 2020 with a losing record.
Already having seen great opportunities go either just wide of the net or get flubbed in front, things got surreal for UW in the third period when leading scorer Cole Caufield hit the post three times.
Ding, ding, ding. A sound you'd forgive Caufield for hearing in his nightmares after the Badgers were blanked for the second time this season. They've scored only once in their last two games, both losses.
"It's obviously tough," Caufield said. "You want to get something going for the guys. I'm just going to have to keep shooting. They'll go in sooner rather than later."
Tommy Miller scored at the end of an 11-2 surge in shots on goal in the first period for Michigan State. Jagger Joshua and Brody Stevens added second-period scores to negate the Badgers' pushback.
Then it was on Lethemon — and the posts behind him — to protect the lead.
In the first period, Alex Turcotte slid a rebound just wide of the right post and Linus Weissbach couldn't handle a pass from Caufield in front that could have led to a shot at an empty half of the net.
Lethemon, the Big Ten leader with a .946 save percentage, foiled Sean Dhooghe on a second-period breakaway, then denied Turcotte on a power-play rebound.
"I can think of 10 great chances — with the right guys getting the chances — and they didn't go in," Granato said. "Give the goalie credit. If we produce the same chances (Saturday) and are maybe a little bit stingier around our net at times, I think we'd be happy with that."
Defenseman Wyatt Kalynuk recorded a game-high seven shots on goal as UW outshot Michigan State 41-36.
"We're going to have to do things the hard way," he said. "We're not going to be able to finesse teams. ... We've got to get to the inside and get pucks and bodies to the net and do it the dirty way."
You have free articles remaining.
That worked for Michigan State in opening up its lead.
Miller had 10 feet of space in the left circle after receiving a cross-ice pass from Logan Lambdin — enough time to fumble the puck, recover it and fire past sprawled UW goaltender Daniel Lebedeff for his first goal of the season.
The Badgers (7-9-1, 2-6-1-1 Big Ten) outshot the Spartans 15-2 in the final 11:49 of the opening period but didn't convert.
That push didn't carry over enough to the second period, when the Spartans (7-7-1, 5-3-1-0) opened up a three-goal lead thanks in part to a pair of cringeworthy plays around the Badgers' net.
UW defenseman Josh Ess turned the puck over behind the cage, and Joshua tucked the puck inside the right post on a hard rebound off the back boards after Adam Goodsir fired wide.
Stevens outbattled Badgers defenseman Mike Vorlicky in front of the net to tuck a loose puck between Lebedeff's pads for a 3-0 lead.
"'Lebby' competed hard," Caufield said of Lebedeff, who made 23 saves in two periods. "Some of those goals, we've got to box out better. We've got to give him some help, too."
Jack Berry played in goal for the Badgers in the third period. It was less a sign of displeasure with Lebedeff's play than another button to push by Granato to try to spark something from a team that will be below .500 at the break for the first time in his four-season tenure.
Granato also shifted forward lines in the final 20 minutes.
"When you're not getting the results that you want or you think you should, you're going to try different stuff," he said.
Junior alternate captain Tarek Baker said he'd leave Munn Ice Arena on Friday with the takeaway that Badgers players need to buy in more to what the coaches are preaching with execution of small details.
"Regardless of what it is, regardless of how close we are in the locker room — we really are like a brotherhood in there and we do care for each other a lot — but at the end of the day, it's about getting results," Baker said.
First period: MS — Miller 1 (Lambdin, Ghafari), 8:11. Penalty: Joshua, MS, 13:39.
Second period: MS — Joshua 1 (Goodsir, Muller), 6:21; Stevens 2 (Apap, Esteves), 15:55. Penalties: Holloway, W, 1:36; Ch. Krygier, MS, 9:52; Joshua, MS, 17:51.
Third period penalties: Cesana, MS, :44; Pelton-Byce, W, 9:49; Saliba, MS, 14:32; Kalynuk, W, 14:32; Kalynuk, W, 19:07.
Saves: W (Lebedeff 12-11-x, Berry x-x-10) 33; MS (Lethemon 17-9-15) 41. Power plays: W 0-for-4; MS 0-for-3. Att. — 6,007.