ANN ARBOR, Mich. — The good vibes established by the University of Wisconsin men's hockey team in a four-game winning streak that propelled it to the top of the Big Ten Conference lasted another period Saturday.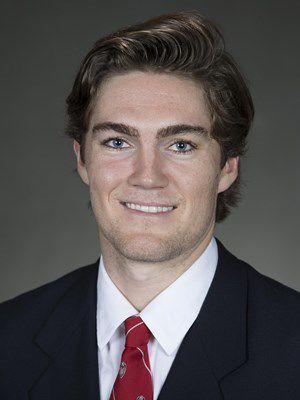 By the end of the second frame, the Badgers skated back to the Yost Ice Arena visitor's locker room having been smacked around by a Michigan team that found its legs again.
The eighth-ranked Wolverines, playing for the first time in 23 days, scored four times in the second period from three different lines to power a 5-1 victory against the seventh-ranked Badgers.
Two Michigan goals in 92 seconds early in the period turned a UW lead into a deficit. Two more goals off the rush later in the period cemented the Wolverines' dominance in transition after the Badgers had more of those chances in the opening period.
"When you give that team opportunities on the rush with odd-man rushes, it's going to end up in the back of your net a lot," UW center Ty Pelton-Byce said.
The combined total of offensive-zone time for the four goals Michigan scored in the middle frame was 14 seconds.
Brendan Brisson had a tap-in after a pass from UW's Dylan Holloway to defenseman Anthony Kehrer went haywire at the Badgers' defensive blue line.
Matty Beniers beat Robbie Beydoun through the pads on a 2-on-1 shot. Eric Ciccolini knocked in the rebound of Johnny Beecher's shot off a rush.
And Luke Morgan snapped a shot past Beydoun after entering the zone wide left.
It was the second time in 62 regulation periods this season UW (13-8, 10-6-0-1 Big Ten) allowed four goals. The other was the first period of a 4-2 loss at Ohio State on Dec. 3.
"We weren't connected as well as we were," Badgers coach Tony Granato said. "Last week, Minnesota had to go through five of us. Tonight, we were separated without the puck and we gave them some room to skate."
Cameron Rowe replaced Beydoun, a native of nearby Plymouth, Michigan, at the start of the third period and made 16 saves. Rowe allowed a deflection by Nick Granowicz to get past him to make it 5-1.
Kehrer, a freshman defenseman, was on the ice for all five Michigan goals and was minus-5.
"I don't think that was indicative of how he played," Granato said.
Said Kehrer: "Lots of things that I want to take back and I know I can do better. But we've got tomorrow for that."
UW's winning streak ended at four games and the four-goal loss was its largest of the season. Point-scoring streaks for Cole Caufield (12 games), Pelton-Byce (nine games) and Holloway (eight games) all were extinguished as Michigan (11-6, 8-6-1-0) played tight in the middle of the ice.
The Badgers' power play, 7-for-12 in the previous four games, got only one chance and found resistance in the neutral zone.
Erik Portillo made 29 saves for the Wolverines.
Beydoun (15 saves) wasn't called on much in the first half of the opening period, but he had to be sharp on a Michael Pastujov breakaway up the left side after UW defenseman Josh Ess stumbled in the neutral zone.
The senior goaltender stopped Pastujov's try and UW center Owen Lindmark collected the rebound. He fired the puck off the boards to Mathieu de St. Phalle for a breakaway at the other end.
The freshman lifted a shot high past Portillo to put the Badgers ahead for the fifth straight game. They fell to 11-4 when scoring first.
The Wolverines won their fifth straight around an athletic department pause that kept them out of games since Jan. 22 because of worries over a COVID-19 variant.
First period: W — De St. Phalle 2 (Lindmark), 8:59. Penalty: Granowicz, M, 2:54.
Second period: M — Brisson 6 (Bordeleau), 1:48; Beniers 5 (Johnson, Morgan), 3:20; Ciccolini 4 (Beecher, York), 7:05; Morgan 2 (York), 16:08.
Third period: M — Granowicz 4 (Pehrson, Beecher), 15:01. Penalty: Ahcan, W, 15:27.
Saves: W (Beydoun 7-8-x, Rowe x-x-16) 31; M (Portillo 10-11-8) 29. Power plays: W 0-for-1; M 0-for-1. Att. — 93.