There was a time not long ago that thinking of the University of Wisconsin men's hockey team sweeping a series against Arizona State as an upset would have been some kind of fantasy.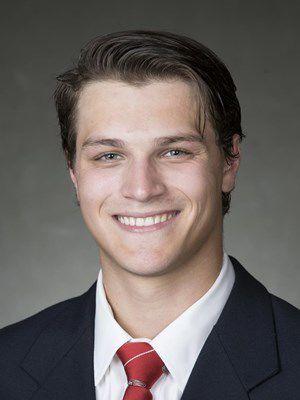 But it was the ninth-ranked Sun Devils, in their fifth season as a varsity program, who entered a non-conference series at the Kohl Center looking to solidify an NCAA tournament bid. The Badgers, long out of the at-large picture, were just trying to better themselves for the Big Ten Conference playoffs.
Those designations didn't seem to matter Saturday as the Badgers closed their home schedule the same way they started it: with a resounding sweep.
Senior Max Zimmer scored twice on Senior Night, and the Badgers thumped the Sun Devils 6-2 to finish the non-conference season 5-2 against teams that started this weekend in the top 15 of the PairWise Rankings.
"It was a special one, that's for sure," Zimmer said. "Some of the guys talked before the game and said, hey, let's go make a statement. I think we went out and did that tonight."
UW swept two-time defending NCAA champion Minnesota Duluth in its first appearance at the Kohl Center this season but hadn't been able to complete a sweep since. Three goals in the second period Saturday put the Badgers ahead 5-0, and goaltender Daniel Lebedeff played well a day after allowing six to go past him.
"This weekend is something that has been building for a couple weekends," Badgers coach Tony Granato said.
Zimmer, who has risen from healthy scratch to major contributor in the second half of his senior season, scored power-play goals in the second and third periods. It was just his second two-goal game in 111 collegiate contests.
He put the Badgers ahead 4-0 in the second period, firing high to the short side from low in the right circle. His second goal made it 6-1 in the third.
"I'm still trying to soak it all in and spend as much time with the boys as I can," Zimmer said. "I can't say thank you enough to them, and especially my parents. I left my senior year of high school to play juniors, so they didn't get a senior night in high school. It was nice to give them a little bit of recognition tonight."
The Badgers honored their three seniors — Zimmer and goaltenders Jack Berry and Johan Blomquist — and their parents before the game. Blomquist made his first collegiate start and fifth appearance before being replaced by Lebedeff at the first whistle, after 20 seconds.
Blomquist re-entered the game in the final minutes and made two saves.
Arizona State, which was 12th in the PairWise entering the day, had three players ejected for major penalties, and the Badgers spent 19:33 on the power play. They were 2-for-8.
"Tonight's tough because I don't feel like we ever gave ourselves a chance," Sun Devils coach Greg Powers said.
"A couple turnovers by guys that can't make them. A couple bad goals, I think, down below the goal line. We found ourselves down early and just couldn't climb out of it."
Both coaches were looking for a more structured defensive outing after a 13-goal outpouring on Friday ended in the Badgers' favor.
UW got it by being able to play most of the game in the other end of the ice. It held its opponent scoreless in the first period for the first time in eight games. Opponents had scored in 22 of the previous 23 periods against the Badgers.
Lebedeff hadn't allowed fewer than three goals in his last six appearances, with a 4.82 goals-against average and .866 save percentage in that span.
But he had a few big saves among his 28. In the second period, he hopped out of the way after a glove stop on a PJ Marrocco short-handed breakaway.
He later remarkably got his toe in the air to deny Sun Devils leading scorer Johnny Walker when it appeared the goaltender was beaten.
"Tonight, overall, our team defense and how we were structured (was good)," Lebedeff said. "Getting that early lead really helped us."
Goals by Owen Lindmark and Cole Caufield provided a 2-0 advantage at the first intermission. Lindmark scored his first goal in 10 games 4:21 into the contest, and Caufield netted his team-high 19th less than two minutes later.
Roman Ahcan's fourth goal of series, less than three minutes into the third period, gave the Badgers a 3-0 lead.
That was the end of the night for Arizona State goaltender Evan DeBrouwer, who stopped only nine of the 12 shots he faced, and it started the game careening off the rails.
A post-whistle scuffle around the Badgers net led to Arizona State defenseman Jacob Semik being ejected for leaving the bench during an altercation. Powers said Semik was coming onto the ice for a line change.
Later, Tyler Busch and Willie Knierim were tossed for contact-to-the-head penalties after hits on Ahcan and Ty Pelton-Byce, respectively.
Be the first to know
Get local news delivered to your inbox!