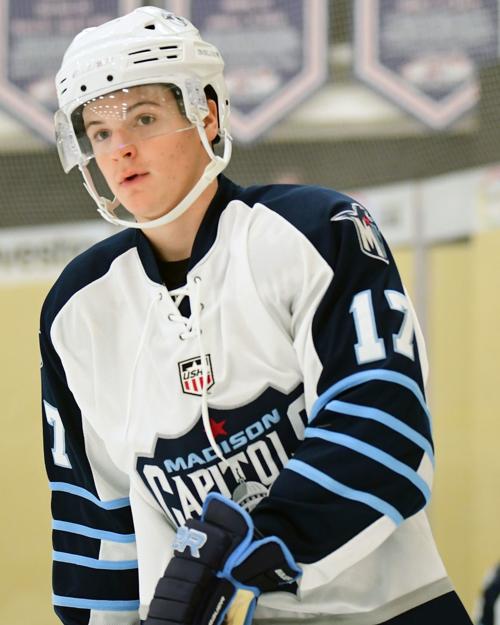 Injuries can derail careers, but sometimes they can put them on the right path.
Take Jack Horbach, for instance. He grew up as a defenseman until a Chicago Mission youth program coach moved him to forward to protect an injured shoulder.
"Ever since then, it just stuck," Horbach said.
As players give oral commitments to the University of Wisconsin men's hockey team, we'll add them here with their stats.
Horbach, who plays for the Madison Capitols in the United States Hockey League, on Wednesday made an oral commitment to the University of Wisconsin. He could join the Badgers in 2021 or 2022.
A 17-year-old from Naperville, Illinois, Horbach continues a path from the Chicago area — and specifically the Mission program — to the Badgers.
Five members of this year's UW team played for the Mission: Jason and Sean Dhooghe, Owen Lindmark, Dominick Mersch and Alex Turcotte. The Badgers also have nonbinding commitments from Mission defenseman Grayden Daul and former program forwards Matty De Saint Phalle and TJ Koufis.
"It just seemed like a great environment to be in," Horbach said of the Badgers. "I was thinking about it for a while just to consider my options, but then I had to pull the trigger and I knew it was the right place."
He credited the Mission coaches for his development. One of his coaches was Anders Sorensen, who's now an assistant with the American Hockey League's Rockford IceHogs. Former NHL players Gino Cavallini, Adrian Aucoin and Michal Pivonka also worked with Mission players.
"They all know what they're talking about, so it's one of those trust things," Horbach said. "If you listen to them, they'll make you a good player and you'll know what to do in every situation."
Horbach, listed at 5-foot-11 and 170 pounds, hasn't recorded a point in 11 games this season for the Capitols after netting one assist in four games scattered through last season.
He scored a goal with three assists in five games at the USA Hockey Select 17 player development camp last summer.
Horbach is the seventh player from the 2002 birth year who has committed to the Badgers. He's the third forward, joining Isaac Novak of Sussex and Luke Levandowski of Rosemount, Minnesota.