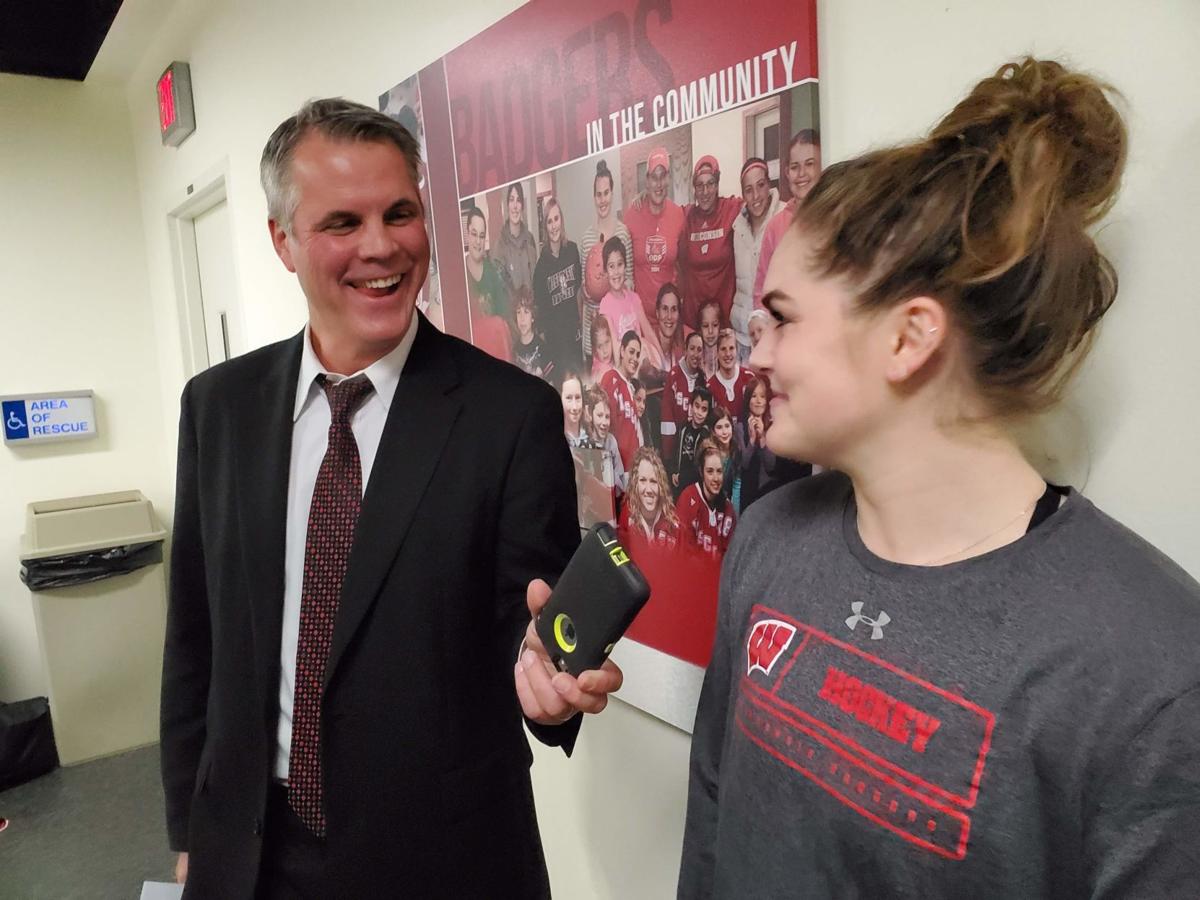 In the box score, it was the second goal in a seven-goal shutout victory.
To Stoughton native Maddie Posick, her family and the University of Wisconsin women's hockey team, it'll never be that simple.
Posick, a Badgers junior, scored her first collegiate goal Friday night in top-ranked UW's 7-0 victory over Penn State. That's enough of a memory on a night where UW unveiled its fifth NCAA championship banner, but there was a lot more to the moment.
Up in the press box, her dad Brian was wearing a headset and calling play by play on Fox Sports Wisconsin. It looked and sounded like this:
Maddie Posick's sister Hannah showed her the video on her phone after the game.
"I was just overwhelmed with emotions," Maddie Posick said. "I just teared up right away. I couldn't even look at the video; I just had to hear his voice. Hearing him say Posick, it's making me choked up now. It's incredible."
You have free articles remaining.
The goal — and the call — created a viral moment Friday night.
Maddie Posick goal, called by her father @brian_posick Ladies & gents, there is your cool moment of the night. https://t.co/wYq636hfw7

— Matt Lepay (@MattLepay) October 5, 2019
My girl @maddieposick scoring her first career goal and her dad, @brian_posick , with the call will just warm your heart! @BadgerWHockey pic.twitter.com/hBl9ZeoKV8

— Mellissa Channell (@MellissaChan) October 5, 2019
Almost did!! https://t.co/xH9SCknyhX

— Brian Posick (@brian_posick) October 5, 2019
Between the legs in the neutral zone then 4 whites and 1 red in the picture 👀👀👀 @maddieposick https://t.co/ZV3Y17r8Lf

— Emily Clark (@emclark13) October 5, 2019
Check out @maddieposick landing Sports Center Top 10 #9 Such a stud😍 https://t.co/R5MwHIB4dV

— Annie Pankowski (@anniepank) October 5, 2019
So cool. What a dream for Daddy and daughter... https://t.co/zm5iKURchW

— Bucci Mane (@Buccigross) October 5, 2019
"I seriously have no words right now," Maddie Posick said after Friday's game. "I'm so thankful. It all was really a blur. Daryl gave me a nice pass, and I saw the opportunity. I just decided to put it on net. Good things come when you put it on net, says coach, so I just trusted him."
She left out the parts about how she put the puck between her legs in the neutral zone and went in 1-on-4.
"See, that part wasn't important to me," she said with a smile. "I don't even know how that happened. It all happened so fast. I've kind of always worked on that between the legs, behind, just dabbling around in practice. But it came in use today. It was fun."
"I remember someone saying the only thing better than winning one," senior goaltender Kristen Campbell said, "is winning two."
Badgers coach Mark Johnson said it was nice to see Posick score her first goal, but he especially enjoyed her teammates' reaction. They mobbed her on the ice — captain Mekenzie Steffen said she screamed so loud that she saw stars — and at the bench. When the goal was announced a minute later, Posick got another round of pats on the helmet.
The score came not long after a pregame ceremony where the Badgers unveiled the 2019 NCAA title banner.
"From happy emotions to absolutely so proud of our team and where we've come from," Posick said in describing that part of the night. "The adversity that we've overcome these past couple of years, making it back to the Frozen Four again and coming so close my freshman year when we lost to Colgate, I think we knew that we had something special coming into the season. And we just took it game by game. Coming out in the end with hardware and memories that we'll never forget, it all just flushed back in that moment. All the hard work that paid off. All the times that you thought this is really hard. But it all pays off. It was absolutely incredible."