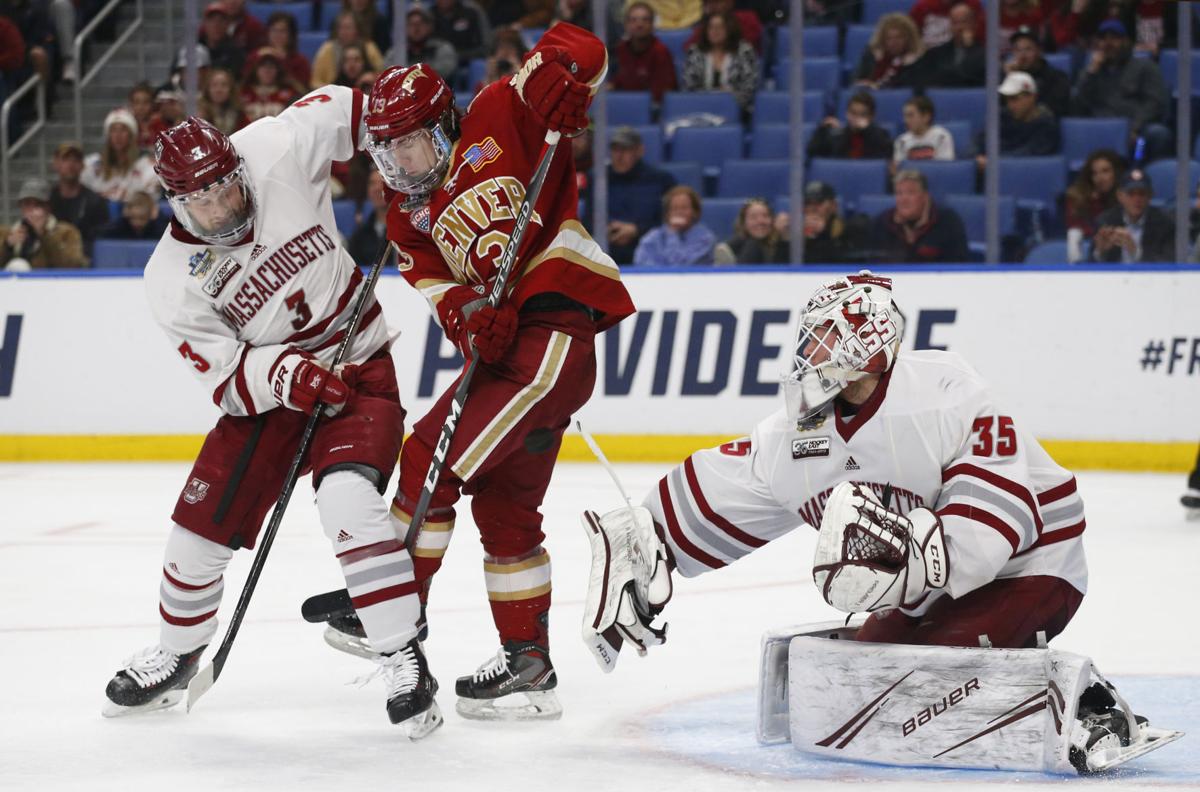 It doesn't have to take long to change the tone of discussion with a college hockey program. For evidence, look to what emerged as the team of the 2010s.
Minnesota Duluth finished seventh of 10 Western Collegiate Hockey Association teams in the 2008-09 regular season. Coach Scott Sandelin's tenure, then in its ninth season and with a 138-172-45 record, was trending toward peril despite a Frozen Four appearance in 2004.
The Bulldogs won a road playoff series against Colorado College and made a run to the WCHA playoff championship that year for an unlikely NCAA bid.
Still, in the offseason that followed 10 years ago, you probably could have scored pretty long odds on Minnesota Duluth being the choice as the most successful team of the decade that followed.
Yet with three national championships, including the past two, and 18 NCAA tournament victories over the past 10 years, the Bulldogs surged to that informal recognition.
As the 2020s approach, who will be the next team of the decade? Will it be another era of first-time NCAA champions? Four teams — Duluth, Yale, Union and Providence — added their name to the list of winners in the 2010s, the most since the 1950s.
Or will it be a return to a time of more established powers adding to their collection of banners?
College hockey analysts have some differing viewpoints on what will make the team of the 2020s, but four of them agreed recruiting patterns will make a major impact on the next 10 years.
Teams such as Denver, which owns the longest active NCAA tournament appearance streak at 12 years, and Massachusetts, which made the Frozen Four for the first time in 2019, are linked, CBS Sports Network and ESPN broadcaster Dave Starman said.
It's about the combination of the high-end talent and the four-year players, he said.
"These are the teams that might skip on a number of Grade-A's or they might not get in on the A, A-plus guy," Starman said. "But they're going to get a huge corps of the A-minus, B-plus, guys that are pretty good, that keep getting better, that stay around to help build a corps and a culture and establish leadership and establish a pecking order. And they will have sustainability."
Schools with small budgets will find it difficult to keep up with the deep-pocketed teams as time goes on, said ESPN analyst Sean Ritchlin, a member of Michigan's 1996 and 1998 national championship teams.
"I'm not sure on any one team but I have to believe Minnesota, Wisconsin, (Boston College), North Dakota and Michigan are all going to be very relevant the next 10 years," he said. "They have the budget, facilities and reputable coaches that have continued to develop players."
Ritchlin said coach Greg Carvel's presence at UMass, which helped produce 2019 Hobey Baker Award winner Cale Makar, gives the Minutemen a boost.
An answer on their long-term viability as a championship contender could come soon. Will they continue upward after a long stretch of ugly records or fall off in the post-Makar years?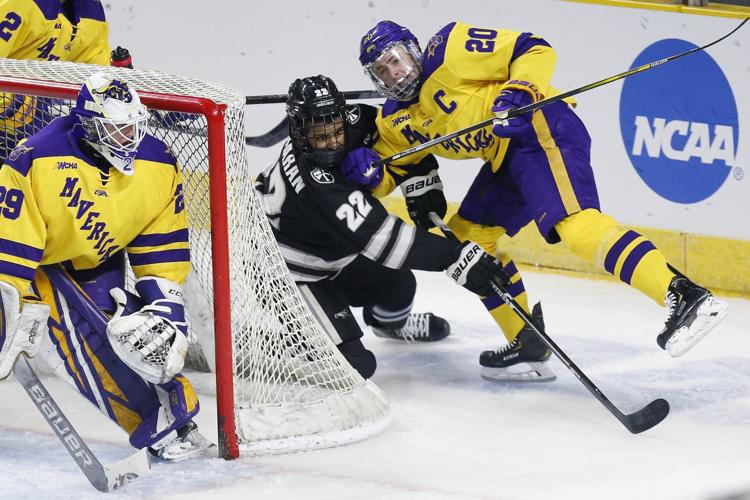 You have free articles remaining.
"I think that there's a distinct possibility they could be very good again," said Jim Connelly, a senior writer at college hockey site USCHO.com. "But they just lost a lot, so they're going to have to prove themselves if we're going to start believing that they're on some sort of a track toward repetition."
Preseason attention often goes toward the schools that bring in first-round NHL draft picks and players from the USA Hockey National Team Development Program. But Connelly said there are coaches who are building successful programs by recruiting less-in-demand players that fit the style they employ.
One of them, he said, is Providence's Nate Leaman, who won the 2015 NCAA championship with a team that didn't have an NHL draft pick among its top five scorers.
"I think a big part of it is they're so well-coached," Connelly said. "And I think that has become such a major deciding factor in taking teams from being good to perennially great."
Ritchlin said Penn State has developed a great team chemistry under coach Guy Gadowsky in the seven years the program has existed at the varsity level. The Nittany Lions made the NCAA tournament in 2017 and 2018 and lost to Notre Dame in last season's Big Ten Championship Game.
They're a buzzworthy pick to win the Big Ten regular-season title in 2019-20 and maybe more.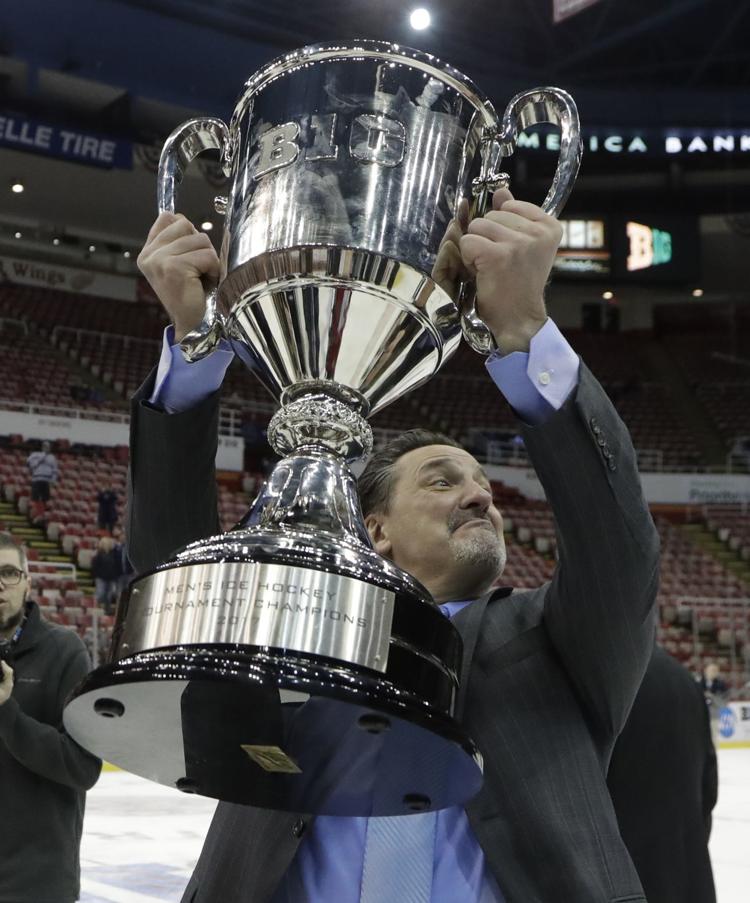 "I think it's Guy's style of play," said Big Ten Network analyst Paul Caponigri, a former Ohio State player. "It's go, go, go — offense. Not that you don't take care of your defensive zone or make that a priority, but their mantra is play and go fast."
An entertaining style and new facilities make for happy players and interested recruits, Caponigri said.
"I think they're on the upward track," he said.
WCHA powerhouse Minnesota State is another contender, Caponigri said, if it can get past first-round NCAA tournament stumbles.
Notre Dame, Quinnipiac and Ohio State have been close to the national title in recent years. Clarkson is in a run of successful seasons.
Outside the box, Starman said, there could be a big push from independent Arizona State over the next 10 years. The Sun Devils made the NCAA tournament last season and they have big marketing potential and the exuberance of a youthful program on the rise.
A new hockey arena is in the works in Tempe to help push the team's recruiting over the top.
"They've proven they can make the tournament, so they've got Part A," Starman said. "And Part B is they could create a schedule whereby they could attract some high-end kids and say to them almost every other weekend, we're going to be in a place where there's an NHL team in that market. We are going to be in the major scouting hubs."
In the past 10 years, 49 of 60 NCAA Division I men's teams made a national tournament appearance. Twenty-two teams appeared in the Frozen Four.
It was a decade for opportunistic teams to jump into challenging for national championships for the first time. There are more waiting for the chance.
Wisconsin natives in NCAA Division I men's hockey, 2019-20
| Name | Pos | Yr | Team | Hometown |
| --- | --- | --- | --- | --- |
| Tarek Baker | F | Jr. | Wisconsin | Verona |
| Matt Berkovitz | D | Jr. | Army West Point | Green Bay |
| Chase Blackmun | D | So. | UMass Lowell | Hudson |
| Trenton Bliss | F | So. | Michigan Tech | Appleton |
| Alec Broetzman | F | So. | Michigan Tech | Hudson |
| Davis Bunz | D | Jr. | Providence | Middleton |
| Anthony Callin | F | So. | Clarkson | Middleton |
| Brock Caufield | F | So. | Wisconsin | Stevens Point |
| Cole Caufield | F | Fr. | Wisconsin | Stevens Point |
| Kevin Conley | F | Jr. | Omaha | Wausau |
| Grant Cruikshank | F | So. | Colorado College | Delafield |
| Sean Driscoll | D | Fr. | Boston University | Mequon |
| Ty Emberson | D | So. | Wisconsin | Eau Claire |
| Keegan Ford | D | Sr. | Michigan Tech | Waunakee |
| Jack Gorniak | F | So. | Wisconsin | West Salem |
| Brett Gruber | F | Sr. | Arizona State | Appleton |
| Cole Hults | D | Jr. | Penn State | Stoughton |
| Billy Jerry | F | Jr. | Rensselaer | River Falls |
| Casey Jerry | F | Sr. | Canisius | River Falls |
| Griff Jeszka | F | Sr. | Massachusetts | Muskego |
| Michael Karow | D | Jr. | Boston College | Green Bay |
| Justin Kendall | F | Jr. | Niagara | Holmen |
| Joey Lamoreaux | G | Fr. | St. Cloud State | Shorewood |
| Jake Levin | D | Jr. | Air Force | Mequon |
| Sam McCormick | F | Sr. | Ohio State | De Pere |
| Mick Messner | F | So. | Wisconsin | Madison |
| Zach Metsa | D | So. | Quinnipiac | Delafield |
| Aaron Miller | F | Jr. | Bemidji State | Superior |
| Jacob Nielsen | F | Jr. | St. Lawrence | New Berlin |
| Josh Passolt | F | Jr. | Western Michigan | Hayward |
| Ty Pelton-Byce | F | Jr. | Wisconsin | Madison |
| Collin Peters | F | Jr. | Ohio State | Sheboygan |
| Pierce Pluemer | F | Sr. | Air Force | Phillips |
| Marshal Plunkett | D | So. | Army West Point | West Salem |
| TJ Polglaze | F | So. | Michigan Tech | Beloit |
| Matt Pulver | F | Sr. | Air Force | Chippewa Falls |
| Sam Renlund | F | Fr. | Colorado College | Verona |
| Caleb Schroer | F | Jr. | Northern Michigan | Wisconsin Rapids |
| Alec Semandel | D | So. | Lake Superior State | Waunakee |
| Spencer Stastney | D | So. | Notre Dame | Mequon |
| Jordan Steinmetz | F | Fr. | St. Lawrence | Chippewa Falls |
| Tony Stillwell | D | Jr. | Brown | Green Bay |
| Carver Watson | D | Fr. | Mercyhurst | Appleton |
| Cooper Watson | D | Jr. | Michigan Tech | Appleton |
| Noah Weber | F | Fr. | Minnesota | Eagle River |
| Michael Wilson | F | Sr. | Army West Point | Fond du Lac |
| Noah Wilson | D | Fr. | Army West Point | Fond du Lac |