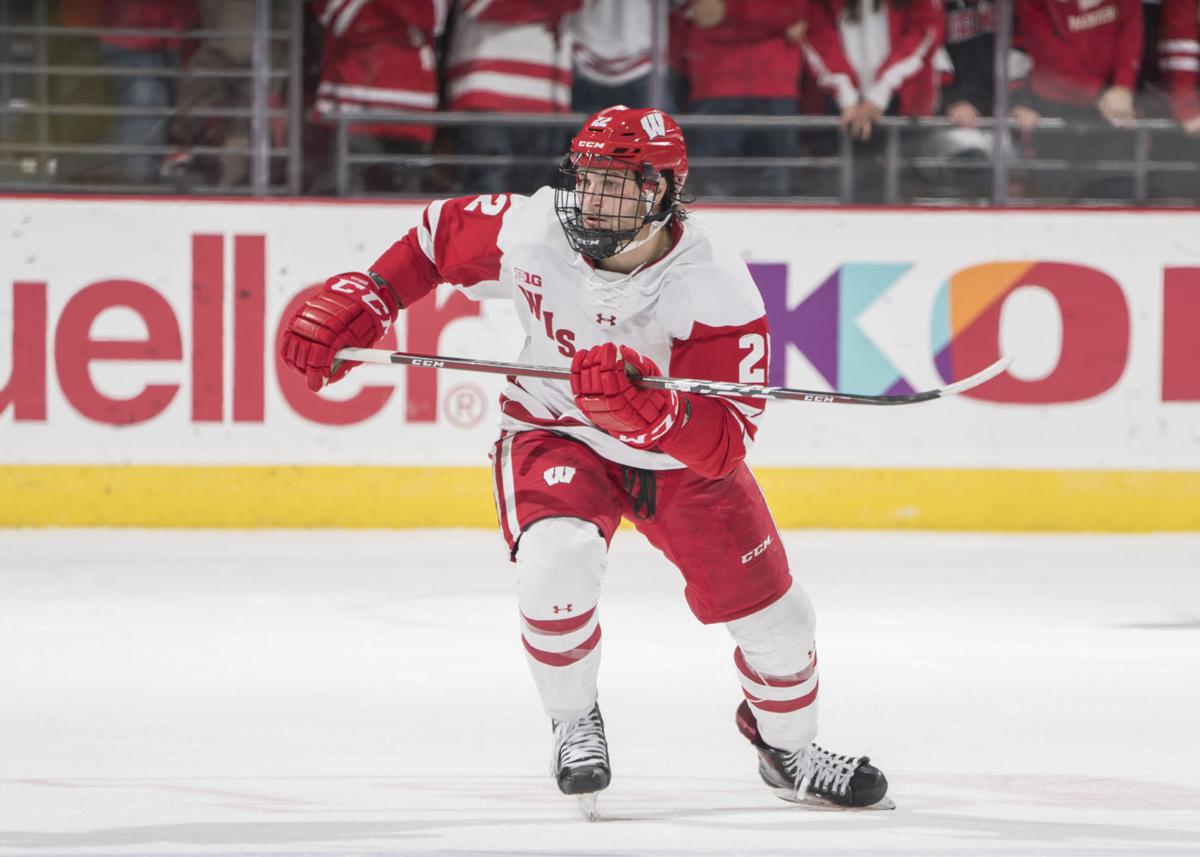 In a brief exchange before Saturday night's game at Minnesota, Max Zimmer set out the plan with fellow University of Wisconsin men's hockey senior Jack Berry.
"I was like, here's the deal: We're going to win tonight," Zimmer said, "and I'm going to be the first person giving you a hug on the ice after."
That's not quite how it played out, but only because Zimmer reached Berry as he was being mobbed by his teammates after scoring in a shootout to give the Badgers the extra Big Ten Conference point following a 3-3 tie.
On a team with only three seniors, whose roles have been limited, two of them helped rescue points from a game the Badgers couldn't afford to lose.
That element of how things ended up didn't go unnoticed by Zimmer, who has played in only four of 14 games this season but potted the final shot of the night.
"It felt great," he said. "It was just a fun game. For Jack to get in and play the way he did was great."
After sophomore Daniel Lebedeff had been the Badgers' choice in goal for the first 13 games, Berry started for the first time since Feb. 2.
His play in the second period prevented the Badgers from falling into a less-surmountable deficit than the two-goal hole from which they escaped in the third.
Berry said he felt some nerves but credited teammates for blocking shots.
"Yeah, it was my first start of the season; it was great to be in there," Berry said. "But I think that was a huge team win. (Being down) 3-1 in the third period and being able to come back like that really sends a message to the league and for us. It's a big confidence builder."
For Berry, individually, too. Badgers coach Tony Granato said the senior's role still will be as a backup to Lebedeff, but Berry can take the boost into whenever his next assignment comes.
"I just think whenever my number gets called, it's just give my team a chance to win," Berry said. "That's the mentality I'm going to continue to have. Whenever it gets called, I've got to be ready."
Granato said the coaches thought about using Zimmer as the first choice for the sudden-death shootout because of his history of success but instead went first with leading scorers Cole Caufield and Alex Turcotte. Zimmer's goals netted the extra point after ties at Michigan and Michigan State last season.
"He's a guy that hasn't played a ton, but he's an important part of our team. He's an important part of our room," Granato said. "And you could see the excitement and the enthusiasm from our team when he did score."
You have free articles remaining.
Zimmer, who earned his first point of the season on Tarek Baker's momentum-shifting goal in the opening minute of the third period Saturday, said he watched Minnesota goaltender Jack LaFontaine during Turcotte's shootout attempt for a sign of how he should shoot.
"I was like, man, that move — five hole — is going to work," Zimmer said.
Delayed first goal
More than 36 hours after it happened, Badgers freshman Ryder Donovan officially got credit for his first collegiate goal.
UW's first score on Saturday was originally given to Ty Emberson for a first-period shot from the right point that redirected off Minnesota defenseman Ben Brinkman and past LaFontaine. But between the Gophers players, the puck apparently touched Donovan's pants; the scoring change was made Monday.
Donovan, a fourth-round pick of the NHL's Vegas Golden Knights, was the fifth Badgers freshman to record his first goal. Only defensemen Mike Vorlicky and Shay Donovan, who hasn't played, haven't tallied.
Block party
The 29 blocks that Minnesota made against Badgers shot attempts on Friday was a high for a UW opponent over the past two seasons. It represented 40% of the team's attempts, also a high-water mark in that time.
For the series, Minnesota blocked 35% of UW's attempts. The Badgers had been blocked only 21% of the time entering the weekend.
Granato said the Badgers helped the Gophers' defensive-zone play early in Friday's 4-1 Minnesota victory by allowing two first-period goals. That, he said, reinforced the block-heavy style.
"So that's a learning thing for us," Granato said. "It's a learning thing for me, because I don't think I did a good job getting them ready to play Friday."
He added: "It's something for our team that if we don't learn from it and realize that every team we play is going to throw everything they can at us, and if we handle it the way we did Friday night, we're going to have a tough second half of the year."
"But if we go out, we initiate, we play the way we're capable of and play for each other and get contributions like we did from everybody, we can be a really good team."
At the polls
The Badgers (6-7-1, 1-4-1-1 Big Ten) fell in the USCHO.com Division I poll for the fifth straight week, dropping three spots to No. 19. They host Michigan (4-8-2, 0-5-1) on Saturday and Sunday in a meeting of the bottom two teams in the Big Ten standings.