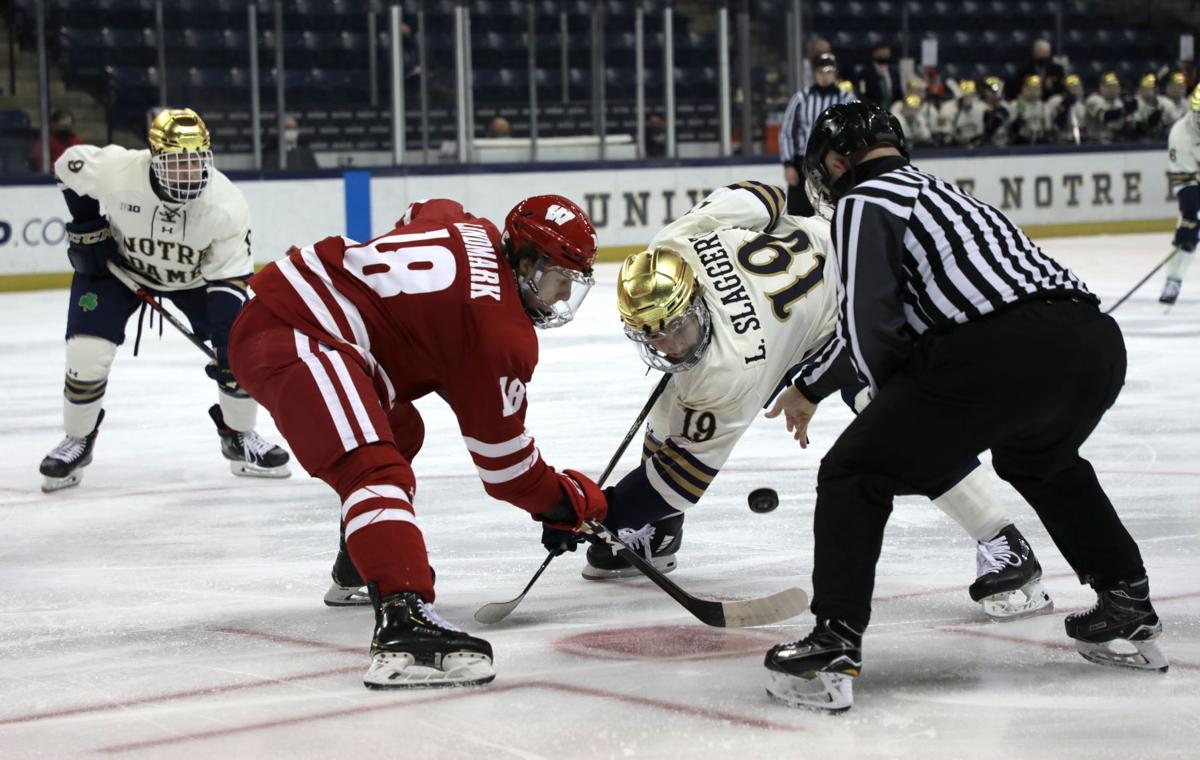 SOUTH BEND, Ind. — Linus Weissbach hadn't scored multiple points in a game in almost a year. In the past 365 days, goaltender Robbie Beydoun had played in only one contest.
Because of the two of them, the University of Wisconsin men's hockey team got a most unusual season off to a winning start in a most unusual setting on Friday.
Weissbach helped provide the offense and Beydoun was a stable presence in goal in the Badgers' 2-0 victory over No. 20 Notre Dame.
Only a few dozen player parents were scattered throughout the Compton Family Ice Arena seats for the first NCAA Division I hockey game during the COVID-19 pandemic, and artificial crowd noise was in the background throughout.
Not that the Badgers noticed all that much.
"It was obviously weird not hearing any fans cheering or anything like that," Weissbach said. "Once the puck dropped, you don't really think about it. I felt like we got into the game pretty quick, and after that I don't think it really mattered if we had fans or not."
Weissbach scored off a nice setup from Ty Pelton-Byce in the first period and he had the primary assist on Dylan Holloway's power-play goal in the second.
The senior, who had only six points in his last 20 outings last season, enjoyed a multiple-point game for the first time since Nov. 16, 2019, also against Notre Dame.
"Tonight was a good start for him," Badgers coach Tony Granato said. "And, yeah, we're expecting a big year out of him."
Some Big Ten coaches feared that in the opening weeks of the pandemic-delayed season, players might still be in a summer mindset, where games are wide open for offensive chances.
Instead, the Badgers delivered a mature performance for most of the night. And even when they got sloppy in their own zone in the third period, the defense and Beydoun came up with key stops.
Notre Dame brought the pressure over the final 15 minutes, and Beydoun recorded 10 of his 25 stops in the final period.
Not a bad start to a UW career for the graduate transfer, whose only appearance in the last year was for Michigan Tech on Feb. 8. It was his fourth collegiate shutout and first since Jan. 11, 2019, against Bowling Green.
"I knew coming in there were going to be some things that you can't really emulate in practice that are going to be something to adjust to, like traffic and pucks thrown on net where you can't really see," Beydoun said. "Once I settled in and saw the puck through traffic, that was definitely the biggest thing for me."
Because of the limited crowd, Beydoun didn't even have to endure taunting from the home students as the Badgers won their first road game of the season for only the second time in the last 11 years.
"We've been playing without fans for the past seven months, practicing and training," Beydoun said. "If you think of it like that, it's not too much of a difference from what we've been doing."
After a 250-day offseason, the team's longest since 1969, the Badgers got rewarded for an opening period full of energy and finished checks with Weissbach's goal.
Pelton-Byce eluded Notre Dame defenseman Nate Clurman after he entered the zone and dished to Weissbach for a one-timer from the right circle.
"It was two great players making a big-time play to score," Granato said. "And that's what it took. It took great plays shift after shift to hold them off."
Badgers freshman Sam Stange delivered a hit seconds into his opening shift. Rookie defenseman Anthony Kehrer made solid passes out of his own zone and looked confident.
It was more of the same in the second period, when the Badgers first killed a penalty and then scored on their initial power play.
Holloway used a jumping screen by Pelton-Byce in front of the net to score from the slot for a 2-0 lead.
Between the hitting, the intensity and some key shot blocks from the Badgers that helped secure Beydoun's shutout, it didn't seem like there had been an eight-month layoff, Granato said.
"It wasn't a game where guys weren't committed to doing everything they could to do little things for their team to help them win, on both sides of it," he said.
Get ready for Wisconsin Badgers men's hockey season with State Journal's in-depth coverage
Wisconsin State Journal reporter Todd D. Milewski breaks down everything Badgers fans need to know about the University of Wisconsin men's hockey team, the competition the Badgers face in the Big Ten, and other stories to watch during the 2020-21 season. 
First period: W — Weissbach 1 (Pelton-Byce, C. Caufield), 13:05.
Second period: W — Holloway 1 (Weissbach, Ahcan), 12:09 (pp). Penalties: Lindmark, W, 7:25; Hellickson, ND, 11:24.
Third period penalties: Team, ND, 3:22; Ahcan, W, 18:18.
Saves: W (Beydoun 6-9-10) 25; ND (St. Cyr 9-7-4) 20. Power plays: W 1-for-2; ND 0-for-2.