Friday, Nov. 13 and Saturday, Nov. 14 at Compton Family Ice Arena, South Bend, Indiana.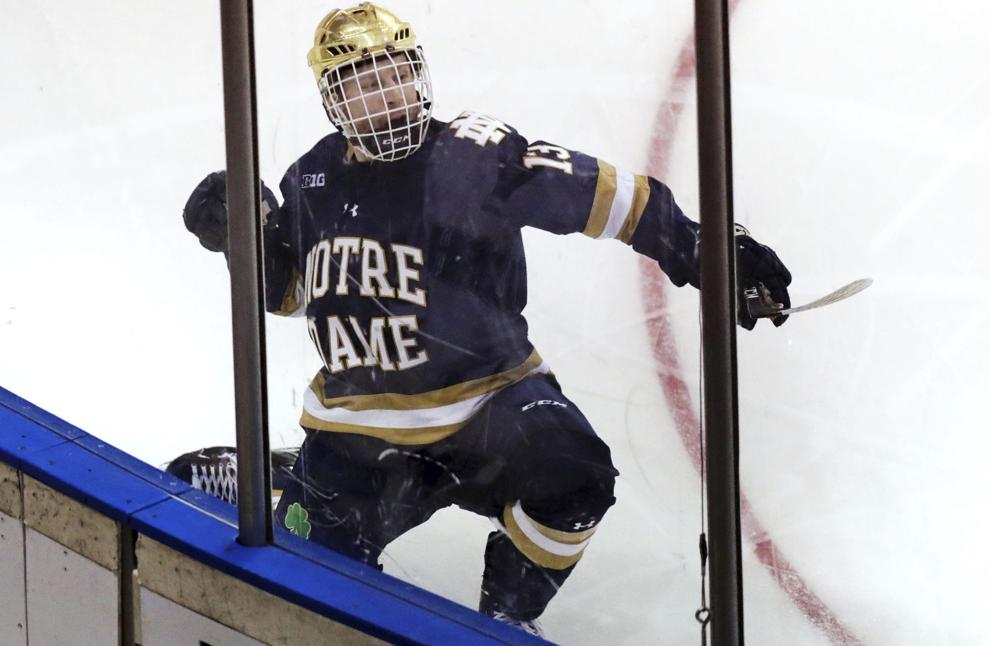 Behind the bench
Jeff Jackson (334-206-64 in his 16th season at Notre Dame, 516-258-89 in his 22nd season overall) responded to all three of his previous non-winning seasons at Notre Dame with an NCAA tournament campaign.
First star
Forward Alex Steeves soared from nine points as a freshman to 28 as a sophomore, including seven goals and 17 points in 17 second-half games.
Goodbye
Cale Morris, the 2018 Mike Richter Award winner as national goaltender of the year, finished his eligibility along with three forwards and a defenseman.
Hello
Two forwards with familiar surnames enter as freshmen after being picked in the NHL draft: Ryder Rolston, whose father Brian played for Jackson at Lake Superior State, and Landon Slaggert, whose father Andy has been a Notre Dame assistant for 28 years.
Looking back
The fifth-place Fighting Irish were ousted by Minnesota in three games in the Big Ten quarterfinals, finishing the 2019-20 season at .500 (15-15-7 overall, 9-9-6-4 Big Ten).
Looking ahead
Morris was the backbone of the Irish defense for the last three years, so much so that Dylan St. Cyr redshirted last season to save a season of eligibility. But now St. Cyr has a chance to make his mark in goal, and Jackson said a great offseason of workouts has put him a good place to start the season. For the rest of the team, experience is the starting point and what Jackson hopes will mean the difference in a few games in a shortened schedule. Forward Colin Theisen and defensemen Matt Hellickson lead a group of nine that have played at least 70 college games.