Wisconsin State Journal reporter Todd Milewski looks at the Wisconsin Badgers men's hockey team's regular-season schedule, which kicks off Friday against No. 6 Boston College at Kelley Rink in Chestnut Hill, Massachusetts. 
BOSTON COLLEGE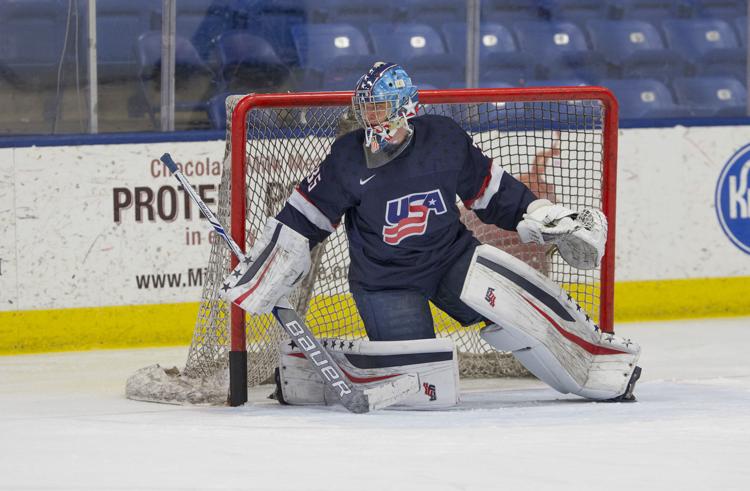 Oct. 11 | Conte Forum, Chestnut Hill, Mass.
BEHIND THE BENCH
The winningest coach in NCAA hockey history, Jerry York was selected for the 2019 induction class into the Hockey Hall of Fame. He'll be the fifth college coach in the Hall, joining UW's Bob Johnson, Minnesota's John Mariucci and Herb Brooks and Providence's Lou Lamoriello. He'll start his 26th season coaching at Boston College and 48th in college hockey having missed the NCAA tournament in the past three years, his longest stretch since 1995-97.
FIRST STAR
Freshman goaltender Spencer Knight (above) was the backstop of the U.S. National Under-18 Team last season and then was selected 13th in the NHL draft by the Florida Panthers. He became the 10th American goalie ever selected in the first round and the first picked in the top 15 since Jack Campbell was No. 11 in 2010.
SCOUTING REPORT
A year after finishing eight games under .500 (14-22-3, BC's worst record in 25 years) with a team that featured 12 NHL draft picks, the Eagles add three first-round selections in Knight, forwards Matt Boldy (12th by Minnesota) and Alex Newhook (16th by Colorado). David Cotton returns for his senior season after being a second-team All-American for a campaign in which he scored 23 goals. But he needs more help — the rest of the team produced just 67 goals last season.
RESULT TO REMEMBER
Cotton recorded a hat trick, but Badgers defenseman Wyatt Kalynuk scored his second goal of the game into an empty net to seal a 7-5 victory and a series sweep on Oct. 13, 2018. It was UW's third straight victory over BC, matching its longest winning streak in the series.
MERRIMACK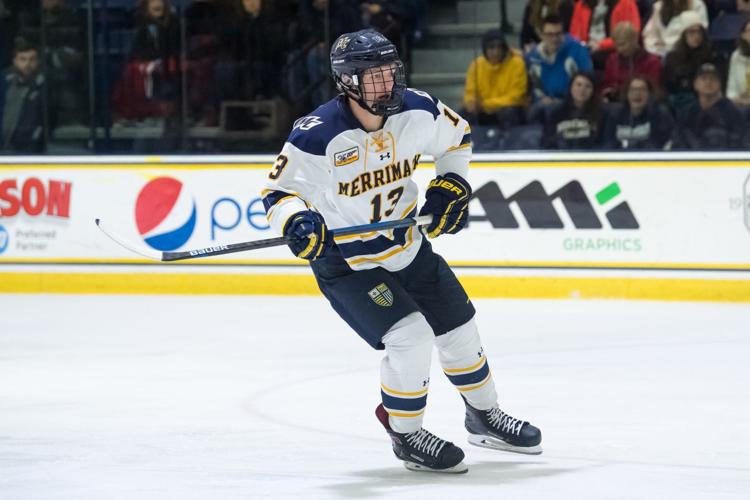 Oct. 12 | Lawler Arena, North Andover, Mass.
BEHIND THE BENCH
Scott Borek was 7-24-3 in his first season at Merrimack after 16 years as an associate head coach in Hockey East, first at New Hampshire and then at Providence. He's in his 37th season as a college hockey coach; he started as a student assistant at Dartmouth in 1983 after his playing career ended because of a neck injury.
FIRST STAR
Forward Chase Gresock (above) was selected to the Hockey East all-rookie team last season after he led the Warriors with 11 goals and 24 points in 34 games. His 109 shots on goal were 28 more than the next-closest teammate.
SCOUTING REPORT
For his second season with the Warriors, Borek will have a revamped roster. Eighteen of the 28 players that dressed for a game last season aren't back this year even though the team had only six seniors in 2018-19. In their place is an incoming class of 16 players that includes three new goaltenders who are looking to replace departed starter Craig Pantano. Merrimack is looking to end a streak of seven straight losing seasons.
RESULT TO REMEMBER
The Badgers scored three goals in 39 seconds — by Seamus Malone, Max Zimmer and Ryan Wagner — in the second period to break a 1-1 tie in a 4-1 victory over the Warriors at Lawler Arena in the teams' previous meeting on Oct. 14, 2017. UW has won three of four games in the all-time series.
MINNESOTA DULUTH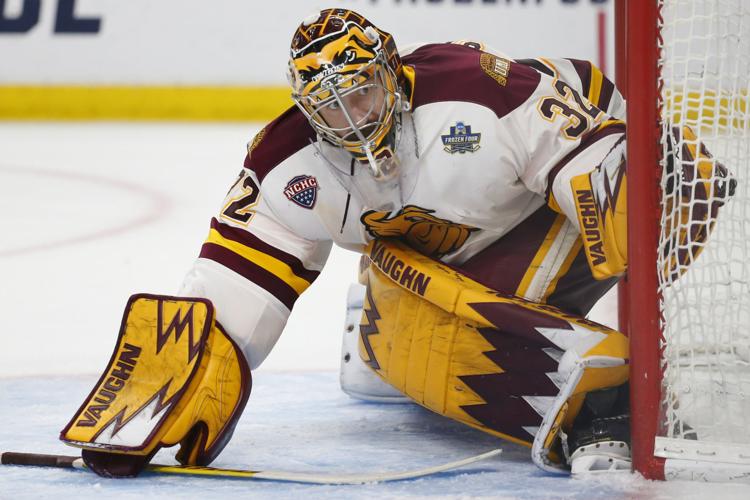 Oct. 18-19 | Kohl Center
BEHIND THE BENCH
Scott Sandelin drew interest from NHL general managers and an interview with the Anaheim Ducks after leading the Bulldogs to their second straight NCAA title — and third in nine years — last April. Amid that development, he signed a four-year extension with the Bulldogs that runs through the 2024-25 season. Sandelin, who's entering his 20th season at Duluth, has the best NCAA tournament record (21-6) among active coaches.
FIRST STAR
Hunter Shepard (above) tied for second nationally with seven shutouts last season, the last of which sealed the national championship against Massachusetts. He enters his senior campaign having started a school-record 81 consecutive games.
SCOUTING REPORT
Teams that have the kind of success that Minnesota Duluth has enjoyed over the past three seasons — championships in 2018 and 2019 after a runner-up finish in 2017 — often pay the price in early player departures. The Bulldogs lost two players who could have returned, defenseman Mikey Anderson and forward Riley Tufte, but kept star defensemen Scott Perunovich, a second-team All-American, and Dylan Samberg for another season.
RESULT TO REMEMBER
The Badgers swept the Bulldogs out of the Western Collegiate Hockey Association playoffs in the first round in 2013 with 3-1 and 4-1 victories at the Kohl Center. The teams haven't met since then; they went to different conferences not long after.
CLARKSON
Oct. 25-26 | Kohl Center
BEHIND THE BENCH
Casey Jones was last season's ECAC Hockey coach of the year after leading a young Golden Knights team to a third-place league finish and their best record (26-11-2) in 12 years. He starts his ninth season on the heels of a second straight NCAA tournament appearance.
FIRST STAR
After scoring 11 goals over his first two seasons at Clarkson, right wing Haralds Egle (right) broke out as a junior with 19 goals and 40 points. A second-team All-ECAC selection, 12 of his goals and 23 points came in the 22 games he played in 2019.
SCOUTING REPORT
If Clarkson is going to make a third straight NCAA tournament for the first time since the late 1990s, it'll have to do it without two major components that elevated the program: first-team All-American Nico Sturm and second-team All-ECAC goalie Jake Kielly both signed pro deals with a season of eligibility remaining. The Golden Knights bring back six regular defensemen to smooth the transition to a new goaltender.
RESULT TO REMEMBER
Sean Dhooghe scored twice for the Badgers, but Kevin Charyszyn broke a tie with 6:32 remaining to send Clarkson to a 4-2 victory in Potsdam, New York, on Oct. 19, 2018.
PENN STATE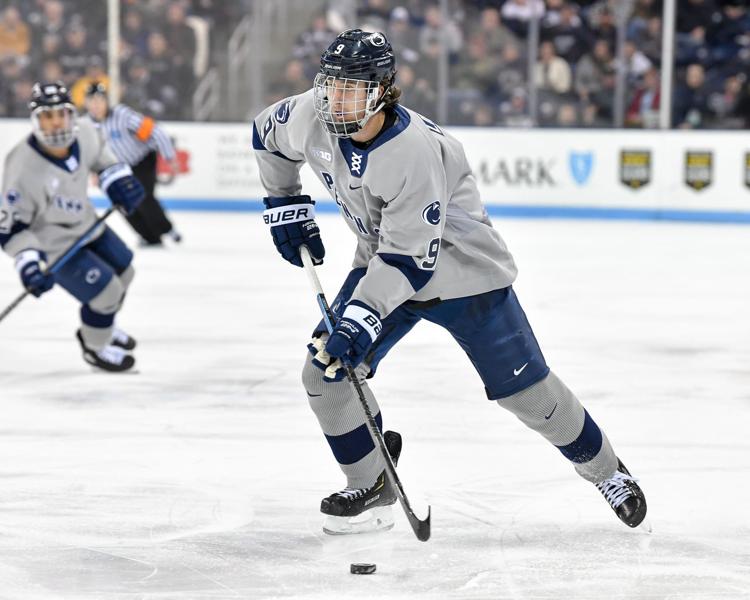 Nov. 1-2 | Pegula Ice Arena, State College, Pa.
Feb. 14-15 | Kohl Center
BEHIND THE BENCH
In nine seasons at Penn State, Guy Gadowsky has elevated the program from club status to the brink of NCAA championship contention. The Nittany Lions qualified for the national tournament in both 2017 and 2018 but were the first team out in 2019 after they lost the Big Ten championship game.
FIRST STAR
Left wing Alex Limoges (above) tied for the national scoring lead with 50 points in 39 games as a sophomore last season. His 23 goals — five of which came in a Big Ten first-round playoff series against the Badgers — tied for second. He attracted attention as a potential free agent signing but is back for a third season.
SCOUTING REPORT
The Nittany Lions are expected to be one of the teams in the mix for the Big Ten title because of their depth at forward and because of an experienced goalie in senior Peyton Jones. Despite missing four of the last 10 games and three contests earlier during the World Junior Championship, first-team All-Big Ten pick Evan Barratt tied for the team lead with 27 assists. Stoughton's Cole Hults, an honorable mention league honoree, is a standout on defense.
RESULT TO REMEMBER
Liam Folkes ended the Badgers' season with an overtime goal for the second time in three years on March 10 as the Nittany Lions rallied for a 4-3 victory in Game 3 of a Big Ten playoff series.
OMAHA
Nov. 8-9 | Baxter Arena, Omaha, Neb.
BEHIND THE BENCH
In his first two seasons leading the Mavericks, Mike Gabinet had a so-so result (17-17-2 in 2017-18) and a disappointing finish (9-24-3 in 2018-19). The latter included an 0-6-1 stretch to start the season and a nine-game winless streak to end it.
FIRST STAR
Taylor Ward (above) was the National Collegiate Hockey Conference's rookie of the year last season, when he was third on the team with 27 points and tied for third with nine goals. His point total tied for 10th among the nation's rookies.
SCOUTING REPORT
Twelve of 26 players who appeared in a game for Omaha last season have departed, making way for a 12-player incoming class that features United States Hockey League goaltender of the year Isaiah Saville. He was a fifth-round pick of the Vegas Golden Knights in June's NHL draft. Despite losing their top two scorers from last season, the Mavericks return the next seven on the scoring chart to have something to build on in the NCHC.
RESULT TO REMEMBER
In the teams' only meetings since the 2013 conference split, Omaha earned a 3-3 tie and 7-4 victory over the Badgers at the Kohl Center on Dec. 2-3, 2016. The Mavericks scored four goals in the final 7:46 of the second game to turn a one-goal deficit into a comfortable victory.
NOTRE DAME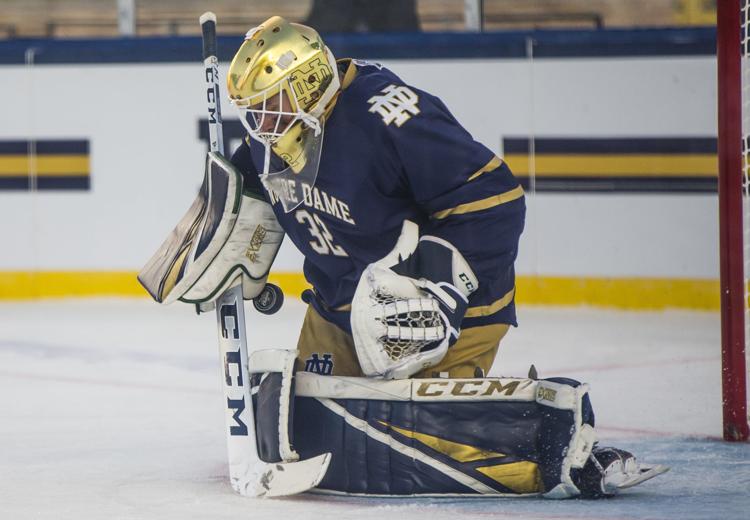 Nov. 15-16 | Kohl Center
Jan. 24-25 | Compton Family Ice Arena, South Bend, Ind.
BEHIND THE BENCH
Starting his 15th season at Notre Dame and 21st overall, Jeff Jackson has produced four straight winning seasons for the Fighting Irish for only the third time in program history. The first was from 1920 to 1923, and the second was under Jackson from 2010-11 to 2013-14.
FIRST STAR
Notre Dame will be looking for a re-emergence of the 2017-18 version of Cale Morris (above), who that season won the Mike Richter Award as the nation's top goaltender with a .944 save percentage. As a junior last season, that dipped to .930 — still eighth in the country but not quite reaching the high bar he set for himself.
SCOUTING REPORT
Teams will have to get their goals at even strength against the Irish or be efficient on the power play because the Irish have ranked among the least-penalized teams in the country in recent seasons. Two big losses on defense — leading scorer and second-team All-American Bobby Nardella graduated and Andrew Peeke signed a pro deal with a year of eligibility remaining — will challenge the team. Michael Graham emerged as a scoring threat as a freshman in the second half last season, scoring six times in a three-game span, including four goals in a series against the Badgers.
RESULT TO REMEMBER
Notre Dame went 3-for-6 on the power play in a 5-1 victory over the Badgers in South Bend, Indiana, on Feb. 16. UW won the first game of that series a day earlier, with Roman Ahcan's second-period goal the difference in a 2-1 victory.
MINNESOTA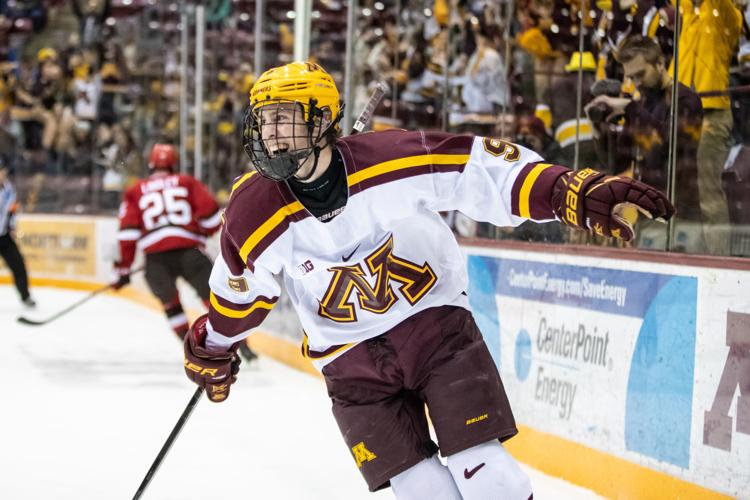 Nov. 22-23 | 3M Arena at Mariucci, Minneapolis
Jan. 31-Feb. 1 | Kohl Center
BEHIND THE BENCH
Bob Motzko's first season coaching the Golden Gophers in 2018-19 after 13 years at St. Cloud State was taking a promising turn down the stretch with five straight victories. But an overtime loss at Notre Dame in the Big Ten semifinals after a controversial penalty call ended the campaign with a 18-16-4 record.
FIRST STAR
Center Sammy Walker (above) is the reigning Big Ten freshman of the year after he finished last season with 10 goals and 16 assists in 37 games. He's due for an even bigger role this season after the departure of the Gophers' top two centers, first-team All-American Rem Pitlick and Tommy Novak.
SCOUTING REPORT
When Big Ten honorable mention pick Mat Robson signed with the NHL's Minnesota Wild after his junior season, it set up the Gophers for an all-new look at the goaltender position in 2019-20. Jack LaFontaine, who played two seasons at Michigan before moving back to junior hockey ahead of a transfer, is intriguing at the position alongside freshmen Jared Moe, a sixth-round draft pick in 2018, and Justen Close. A 12-player incoming class includes four NHL draft picks led by 2019 first-rounder Ryan Johnson, a defenseman.
RESULT TO REMEMBER
Both of last season's series between the teams ended in splits where the Badgers won the second game. At the Kohl Center on Jan. 26, the teams traded the lead in the second period before defenseman Peter Tischke scored 4:02 into the third for a 4-3 victory.
MICHIGAN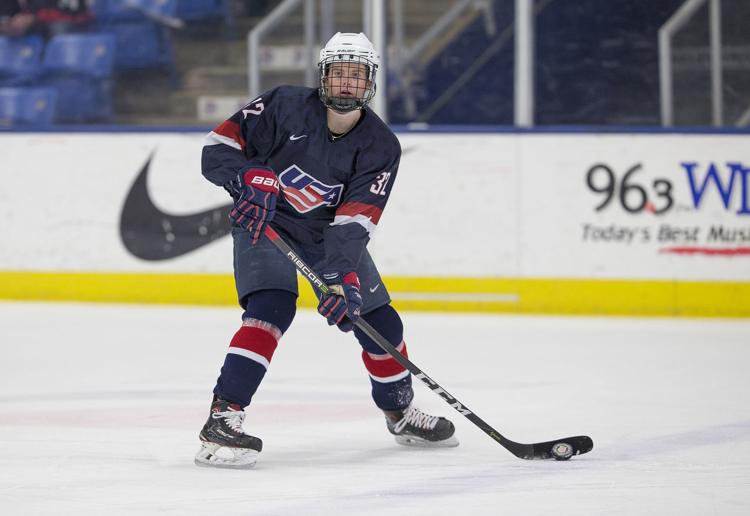 Nov. 30-Dec. 1 | Kohl Center
Feb. 7-8 | Yost Ice Arena, Ann Arbor, Mich.
BEHIND THE BENCH
After leading Michigan to its first Frozen Four appearance in seven years in his debut campaign of 2017-18, Mel Pearson had a tougher time last season. The Wolverines had their second losing record in three seasons (13-16-7) despite having nine NHL-drafted players in regular roles.
FIRST STAR
A first-round selection of the Philadelphia Flyers in June, defenseman Cam York (above) is one of three draft picks in the Wolverines' incoming class. Skilled in his own end, he could add a good deal of offense, too, to help make up for the loss of first-team All-American Quinn Hughes.
SCOUTING REPORT
Vancouver pick Will Lockwood returns for his senior season after scoring a team-high 16 goals and earning Big Ten honorable mention honors. But the Wolverines will need to improve on special teams — they were 43rd of 60 NCAA teams on the power play and 46th on the penalty kill. The incoming class also includes first-round pick Johnny Beecher, a forward who was York's teammate at the National Team Development Program, and seventh-round forward Eric Ciccolini.
RESULT TO REMEMBER
The Badgers won a pair of overtime games at the Kohl Center to close the 2018-19 regular season. Sean Dhooghe scored on a breakaway just after the end of a Michigan power play for a 5-4 victory on March 1, and Linus Weissbach gave UW a 4-3 victory a day later after the Badgers had an overtime goal waved off because of an early substitution.
MICHIGAN STATE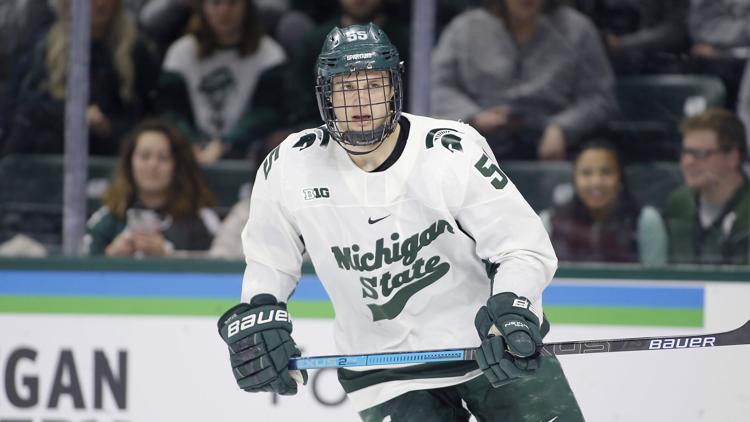 Dec. 6-7 | Munn Ice Arena, East Lansing, Mich.
Jan. 17-18 | Kohl Center
BEHIND THE BENCH
Danton Cole has seen his team finish last in the Big Ten in both of his seasons in charge at Michigan State, though the 30 points the Spartans accumulated in league play last season were a nine-point improvement over the previous year.
FIRST STAR
Patrick Khodorenko (above), a second-team All-Big Ten choice, centered a line last season with Big Ten Player of the Year Taro Hirose and Mitchell Lewandowski that generated 49 goals. Hirose gave up his final season to sign, so Khodorenko will have to establish a new connection in his senior year.
SCOUTING REPORT
The Spartans were only 31st nationally in scoring despite having Hirose tie for the lead in points. A big reason was Michigan State couldn't generate secondary scoring threats. The rest of the team produced only one goal more than the trio of Hirose, Khodorenko and Lewandowski. Losing only one defenseman and three forwards who were regularly in last season's lineup should provide some consistency, but the question is whether the Spartans missed their opportunity with the KHL line intact.
RESULT TO REMEMBER
The Badgers are 13-10-1 against the Spartans since the Big Ten formed a men's hockey league in 2013, but Michigan State won a series between the teams for only the third time last February with a 4-1 home victory and a 2-2 tie with a Badgers shootout win.
U.S. UNDER-18 TEAM (EXHIBITION)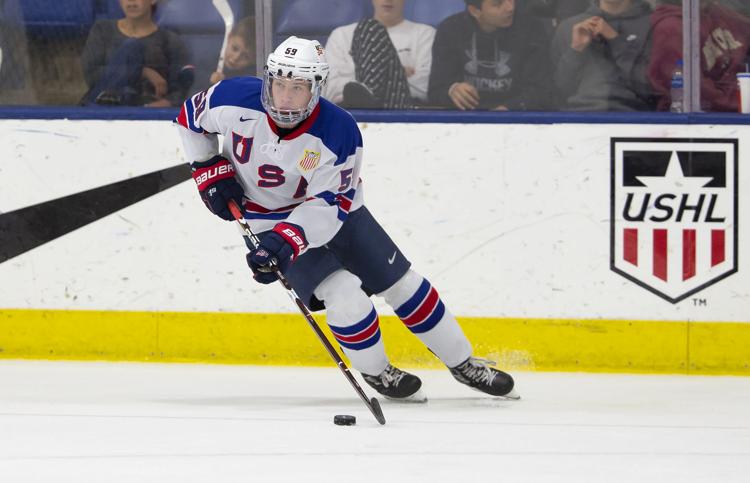 Jan. 1 | USA Hockey Arena, Plymouth, Mich.
BEHIND THE BENCH
Former Rensselaer coach Seth Appert is in his fourth season with the USA Hockey National Team Development Program and his second year coaching the group of 23 players that makes up this year's Under-18 Team.
FIRST STAR
Left wing Ty Smilanic (above) is one of the Under-18 Team's biggest NHL draft prospects after a year when the NTDP had eight first-round picks. Smilanic committed to Denver, but the Pioneers broke ties last year; Regina owns his major junior rights in the Western Hockey League.
SCOUTING REPORT
Three players on the Under-18 Team have made oral commitments to the Badgers: center Tanner Latsch, defenseman Daniel Laatsch and goaltender Noah Grannan. The Under-18 Team plays games against United States Hockey League teams as well as in international competition leading up to the Under-18 World Championship in April. The Badgers agreed to play this year's game at USA Hockey Arena in exchange for three future games at the Kohl Center.
RESULT TO REMEMBER
The Under-18 Team has won two of its past three games against the Badgers, including a 6-2 victory on Jan. 12 that featured two goals from Cole Caufield and one by Alex Turcotte.
OHIO STATE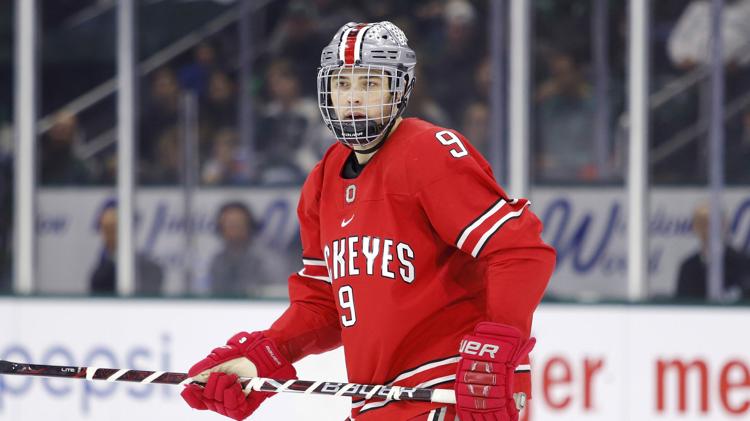 Jan. 10-11 | Kohl Center
Feb. 28-29 | Value City Arena, Columbus, Ohio
BEHIND THE BENCH
Steve Rohlik was the unanimous choice as Big Ten coach of the year last season, when the Buckeyes won the league championship by nine points. But Ohio State won only one of its last eight games of the season, a collapse that included a Big Ten semifinal home loss and a shutout defeat to Denver in the first round of the NCAA tournament.
FIRST STAR
Tanner Laczynski (above), a Philadelphia Flyers draft pick, has scored at least 10 goals in all three seasons with the Buckeyes. His production dipped in his junior year, however, to 10 goals and 30 points after he had 17 and 47 in 2017-18.
SCOUTING REPORT
Personnel losses figure to sting the Buckeyes. Second-team All-American forward Mason Jobst and Big Ten defensive player of the year Sasha Larocque graduated along with six others. Ohio State still has a veteran team with 14 juniors and seniors. Center Ronnie Hein scored a career-best 11 goals as a junior, then attended development camp with the NHL's Calgary Flames as a free agent invitee. First-team All-Big Ten pick Tommy Nappier emerged as the starting goalie after splitting time with Sean Romeo, who graduated after last season.
RESULT TO REMEMBER
The Buckeyes have won a series-best six straight games over the Badgers. The fifth in that streak was a 2-1 overtime result on Feb. 8 where defenseman Matt Miller scored with 9.5 seconds remaining.
ARIZONA STATE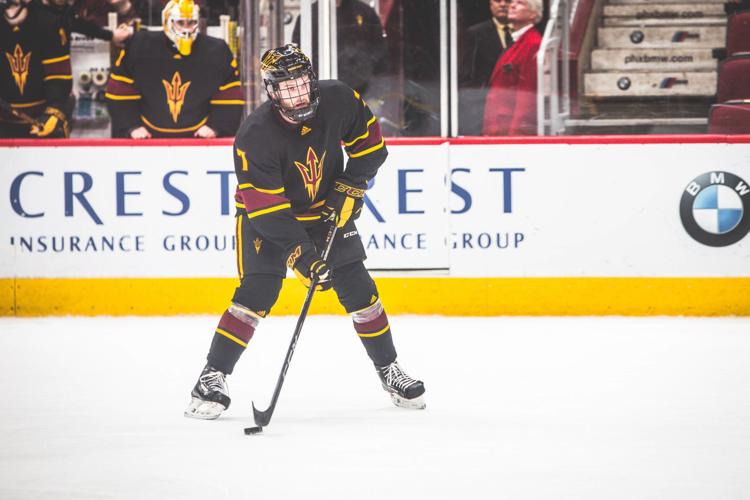 Feb. 21-22 | Kohl Center
BEHIND THE BENCH
The list of finalists for the Division I men's coach of the year award is typically reserved for those who have won their conference's award or led a team to the Frozen Four. But the Sun Devils' Greg Powers was added last season after putting his team in the NCAA tournament in its fourth season.
FIRST STAR
Phoenix native Johnny Walker (above) tied for second nationally with 23 goals in 32 games as a sophomore, and he averaged a national-best 0.72 goals and 4.81 shots on goal per game. He had three games with at least 10 shots on goal, topped by a 15-shot output against Omaha that produced four goals.
SCOUTING REPORT
The Sun Devils won't be able to sneak up on anyone after a season in which they became the first independent to earn an NCAA spot since Alaska Anchorage in 1992. They also lost second-team All-American goaltender Joey Daccord, who signed with Ottawa after his junior campaign. Justin Robbins, who backstopped Chicago to the United States Hockey League playoff championship, is among 10 newcomers to the team. Freshman forward Logan Jenuwine scored a North American Hockey League record 60 goals and 104 points last season.
RESULT TO REMEMBER
The Badgers swept the Sun Devils in the only two meetings to date, Oct. 30-31, 2015, at the Kohl Center.