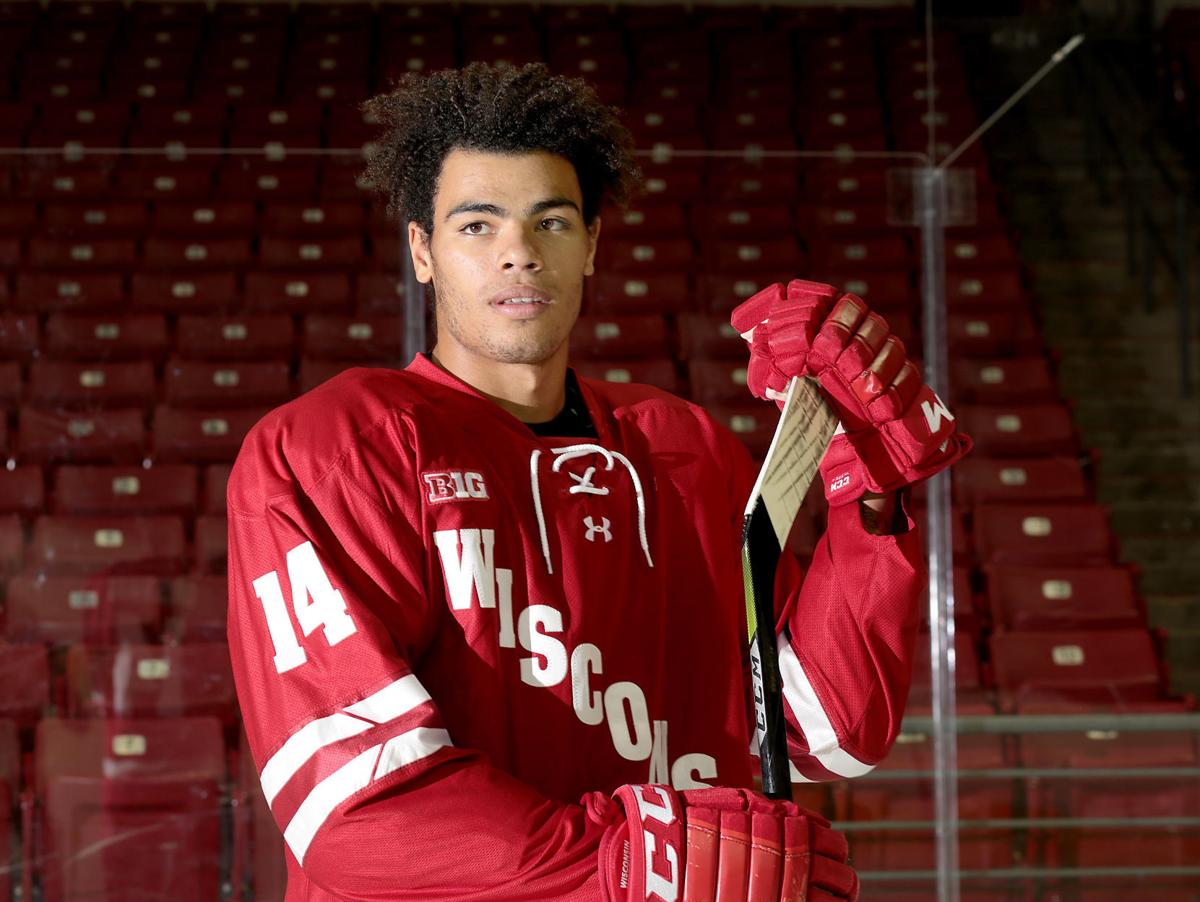 After two seasons at the University of Wisconsin, JD Greenway is leaving to play junior hockey.
Greenway is scheduled to play the 2018-19 season with the United States Hockey League's Dubuque Fighting Saints, who completed a trade for his rights on Thursday.
The Chicago Steel drafted Greenway, a third-round NHL draft pick in 2016, in Phase II of the USHL draft on May 8. That was an indication that the defenseman was considering a move to junior.
"It's a lot of excitement, and a lot of motivation to work hard this summer and come to Dubuque the best way I can be," Greenway said in the statement.
He didn't respond to attempts for comment made through a UW spokesperson.
When college players return to the USHL, it's often a precursor to a transfer to another school. Greenway has two seasons of NCAA eligibility remaining.
With six other defensemen projected to be in the Badgers' mix for regular minutes next season, Greenway was going to be in a position of competing just to get on the ice if he had stayed with UW.
Greenway, 6-foot-5 and 215 pounds, was scheduled to be one of five defensemen returning to the Badgers' lineup in 2018-19 along with senior Peter Tischke and sophomores Wyatt Kalynuk, Tyler Inamoto and Josh Ess.
You have free articles remaining.
The Badgers are due to add defensemen Ty Emberson and K'Andre Miller from the USA Hockey National Team Development Program. Both are likely to be NHL draft picks in June.
Patrick Sexton and Jake Bunz also are on the Badgers roster but neither played during his junior season. There has been no indication that UW is planning on adding any more players for next season.
Greenway, 20, was recruited to UW in the weeks after Granato took over as head coach in 2016. Greenway had signaled that he was going to play major juniors in Flint, Michigan, until a staff shakeup with the Ontario Hockey League team altered his plans.
Don Granato, who was a UW associate head coach on his brother's staff in the 2016-17 season, had coached Greenway's older brother, Jordan, with the NTDP. JD Greenway cited that influence in his decision to join the Badgers.
Before starting in Madison, Greenway was selected in the third round of the 2016 NHL draft by the Toronto Maple Leafs.
His college career has been uneven at best as he learned the intricacies of defense, a position he didn't grow up playing.
After playing in all but one game in his freshman season, Greenway missed the Badgers' first 21 contests in 2017-18 and didn't participate fully in practice until November. Neither he nor Tony Granato fully divulged reasons for his absence.
"He just had some things off the ice, academically and some other things that we wanted to make sure were in a place where he could come back and be part of our team," Granato said when the Badgers returned for the second semester in January. "It was a thing between him and I."
Greenway played in 12 of the last 16 games of the season, scoring two goals with one assist, 10 penalties and a plus-4 rating.
Dubuque gave up two defensemen, two forwards and a 2019 draft pick to obtain Greenway's rights.
"To get something of high value, you have to give up something of similar value," Dubuque general manager Kalle Larsson said in a news release.