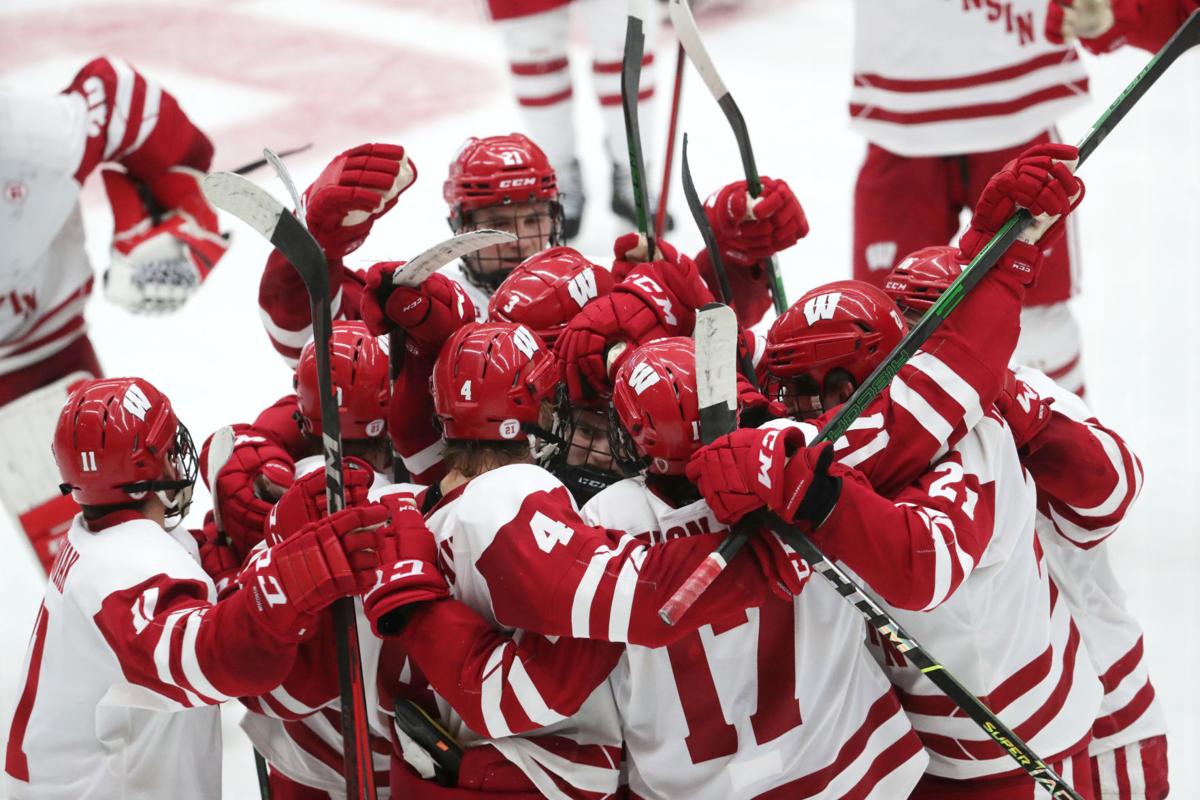 No. 4 UW vs. No. 14 Bemidji State
What: NCAA regional semifinal game.
When, where: Noon Friday, Webster Bank Arena, Bridgeport, Conn.
TV: ESPN2, with John Buccigross, Barry Melrose and Colby Cohen.
Radio: 1310 AM, with Brian Posick and Paul Capobianco.
Badgers (20-9-1)
Coach: Tony Granato, 82-81-13 in his fifth season at UW and overall.
Player to watch: Senior left wing Linus Weissbach has three goals and 11 assists in an eight-game point-scoring streak that's one longer than his previous collegiate best.
You should know: The Badgers are the No. 1 seed in the Bridgeport regional and the fourth seed overall. The winner of the two games in Bridgeport — UMass plays Lake Superior State in the second semifinal Friday — faces the survivor of the Fargo regional, led by North Dakota, in the Frozen Four semifinals. UW has been the No. 1 seed in a regional three times previously since the NCAA tournament format with four regionals of four teams started in 2003. It advanced to the Frozen Four in 2006 and 2010 but lost to North Dakota in the first round in 2014. ... It has been 54 years since UW played its only game in Connecticut, an 8-1 victory over UConn in Storrs on Jan. 3, 1967.
Beavers (15-9-3)
Coach: Tom Serratore, 334-306-92 in his 20th season at Bemidji State and overall.
Player to watch: Senior goaltender Zach Driscoll has faced the third-most shots in the country (772) and his team is one of only three in the tournament that has been outshot this season.
You should know: Bemidji State counters UW's top-ranked power play (31.5%) with the nation's best penalty kill. Its 93.3% ranks second in NCAA history behind Yale's 94.4% in 2016. The Beavers have allowed a power-play goal in only four of 27 games this season and are 1-3 in them. They've killed their last 18 penalties over five-plus games. ... The Beavers haven't faced the Badgers since the 2012-13 season, UW's last in the Western Collegiate Hockey Association. ... Bemidji State is the only one of 16 teams in the NCAA tournament field that doesn't have at least one NHL draft pick on its roster.
Look back on State Journal coverage of Badgers men's hockey games in the 2020-21 season
Read stories from University of Wisconsin men's hockey games in the 2020-21 season.