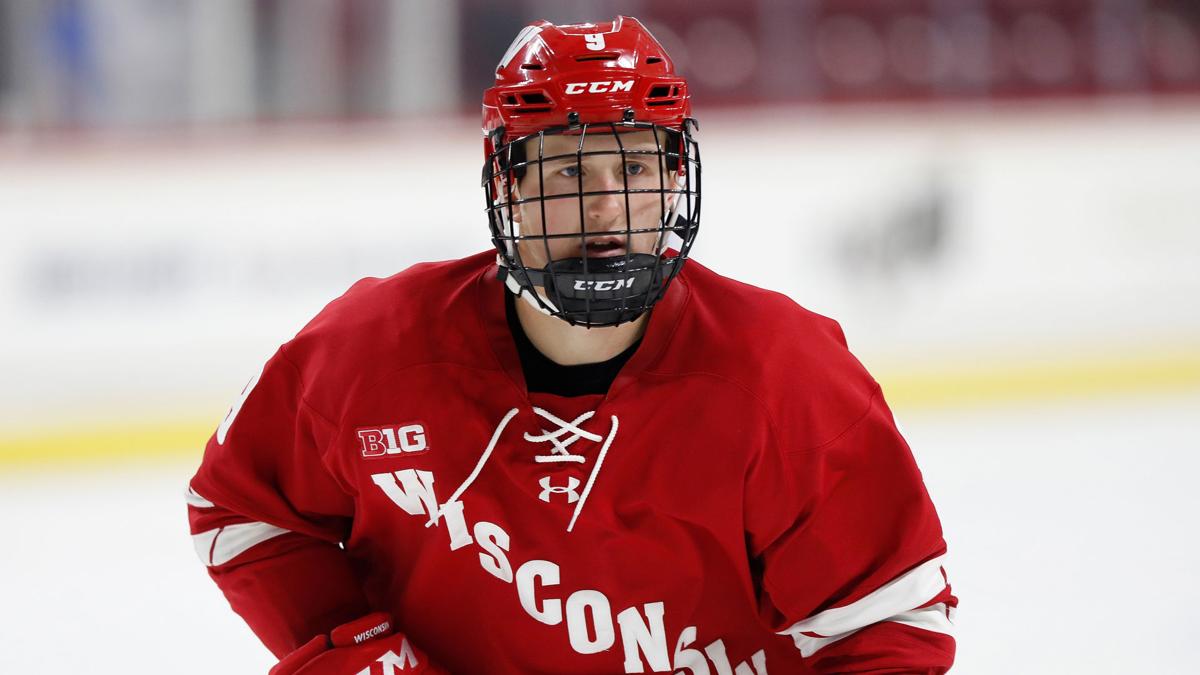 Home in Sweden for the summer, Linus Weissbach watched with interest the toll the coronavirus was taking on North American sports.
There was no guarantee a few months ago that he would have a senior season with the University of Wisconsin men's hockey team start this fall.
At the same time, pro hockey leagues in Europe were getting ready to proceed through the pandemic. Weissbach had the option to turn in that direction, and Badgers coach Tony Granato said he wouldn't have blamed him if he did.
Why did a return to Madison and NCAA hockey win out?
"It was just knowing what I was going to get here," Weissbach said. "And obviously, my last year with school, getting that part done is important, too. I think those two things played a role.
"And I love it here, too. With all the uncertainty in the world and back home, too, I think this was a good place to be."
Part of Weissbach's return to the Badgers is a new role that'll be on display starting Friday against No. 20 Notre Dame.
He has been a regular part of the power play over the last three years but he's due to take over at the point position, where he'll have to see the whole zone and distribute the puck as well as try to get shots through to the net.
That's the role on the top unit that was filled mostly by defenseman Wyatt Kalynuk in the last three seasons. With Kalynuk due to make a run at a spot in the Chicago Blackhawks' lineup this season, the Badgers could be looking at a power play with five forwards on the ice.
From the top of the zone, Weissbach is likely to be looking at leading scorer Cole Caufield on his left side, with Dylan Holloway, Ty Pelton-Byce and Roman Ahcan also as passing options.
"We've got a pretty good power-play line there to start with," Weissbach said. "So trust the guys around me and trust myself that I can be a good player there. Just make sure that decision making is important there too."
Granato wants Weissbach to make sure shooting is a primary option, too.
"I want him to think aggressively as far as being able to deliver the puck to the net," he said. "That's one important component that Wyatt did really well. Because those other options don't open up unless you've got a shooter up top."
Weissbach has been able to open up opportunities with his speed, and the power play quarterback position gives him new avenues there.
He'll be the one going back to his own zone to retrieve the puck and start back up ice. A quick rush is one of the choices he can make, which could make opposing forecheckers back off.
"I've never really played behind the play, looking up the ice like that," Weissbach said. "I've felt in the few practices we've had doing the power play that you see everything ahead of you and you can make a play off that. So if there's a play to make, I'll make it."
After scoring 26 points as a freshman and 25 in an injury-slowed a sophomore season, Weissbach was on pace for a bigger junior campaign last year. Through 15 games, he had 16 points as a part of one of the top two lines.
But he recorded only six points over his last 20 contests, a stretch during which he fell to the fourth line.
"He handled it like you want kids to — to understand and to not be happy about it but also be in a position where, well, there's a reason here that I'm on this side and I'm going to make sure that I'm never on it again," Granato said.
Weissbach said he feels faster and stronger at the start of this season than he has before. It's a big few months not only for Weissbach with the Badgers but for his pro future.
The left wing, a seventh-round pick of the Buffalo Sabres in 2017, made a smart decision to return to North America to play this season in terms of his post-UW career, Granato said.
"I'm going to do everything I can on my end to make sure that he's ready for that opportunity," Granato said. "But it's up to him. And from what I've seen and from what his teammates have seen for the first couple of months since he's been back, he's all in."
An improved season from Weissbach could be a good sign for the Badgers in trying to get above .500 for the first time in four years.
"It's my last year here, so it's a do-or-die situation," he said. "Now with the season coming up, it's all happy feelings. The main thing is you want to be part of a winning team."
Catch up on what you might have missed in the Badgers men's hockey 2020 offseason
The COVID-19 pandemic caused the longest Badgers men's hockey offseason in 51 years. Here's what the State Journal has covered since the 2019-20 season ended.