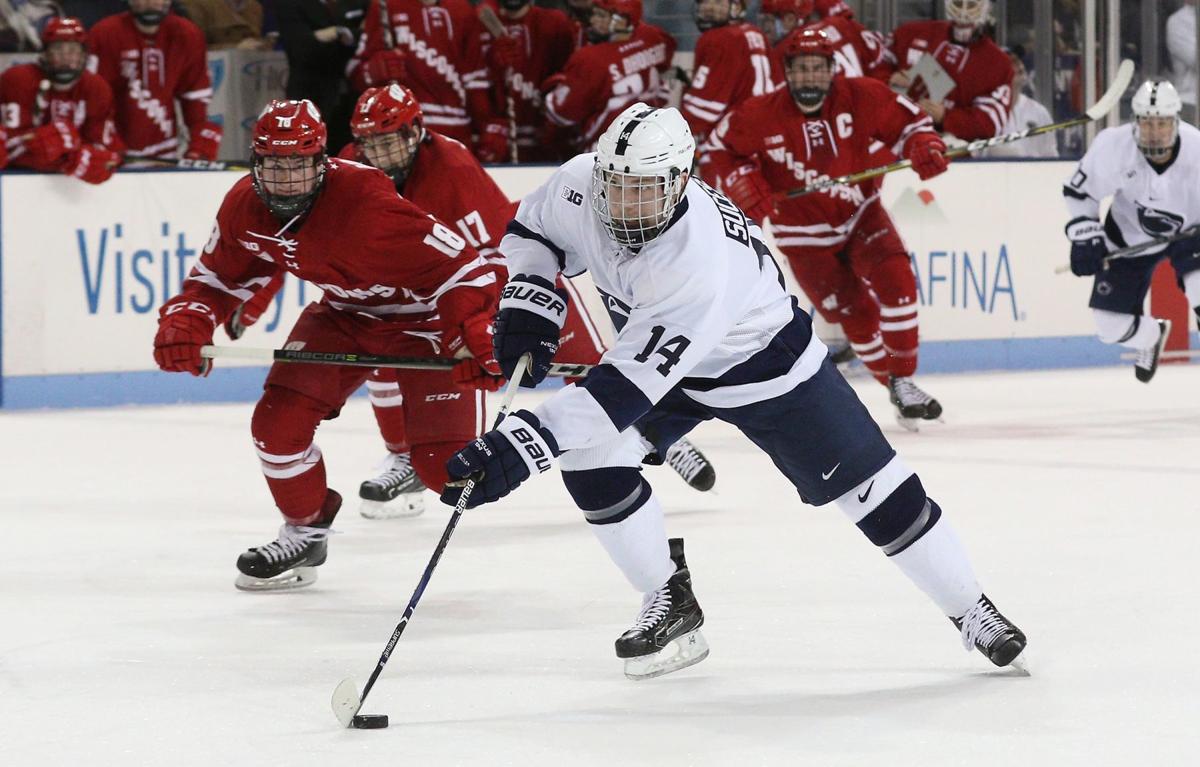 There's a simple explanation on how Penn State has become one of the most productive goal-scoring teams in college hockey over the last few seasons.
University of Wisconsin coach Tony Granato put it this way: Even when they're leading or tied, the Nittany Lions play with the aggressiveness of a team that's trailing.
There's an extra energy with No. 6 Penn State, which plays Big Ten Conference games against the Badgers at the Kohl Center on Friday and Saturday.
When Guy Gadowsky's team has the puck, it's looking to get it to the net. When the other team has the puck, the Lions are already planning for what they'll do when they get it back.
It has been an effective strategy for Penn State, which is in just its seventh season as a varsity program but has made two consecutive NCAA tournament appearances. This season, the Lions lead the country in scoring (5.31 goals per game) and have the only two players who have already reached 20 points in Evan Barratt and Alex Limoges.
The Badgers will face Penn State's speed and an aggressive defensive-zone nature that takes a calculated risk of sending a player out of the zone earlier than other teams do.
"I think they know if you play 4-on-5 in your own zone for an extra five or six seconds and get three or four breakaways a game, three or four breakaways versus playing in your zone an extra minute, you'll probably take three or four breakaways," Granato said.
The Badgers have been victimized by that in the past. See Nate Sucese last January:
And see Liam Folkes in the 2017 Big Ten championship game:
The Badgers know what to expect. It's a matter of stopping it.
"They love the transition game," center Seamus Malone said. "They're a fast team. They like to go up and down the ice. We have to be prepared. We have to play as five and stick together so we don't let those odd-man rushes that they love to do."
Caught on video
Badgers freshman left wing Jack Gorniak discusses the team's confidence level heading into the series against Penn State:
Three more things
• Daniel Lebedeff will get the start in goal on Friday. The Badgers plan to play Jack Berry on Saturday, but that won't be a done deal until after Friday's game, Granato said. Like Berry did in the season opener, Lebedeff could get himself another start with a good outing Friday.
• Defenseman Wyatt Kalynuk got the call for UW's first shootout attempt last Saturday at Michigan, and he took something away from it that will be important for future efforts. The ice was chopped up after 20 minutes of regulation and 10 minutes of overtime, so the move that Kalynuk tried to make with the puck didn't work. Max Zimmer, who scored in the second round to get the Badgers the extra point, shot instead of trying a move.
• Of current Badgers players, junior Berry leads with five appearances on the Big Ten's weekly three stars, including this week's third star. Malone, a senior, is next with three, and senior right wing Will Johnson, senior left wing Matthew Freytag, sophomore left wing Linus Weissbach and sophomore right wing Sean Dhooghe all have been honored once.
Put it in quotes
Malone, on the team getting out of a scoring slump by being willing to battle in front of the net:
"I just think we need to stick to it and not deviate, or that can go downhill fast. We've just got to the front of the net. Goals will come. We'll get our bounces. We'll get our opportunity to score five or six goals in a game and it'll happen, and hopefully it'll be this weekend."
Lining up
Here's the projected Badgers lineup for Friday's game:
Max Zimmer - Seamus Malone - Will Johnson
Jack Gorniak - Tarek Baker - Sean Dhooghe
Roman Ahcan - Dominick Mersch - Brock Caufield
Matthew Freytag - Mick Messner - Jarod Zirbel
Extra forward: Jason Dhooghe
Wyatt Kalynuk - Tyler Inamoto
K'Andre Miller - Ty Emberson
Starting goalie: Daniel Lebedeff
Keep reading