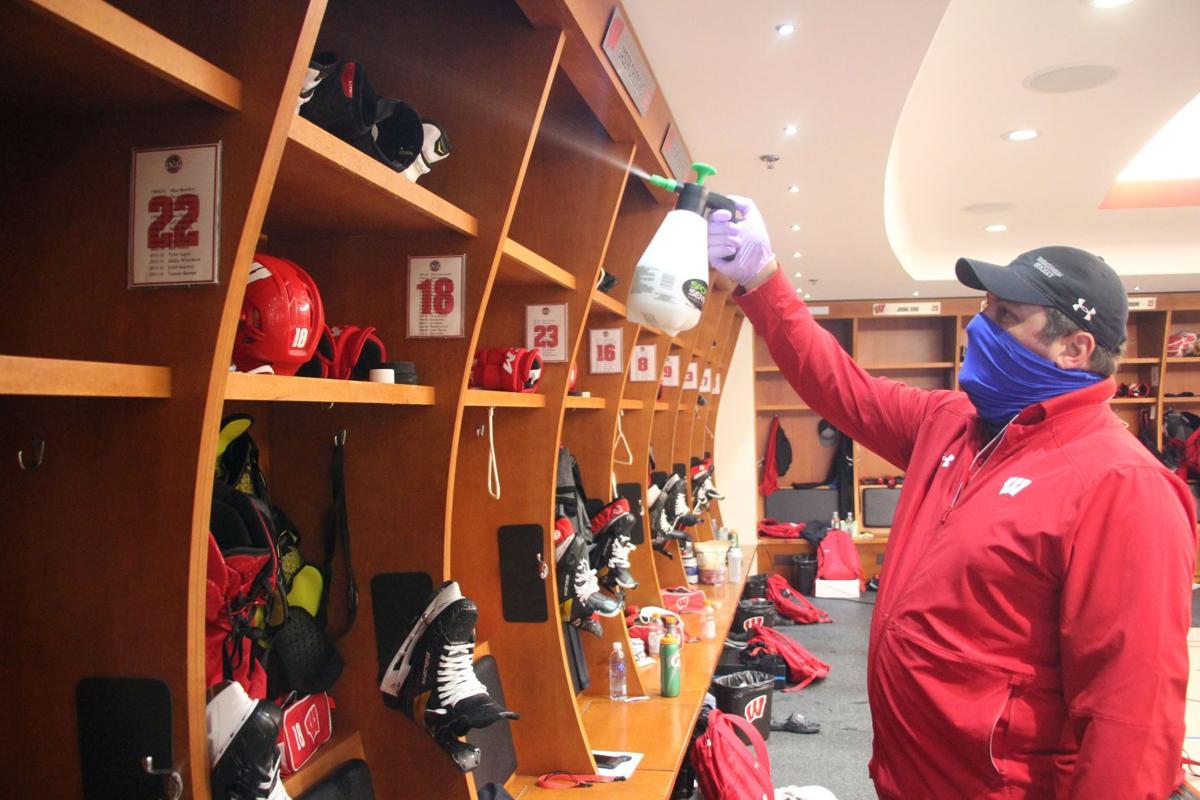 The University of Wisconsin men's hockey locker room is a different place these days.
Some of what has changed to account for and combat the COVID-19 pandemic is visible. Some of it quietly works in the background — a large expense that offers some peace of mind.
All of it has been part of a collaborative process between team staff, facilities employees at the Kohl Center and LaBahn Arena, custodial workers and administrators to ensure that this college hockey season is only delayed and not canceled.
Even before the coronavirus shook everything up, keeping hockey gear sanitary was a high priority for Badgers equipment manager Nate LaPoint. Now there's a heightened sense of urgency and a more visible reason behind the cause.
"It's a big group effort, that's for sure," LaPoint said.
It's noteworthy, then, that part of the effort involves groups of smaller numbers. When the Badgers have practiced, they have done so in two groups to allow not only for spacing on the ice but in the locker room.
In that team suite between the Kohl Center and LaBahn Arena, the 25 players on the roster have adjusted where they sit along three walls of locker stalls to allow for physical distancing. One group of practice players uses every other space; those in the next session take the alternates later.
The traditional setup of assigning stalls along one wall to the team's defensemen has been scuttled. The thought, LaPoint said, was that mixing forwards and defensemen could make it harder for transmission of illness inside the locker room to sideline a large portion of one position group.
LaPoint gives player equipment a shot of sanitizing spray after every on-ice practice and workout. He runs through loads of laundry and disinfects surfaces around the locker room. He uses a sanitizing machine for deeper cleaning of gloves, helmets and other protective wear. That all has been standard.
The addition now is some help from above.
The UW athletic department purchased and installed 35 bipolar ionization systems in its facilities. As air passes through the ducts, the units are designed to eliminate viruses, mold and bacteria.
It was a "significant investment," said senior associate athletic director Jason King, who couldn't provide a price per unit but said the cost of installation was about $6,500 each.
"We just felt like this was a good addition," King said. "To be honest, it has other residual benefits as well. It helps eliminate smells and things like that in locker room spaces as well. I know that we've noticed a difference."
LaPoint, whose days in and around the locker room already stretch from 10 to 14 hours during the season, appreciated the time-saving addition.
"I was thinking, hey, I'm going to have to be here three, four, five hours after the guys trying to get all this sanitation done," he said. "And now it's saved me some of that time of having to be there after the guys leave to try to clean all these surfaces."
There's enough to manage inside the Badgers locker room but the challenges move to a different plane once the team leaves. The biggest set of questions LaPoint has involves how the group will travel for games.
In chatting with other equipment managers around the Big Ten and their counterparts in pro sports, LaPoint said he has learned some alterations being used during the pandemic that could be passed along to NCAA hockey.
A baseball team that needed two buses to get from the airport to the hotel before COVID-19 now is using five to allow for the proper distancing. Maybe, LaPoint theorized, the Badgers will have to spread the team over two buses instead of one for trips.
Packing for the road might include more sanitizing equipment in addition to extra sticks, tape and the normal assortment of tools.
"You go from pre-pandemic where everything's nice and easy, it's the same every year," LaPoint said. "Now it's like you've got to rework everything, you've got to rethink everything: how we travel, what we're traveling with, when, the durations we're there, what the locker room situation's like."
All of that is before the team even touches the ice. USA Hockey suggested that clear shield masks might be more protective from coronavirus transmission than the cage-style masks used by a majority of Badgers players.
The shields are in short supply because of high demand, LaPoint said. Hockey equipment companies are engineering under-mask face coverings that allow for some breathability while offering some protection from viruses. UW has ordered some, LaPoint said, to see how well they work.
His experiment with some clear shield products designed for football didn't pan out because of fogging.
Towels that players use after shifts could end up being one-time use before they're washed. Water bottles have been individualized for practices at UW for years; that now will carry over to games, too.
The changes all mean more effort and more ingenuity. Cale Klein, who works on the ice staff at the Kohl Center and LaBahn Arena, has worked with LaPoint and Badgers athletic trainer Andy Hrodey on ways to keep water bottles sanitary by not allowing them to tip over inside the dasher boards or come into contact with others.
"It's about giving our players a safe environment," Badgers coach Tony Granato said. "(LaPoint) and Andy together have given the players a place to feel that way and be safe. It's the No. 1 goal of all of us."
Communication, both with counterparts around the country and campus coworkers, has been one of LaPoint's most important tools in that regard.
"It's amazing how many different things roll into this and how many questions you have and try to get answers for," he said.
Concerned about COVID-19?
Sign up now to get the most recent coronavirus headlines and other important local and national news sent to your email inbox daily.