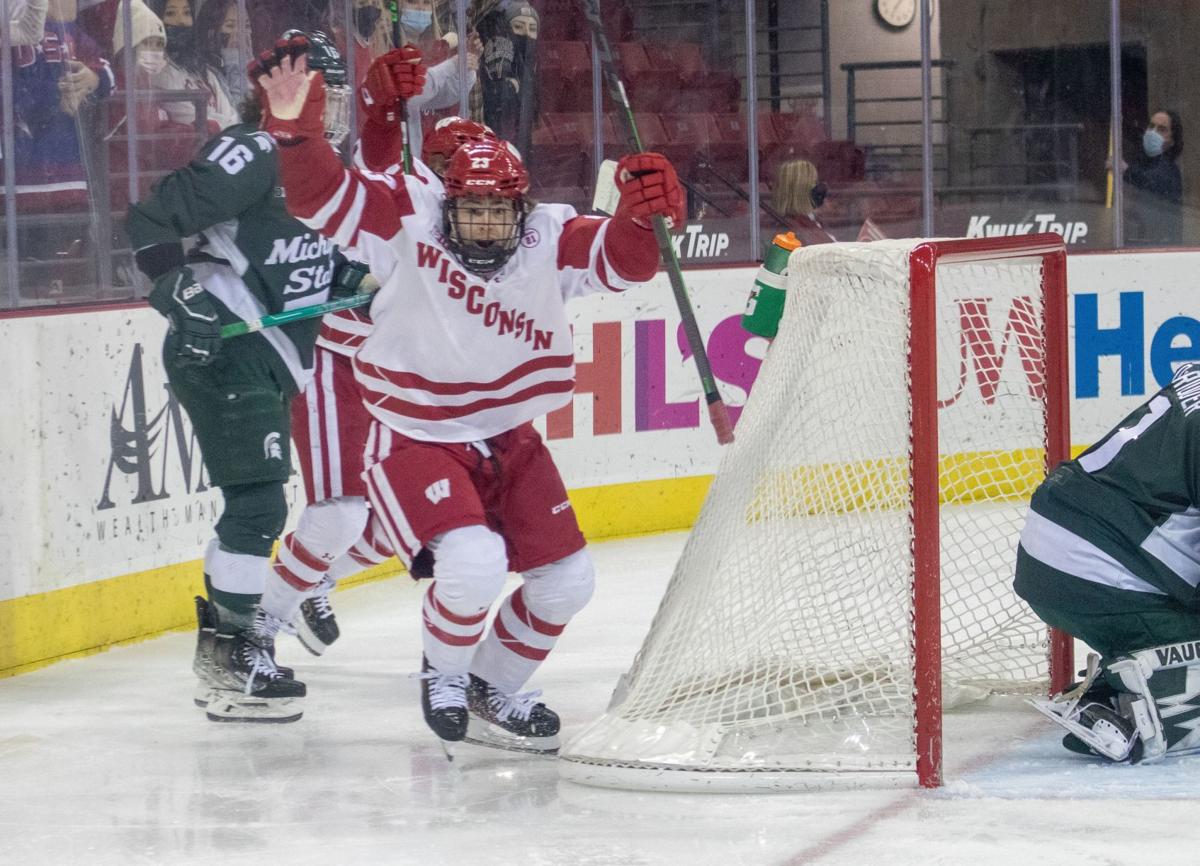 After its most productive first period of the season, the University of Wisconsin men's hockey team stumbled on the first shift of the middle frame on Friday.
Michigan State scored just 39 seconds after the intermission to cut UW's lead to one, setting up what coach Tony Granato called the "most important 19 minutes of the game."
The Badgers had two chances to close out leads last weekend against Ohio State but couldn't do so. This one was different.
UW didn't allow many good scoring opportunities in the rest of the second period, then got an important penalty kill and two power-play goals in the third to wrap up its biggest offensive showing, a 5-2 victory at the Kohl Center.
"Giving up that first goal in the second period was a good test for us to see how we would handle that," Granato said. "And I think that shows a little bit about the maturity of our team. It shows a little bit about the confidence on how we feel about our overall game to be able to respond the right way and play a really solid period after that."
The Badgers got two goals from Mathieu De St. Phalle and improved to 3-2-2 since the start of December. They pulled within one point of fifth-place Michigan State in the Big Ten.
UW allowed only four shots on goal and 14 attempts in the final 19:21 of the second frame but the job wasn't done there.
Leading 3-2 in the third, it faced a Michigan State power play after defenseman Corson Ceulemans skated into trouble behind his net, committed a turnover and took a holding penalty. Goaltender Jared Moe made five saves over the two minutes, including two on Jeremy Davidson one-timers from the left side.
Ceulemans said the Badgers (7-13-3, 3-7-1-2 Big Ten) did well in getting the puck out of their zone quickly and in making Michigan State (11-11-1, 4-8-1-0) play more in its own zone than it would like while trailing.
Turning around from Erik Middendorf's first-shift goal in the second period to tightening up defensively was a key effort from the Badgers that might not have been present earlier in the season.
"We're a resilient team; we've been building toward that," Ceulemans said. "A couple struggles in the first half of the year but in the second half we've just got that mindset where if we're down or if we give up an early goal, we're just going to keep fighting and keep going."
The defense and the penalty kill did their jobs Friday, leaving the power play to finish things off. Max Johnson and De St. Phalle scored in the final 10 minutes to push UW's offense to new heights for the season.
In the first 58 years of the team's modern era, it never took the Badgers longer than 18 games to reach five goals for the first time. It took 23 games in 2021-22, and the breakthrough Friday came on the 100th anniversary of the program's first varsity game.
"I don't know who said it, but we were joking around about it in the second — hey, let's get five tonight," De St. Phalle said. "I think it's just a credit to our practices all week now having the full team coming off that (COVID-19) protocol issue last week against Ohio State. A full week of practice working on goal scoring, it's really been paying off lately."
De St. Phalle recorded his first two-goal effort in 54 collegiate games. He has scored five times in his past seven outings, and Granato said his performance in winning puck battles has paid off.
"I think his commitment there is at a different level," Granato said. "And it's helping his all-around game become better."
UW opened the second half of the Big Ten schedule by scoring multiple goals in the first period — three in all — for the first time since Feb. 6, 2021. De St. Phalle and Ceulemans hit the net 38 seconds apart for a 3-1 lead after Liam Malmquist's first collegiate goal put UW ahead 1-0.
Johnson conceded that the Badgers haven't performed up to their ability for much of the season. But he said determined victories like they got Friday are huge for confidence in goaltending and special teams as well as for the team's tenacity.
"I think it builds all those characteristics that we have," he said.
Fave 5: Todd D. Milewski picks his favorite stories of 2021
A year of major changes and obstacles overcome just to get games on the schedule made it tough to pick, but these are Todd D. Milewski's five favorite stories from 2021.
First period: W — Malmquist 1 (Caufield, Gorniak), 3:38. MS — Cesana 6 (Haskins), 10:38. W — De St. Phalle 5 (Peltonen, Baker), 12:23; Ceulemans 4 (Inamoto, Mersch). Penalties: Joshua, MS, 3:52; De St. Phalle, W, 4:44; Bantle, W, 7:15.
Second period: MS — Middendorf 8 (Davidson, Tucker), :39. Penalty: Müller, MS, 16:10.
Third period: W — Johnson 3 (Laatsch, Gorniak), 10:26 (pp); De St. Phalle 6 (Ahcan, Ceulemans), 18:28 (pp). Penalties: Ceulemans, W, 6:47; Gucciardi, MS, 8:48; Gucciardi, MS, 14:24; Team, MS, 17:29.
Saves: MS (DeRidder 13-14-7) 34; W (Moe 5-5-18) 28. Power plays: MS 0-for-3; W 2-for-5. Att. — 8,572.