Ty Pelton-Byce's future path wasn't entirely clear in the fall of 2018 when he took a seat in LaBahn Arena while the University of Wisconsin men's hockey team practiced.
That he was there was a good sign of how things were leaning.
The former Madison Memorial forward was back home after two seasons playing hockey at Harvard and a departure that wasn't of his choosing. His grades slipped as he struggled with depression and was issued a one-year academic leave of absence.
He was taking classes at Madison Area Technical College to finish a two-year degree in that fall semester. But he also stopped by LaBahn to watch the Badgers skate and contemplate the next part of his journey.
"I was probably more just thinking that I wanted to get back to playing college hockey," Pelton-Byce said this week, reflecting on what went through his mind in those days of watching from the outside. "It was a long wait but once that season started, it hit me and it was pretty cool to be a part of."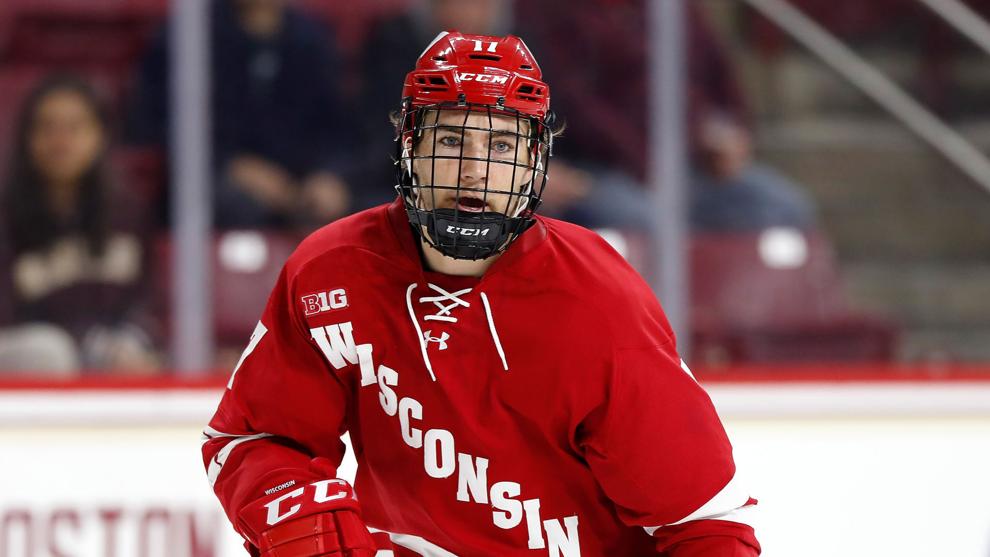 Pelton-Byce wanted to make a run at playing for the Badgers. He got into UW-Madison for the second semester in 2018-19 and started practicing with the team while finishing a year off because of transfer rules.
He has provided some grit over the last two seasons to go with some flash and a lot of responsibility as one of the team's most-used centers, possibly building to a memorable finish.
Pelton-Byce and six other UW seniors are set to play what could be their last home games Friday and Saturday against Ohio State at LaBahn Arena. It's a qualified statement not because of the rest of the season — the Badgers will be on the road from there on — but because of the unknowns of whether any of the seniors will return for an extra season allowed by the NCAA.
Queries on that topic most often have been parried to the future. Badgers coach Tony Granato sounded open to the possibility but conceded he had no firm answers.
Pelton-Byce turns 24 in April and already has been in college for five years.
"It's a little bit weird to think that it could be the last home games," he said. "But it's been a blast."
Nearing career highs
That appreciation of things no doubt has been helped by Pelton-Byce being a key part of the Badgers' emergence since the start of 2021. He's part of a top line with Linus Weissbach and Cole Caufield that has produced 17 even-strength goals in the past 14 games.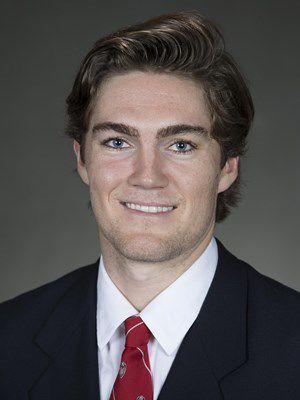 Pelton-Byce scored two of them last Saturday to go with four assists in the series against Notre Dame to earn Big Ten first star honors. All three members of the line plus second-line center Dylan Holloway have been part of the three stars in one of the past three weeks.
The nine goals and 22 points Pelton-Byce has recorded this season are one and three off his previous college bests, respectively, despite playing in roughly half the games of previous full campaigns.
"He might not have the speed that Linus has, he might not have the shot that Cole has, but his hockey IQ is off the charts," Badgers senior center Tarek Baker said.
Baker came armed with examples. Pelton-Byce's behind-the-back pass to Weissbach last Friday helped put UW ahead for good. He delivered a no-look pass diagonally across the offensive zone through two players onto Caufield's stick for a goal a day later.
The Badgers trailed in Saturday's game until Pelton-Byce scored a last-minute equalizer directly off a faceoff.
"He's big in big situations," Baker said. "He knows how to handle pressure very well. I think it comes with his hockey IQ and his hockey awareness. It doesn't hurt when your dad's John Byce, learning from scoring big goals."
John Byce scored 77 of them in 169 games with the Badgers from 1986 to 1990, punctuating it with a hat trick in the NCAA championship game as a senior.
He now sits in the same assigned seat in Section 4, Row 7 for each game at LaBahn as one of the few spectators allowed in. Player parents were given access to the venue starting in January.
"At the beginning when we couldn't (attend), it was tough," Byce said. "You wanted to be there and watch. But now to be there in person and watch, it's great.
"Obviously it's different without fans and the atmosphere. It's hard. Especially with this team, how exciting it is, I can imagine the Kohl Center right now. I think it would have really been an incredible atmosphere this year, so that's tough."
Chemistry apparent
Sitting five rows behind the bench isn't an entirely comfortable spot for Byce, who said he doesn't want to be a distraction. But it has given him a view into the chemistry between his son, Weissbach and Caufield.
"He's a playmaker, a passer first," Byce said. "So I think that works well with Cole and Linus. Those guys are amazing players. I think they now have a feel. Ty understands where they're going to be. He sometimes doesn't even have to look and they're there."
Pelton-Byce has been more willing to shoot lately, too, and his shot carries some extra authority because he thinks he can score each time, Granato said.
"That's another threat that the other team has to think about now," Granato said. "Because usually they're looking at who he's got on his wings and they're making sure to take Cole out of the picture. And the way Linus is skating and scoring, he's got weapons on both sides. But when you can become a scoring threat with that, that makes the passing lanes open up even that much more."
This season has brought challenges to Pelton-Byce much like earlier parts of his road through college hockey. He went face-first into the boards in a Nov. 19 game against Michigan and missed the next three games with a concussion.
He was ready to return to the lineup after Thanksgiving, but he and his three roommates were put into COVID-19 protocols and kept out for the next four contests. It was a frustrating time, he said, but it also offered a reminder it's not worth getting upset about things he can't control.
Weighing everything has worked out since his departure from Harvard brought Pelton-Byce to a realization: He wouldn't have had a place to play this season had he returned there in 2019. Ivy League schools aren't competing because of the COVID-19 pandemic.
He said he got two good acts in his college hockey career. The Badgers are in good position for their first NCAA tournament berth in seven years, so the ending to the second part might be even more special.
"I think it was good for me to experience a different part of the country," Pelton-Byce said. "Growing up with my dad being a Badger and all that, establishing myself as a solid college hockey player (at Harvard). And then to come back and be a Badger after growing up and watching all those years was pretty cool."
Look back on State Journal coverage of Badgers men's hockey games in the 2020-21 season
Read stories from University of Wisconsin men's hockey games in the 2020-21 season.