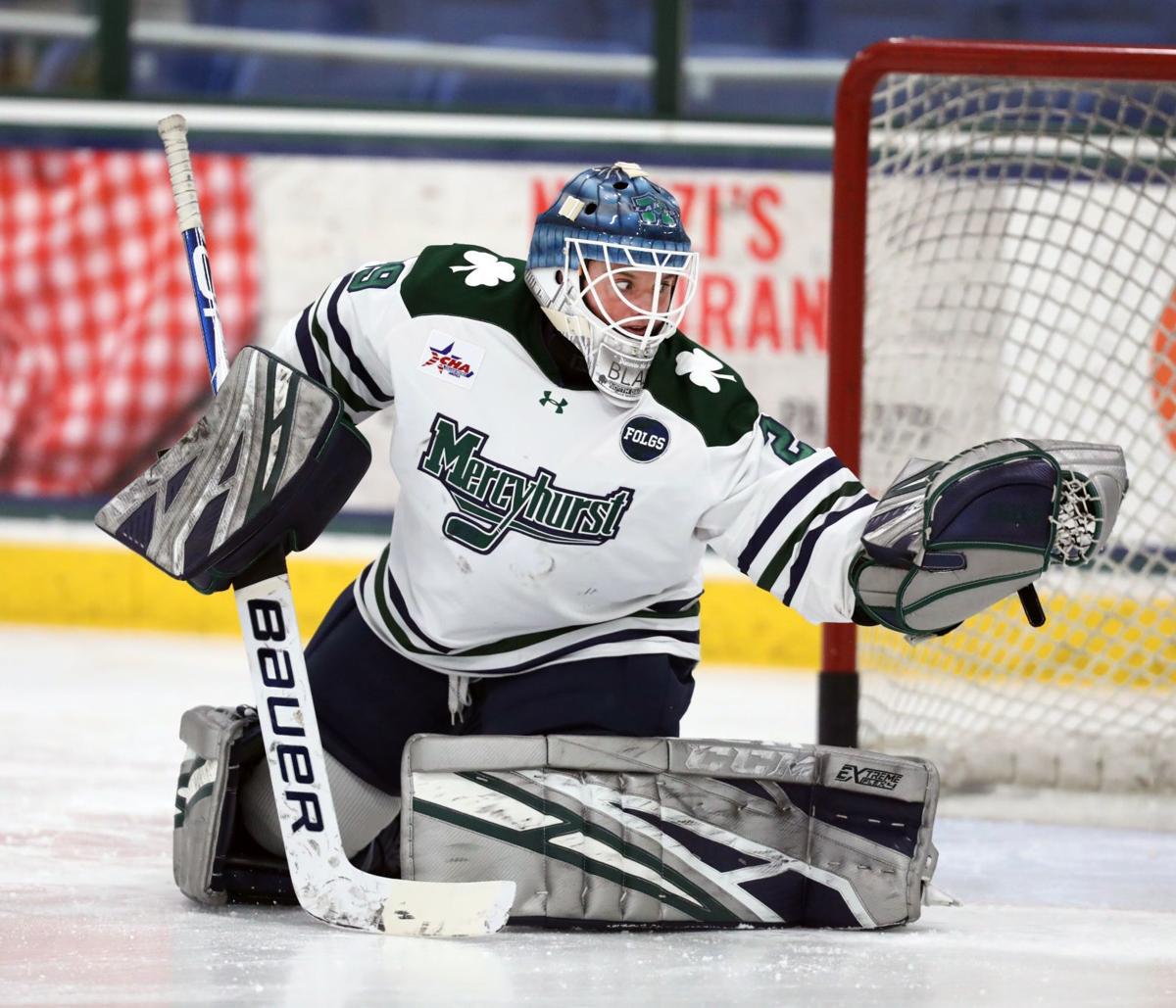 Kennedy Blair has followed in Kristen Campbell's footsteps once, and now it's due to happen again.
Blair is transferring to the University of Wisconsin women's hockey team for her final season of eligibility after playing three years at Mercyhurst.
In their one year together at North Dakota in 2016-17, Blair shadowed Campbell on the ice and in the weight room as she went through a redshirt season like Campbell did the year before.
When the Fighting Hawks program was cut that spring because of budget woes, players went their separate ways. Campbell became an All-American for UW and led the Badgers to the 2019 NCAA championship as the tournament's Most Outstanding Player.
Blair went to Mercyhurst, where in March she was the Most Outstanding Player as the Lakers won their conference playoff title.
She entered the transfer portal this spring to find a school where she could have a good chance to play in her remaining season.
"That's what I'm hoping for" at UW, Blair said. "Kristen's leaving, and there's a big role to fill. Hopefully, I can do that."
A 22-year-old from Bismarck, North Dakota, Blair joins a Badgers goaltending cast that will be looking for a new starter in 2020-21 after Campbell held down the spot for the past three seasons.
Breanna Blesi, who played in five games in 2019-20, is due to be a redshirt junior next season. Cami Kronish has played in only one game in her first two seasons with the Badgers.
Goalie Jane Gervais from Stanstead College boarding school in Quebec has committed to join UW next season
Blair is set to graduate from Mercyhurst after taking a class this summer, and she's hoping the 2020-21 season will open doors for a post-college playing career while she does graduate work in the Educational Leadership and Policy Analysis program.
In 69 appearances over three seasons with the Lakers, Blair had a 2.11 goals-against average and .917 save percentage. In 2019-20, she was 17-8-3 with a 1.98 goals-against average and .921 save percentage en route to helping the Lakers win the College Hockey America title and an automatic bid to the NCAA tournament.
Mercyhurst was scheduled to play top seed Cornell in the quarterfinals when the rest of the season was canceled March 12 because of the COVID-19 pandemic.
With Campbell in the opposite crease, Blair played her first collegiate game against the Badgers at LaBahn Arena on Sept. 28, 2017. Blair made 27 saves but the Badgers defeated Mercyhurst 4-0.
"I was so nervous," Blair said. "But I thought it was really cool that me and Kristen were both going up against each other. That's the best memory I have of it. But just playing in front of all of those fans, too. The atmosphere in that rink was so awesome, and I'm excited to play in front of that atmosphere this year."
She posted five shutouts in 20 starts as a redshirt freshman, when she had her best statistics in her three-year Mercyhurst career: a 1.57 goals-against average (seventh nationally) and a .934 save percentage (10th).
The 2018-19 season was a struggle statistically for Blair (3.00, .892), who plays what she called an old-school style of goaltending that doesn't fit within many technical frameworks.
She responded with a junior season that helped Mercyhurst go undefeated on home ice and win both the CHA regular-season and playoff crowns.
Transfers have been successful with the Badgers in the past three seasons. Campbell climbed UW's career goaltender rankings in that time, to fourth in wins and goals-against average and sixth in save percentage.
Left wing Daryl Watts was UW's leading scorer last season after two years at Boston College. And forward Claudia Kepler led the Badgers with 22 goals in 2017-18, her only season at UW after sitting out a year to transfer from Ohio State.
Blair wants to continue the trend.
"I'm looking forward to having a good season and being part of a national championship team program and having that mentality all the way around," she said.